Mr NQN turned to me the other day and said "I've joined a water drinking club at work."
I looked at him. He is such a joker that he usually delivers lines like that with a slight smile just itching to burst through at the corner of his mouth. Although he is such a terrible liar his eyes betray him by rolling around and looking at the ceiling.
He wasn't joking. In fact, my time away from working at an office has revealed a new phenomenon. Water drinking clubs. His colleague suggested it as people at his work don't tend to drink enough water. A couple of times a day, a selected group of people will receive a messenger notice and they meet at the water cooler. Kind of like a water cooler flash mob. They talk and drink water.
I know, isn't it cute? And slightly oddball at the same time but I do appreciate oddball. A part of me does miss being around people as working from home is a solitary existence. But I balance that with the fact that I don't see anyone that I don't want to really. There no annoying boss that undermines your role or the colleague with questionable personal hygiene or halitosis. Everyone that I see during the day is someone that I invite in or see willingly.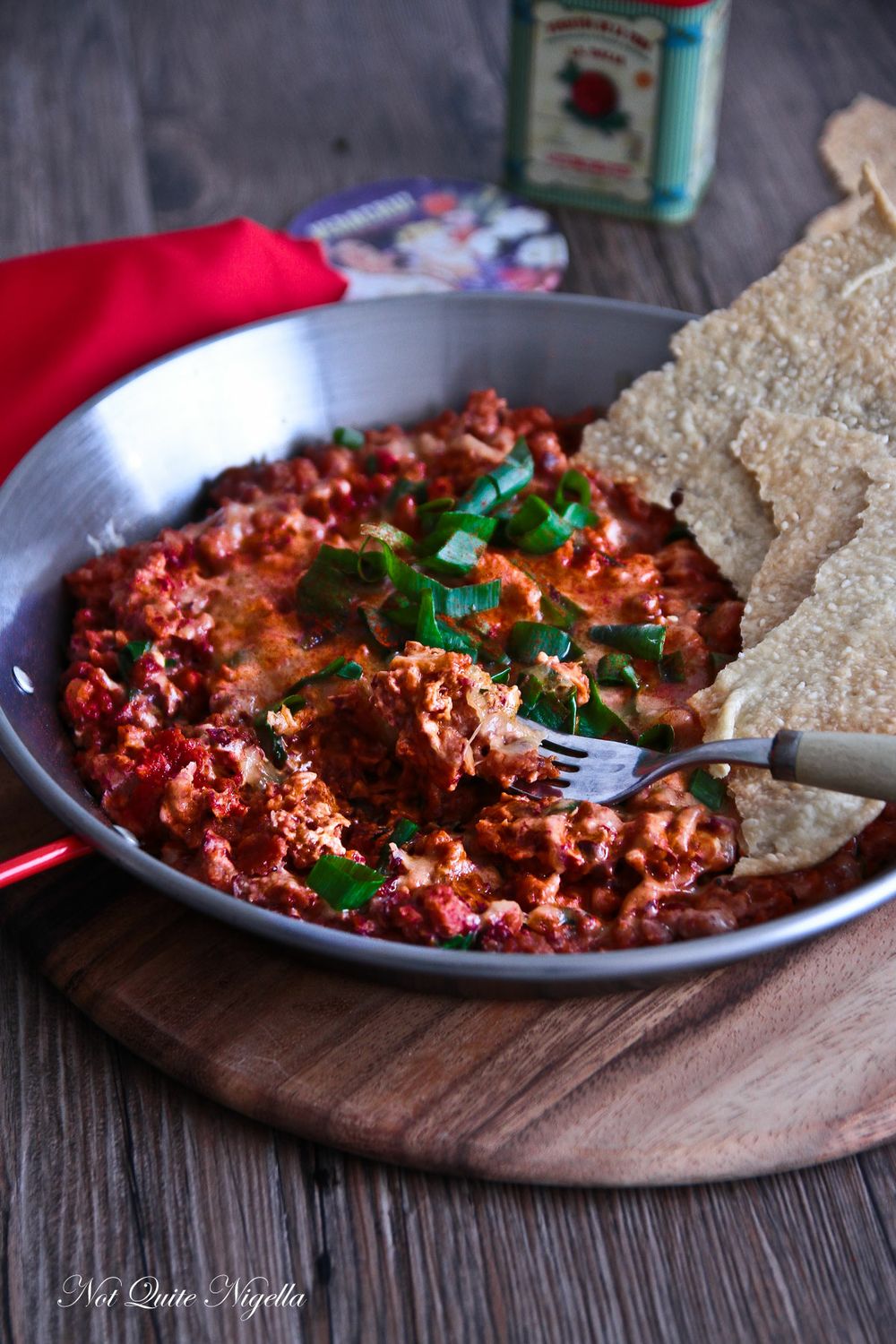 Usually when I have a meeting at our apartment, I will offer tea and coffee. And if it is around a meal time I feel the need to feed people things. Impromptu meetings, the scourge and delight of the compulsive entertainer call for something quickly prepared. This is one of those dips that people can nibble on but is terribly easy to put together.
I always have a few links of chorizo in my freezer. They're so versatile and full of flavour that I can add them to pasta or grain or pulse salads and they can inject their spicy, garlicky magic to them. A friend had told me about a dip with chorizo that she had tried at another friend's house and I decided to try and see if I could do something similar. Coming together very easily, I actually thought that it may have been too easy and that the flavour would be missing something. Absolutely not to be. I served these with home made crackers (made in a large quantity the day before, another fast recipe) and suddenly, the meeting focus shifted from business to the dip. It might even invite an impromptu flash mob.
So tell me Dear Reader, would you like to work from home? Or have you ever and what did you think of it? And what do you always have in your freezer on standby?
Hot Chorizo Dip
An Original Recipe by Not Quite Nigella
Preparation time: 10 minutes
Cooking time: 10 minutes
350g/12.3 ozs raw chorizo sausages (about three chorizos)
125g/4 ozs cream cheese (low fat is fine)
200g/7ozs 1/2 tin red kidney beans, drained and rinsed
2 tablespoons tomato paste
1/2 cup chopped spring onions plus a couple of tablespoons extra to sprinkle at the end
chilli powder (smoked if you have it)
Bread or crackers to serve (or just a spoon! ;) )
Process the chorizo so that it turns from this...
To this
Step 1 - Remove skins from chorizos and give a quick blitz in the food processor so that the chorizo is in even sized pieces. Heat a frypan to medium to high heat. Add the chorizos (you won't need any oil as they have enough fat in them) and fry until cooked, about 3-4 minutes.
Step 2 - In the food processor, whiz the kidney beans and cream cheese. Turn the heat to low and then add this to the cooked chorizo and then add the spring onions and some chilli powder. Stir until everything comes together. Top with cheese and either place the lid on the pan to melt it or you can put it under the grill. Sprinkle with some extra green onions and chilli powder to taste. Serve with bread or crackers.