Regular hummus is great but there is nothing quite like a smooth hummus! As the name suggests, this hummus is creamy and gorgeously smooth and leaves chunky hummus behind. You can buy it of course but did you know that you can make a smooth hummus as good as bought using just one easy household ingredient?
Full disclosure: it took about a dozen goes before I finally got to this recipe.
Things that will not make smooth hummus:
Removing all the skins from the chickpeas. Not only will it drive you crazy removing all the skins (honestly they seem endless), it will not make your hummus smooth.

Adding lots of water. This will make your hummus watery and a little bit smoother but it will be way too runny.

Using the chickpea water doesn't make your hummus smoother
2 Easy Steps On How to make Smooth Hummus:
1 - Use dried chickpeas that have been soaked
2 - Cook the chickpeas with bicarb
That is all!
The bicarb helps to break down the chickpeas in the same way that bicarb tenderises or velvets beef and chicken at Chinese restaurants. Breaking down the chickpeas means that they will blend much smoother and your hummus will shave a silky mouthfeel.
Flavour ideas for hummus: I love this with chilli oil drizzled on top, especially the Oporto chilli sauce (random I know but I just grabbed it from my fridge to try it). You can also add chopped pickled jalapenos, chopped olives or an onion and caper mix with parsley.
Can I make this smooth hummus with tinned chickpeas? Yes you can! I liked the flavour using dried chickpeas better though but if you don't have time, you can use tinned chickpeas. Just cook the tinned chickpeas from step 3 for 20-30 minutes until soft (not 45-60 minutes).
I brought this hummus over to Nina and Garth's house a while back. While Nina's diet is a source of confusion, I know that she loves hummus. Everyone loves hummus.
We ate the hummus and dinner outside in their garden with their dog Marley on watch (Teddy stayed at home because we would have had no peace with the two dogs). Marley is an enormous, sweet but rather anxious dog and he wasn't quite understanding how we had food on the table but weren't eating it (we were waiting for the cauliflower to cook, long story).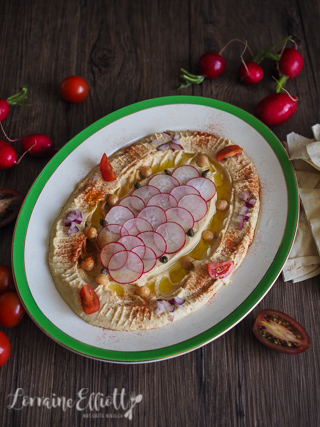 Nina is about as obsessed with large dogs as I am with small ones and they love Marley dearly even when he tests their patience. They have a laundry line in their backyard and it lies quite low to the ground. They recently discovered that Marley was contributing to the laundry process in his own special way.
Occasionally they would find water on their sheets where a circle of liquid would appear and they would scratch their heads wondering where it had come from.
One day they found out the source of the mysterious mark. Marley had been peeing on the sheets and they caught him in the act!
So tell me Dear Reader, do you like smooth or chunky hummus? Do you know anyone that doesn't like hummus? Do you add things to your hummous?
Did you make this recipe?
Share your creations by tagging @notquitenigella on Instagram with the hashtag #notquitenigella
Smooth Hummus
An Original Recipe by Lorraine Elliott
Preparation time: 15 minutes plus overnight soaking
Cooking time: 1 hour
This makes a large amount of hummus (around 3-4 cups) but it's so good you'll be glad that you made it.
375g/2 cups/13.2ozs of dried chickpeas
3 tablespoons and 1 teaspoon bicarb of soda
4-5 tablespoons tahini (to taste)
4-5 tablespoons lemon juice (to taste)
2 tablespoons extra virgin olive oil
4 cloves garlic, peeled
3 teaspoons ground cumin
1/2 cup/125ml/4flozs. water (maybe 2/3 cup*)
Salt and pepper for seasoning
Step 1 - Empty the dried chickpeas in a large bowl and add enough water to cover the chickpeas by 10cms/3 inches and add 3 tablespoons of bicarb. Stir and allow to soak overnight.
Step 2 - The next morning drain the chickpeas and rinse several times until water runs clear. Cover with fresh water again and allow to sit for 2 hours.
Step 3 - Add drained chickpeas and 8 cups of water to a large pot. Add 1 teaspoon bicarb and bring to a boil. Allow to simmer with the lid on for 45-60 minutes. You can skim the foam and any chickpeas skins off too. The chickpeas are done when they are very soft and mushy when pressed. Drain and rinse very well (make sure to get rid of bicarb flavour). Cool to room temperature or you can also chill the drained chickpeas at this stage.
Step 4 - Place the cooked chickpeas, tahini, lemon juice, olive oil, garlic, cumin and water into a blender (high speed blender ideally). Process until smooth. Some blenders like Nutri Bullets require a bit more liquid to process so you can add a little bit more water or lemon juice if needed. Season with salt and pepper. This hummus is best after a day in the fridge and becomes more spreadable the next day.
Thermomix note: process on speed #6 for 2 minutes.