"We're not a mass producer, we're the opposite of it," says Eden Elan, one half of the pair behind Glazed Doughnuts. Eden and her friend Candy Berger have only known each other for one year but finish each other's sentences in the same way that sisters do. The duo specialises in making hand made doughnuts the way they used to be made before machines became involved - they are even making their one painstakingly hand piped sprinkles. And the reaction to their doughnuts so far? "It's beyond our dreams," Eden says.
The two first met as employees charged with setting up a cafe business. Within two days they had established that they both wanted to work for themselves and discovered that it was a mutual dream to involve food. Candy is a chef and Eden has worked front of house. And doughnuts versus donuts? "We did a little bit of research and found out that "doughnuts" was the original way of spelling it and "donuts" was just popularised by Dunkin Donuts in America so we decided to go with the original," they say.
"We grew up with doughnuts (Eden in Los Angeles, Candy in Santa Barbara), we know the flavours and there is nowhere in Sydney offering doughnuts like these," says Eden. For them it's a taste of nostalgia and of their childhood. One of Eden's favourite flavours is "Cereal Milk" that has a cereal milk glaze and crushed cinnamon crunch cereal on top.
Other doughnut flavours include the "Triple Choc Fudge Brownie" which has pieces of home made brownie and a Callebaut chocolate glaze, the "Sticky Date" has Candy's grandmother Linny's butterscotch recipe and chopped dates for a tribute to the sticky date pudding. The "Peach Cobbler", one of my favourites has tiny peach gummies wedged into the doughnuts while they're still hot. The gummies melt into the hot, soft doughnut and they are then dipped in a white peach glaze and then sprinkled with cobbler mix. The "Espresso" is single origin espresso glaze topped with a dark chocolate covered coffee bean crunch.
The "Pina Colada" is the only donut with a different base with coconut and is topped with pineapple pieces soaked in Sailor Jerry's rum that is sprinkled in brown sugar and then caramelised. There are no shortcuts made here (except for the cereals used) and even the vanilla extract is home made. They keep a book of flavour ideas for upcoming doughnuts. Cafes can order as little as a dozen for delivery.
Currently the doughnuts are available at nine Sydney cafes at around $5 each. The cafes are a combination of them approaching their favourite cafes and cafes asking them. In the case of Sensory Lab in Bondi, the owner overheard Eden talking to a friend about the idea and immediately saw the potential and wanted in on the supply. Even in the few weeks that they've been open they have started noticing people waiting for the morning doughnut delivery in cafes, so much so that they had to push their start time even earlier to accommodate the waiting doughnut fans.
The pair work seven days a week out of a pizza kitchen in Bondi, Eden's favourite local pizzeria where they start the day at 3.30am. The trick to the dough is three rises and Eden is the "dough master" while Candy is the "glaze master." "She (Candy) can spot a glaze from across the room and know if it needs more sugar," says Eden. The dough recipe is a combination of about forty recipes tested out over a period of two months.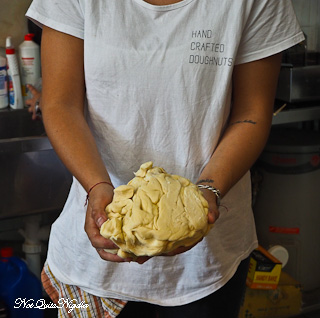 Eden creates the 20 kilo dough every day and it is only rolled once as she feels that the quality deteriorates if rolled too often. Any dough that isn't used is discarded that day and a fresh dough is made the night before for the next day.
Once the dough has risen, Candy fries the donuts in lots of nine turning them over with chopsticks for one and a half minutes (Eden is terrified of deep frying). Each donut is then individually hand dipped in the frosting and decorated by hand. With the exception of a handful of glazes that benefit from a day's rest, these are also made fresh daily.
Incredibly, on the second day, there were even investors knocking on their door. "We make 150 donuts a day," Candy explains. "We do everything together, we deliver together...we have a lot of fun," she says and explains that the investor was turned away. "The second you expand, the quality and the high quality that we want might not be there." The next step is markets and with an industrial design degree, Eden is building a proofing oven. "The only machines we have are these," Eden says pointing to her arm muscles.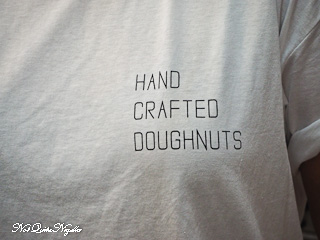 So tell me Dear Reader, which doughnut flavour did you like the sound of the most? Have you ever made your own sprinkles? And do you spell it donuts or doughnuts?
Glazed Doughnuts
Glazed Doughnuts can be found at Sensory Lab Bondi, Tap Espresso Martin Place, Baker Bros Sydney CBD, Kingswood Sydney CBD, Reuben Hills Surry Hills, Paramount Coffee Project Surry Hills, John Montagu Woolloomooloo, Sample Surry Hills (Thursday and Friday) and Gypsy Potts Point (weekends only) info@glazeddoughnuts.com.au
Tel: +61 0427 293 539 or 0410 369 237
http://www.glazeddoughnuts.com.au/