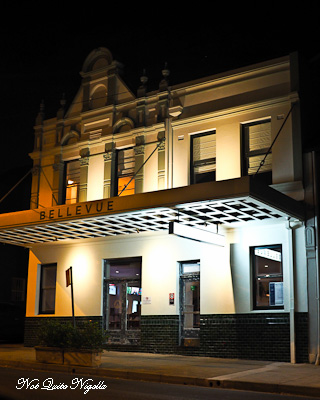 Following a seven month refurbishment, Paddington's Bellevue Hotel has reopened with a stylish dining room and open kitchen. Chef James Metcalfe and his team focus on a Modern European menu served in a contemporary twist on a neighbourhood pub. Their signature dishes include a caramelised pigs head, maple gastrique and peas French style.
"Errr...we should separate those," says Samantha in her soft Nashville Australian accent. We're both peering down as a plate of crumbed balls and both of our minds go to, well balls.
We are at the newly refurbished Bellevue Hotel in Paddington. The seven month renovation sees the dining room transformed into a modern and welcoming space. There are booths on the right hand side that fit groups snugly. This leads to the main dining room where the open kitchen looks out onto a large share table. That's where we are seated as I had only booked that morning.
The executive chef is James Metcalfe formerly of The Bourbon and Etch. From our perch we can see plenty of delicious looking items going through the pass. Prices are based on the number of courses: one course is $35, two courses $50 and three courses $65 or a six-course tasting menu is $80. Samantha is a fan of steak so she eyes this off. Alas it is for the public bar area and we go for other things on the menu.
Like the balls. Yep the balls. I agree, we need to separate them, for the photograph's sake.
"Oh no, now it looks all wet between them," she says and we can't stop laughing. We do the appropriate thing and eat them instead. The goat's cheese inside is light and fluffy and the crumbed coating hot and crunchy. "What are those?" the people at the table next to us ask. "Balls!" we answer laughing (clearly we are not above puerile humour).
Service is alas a bit scattered albeit friendly. Samantha orders a Kir Royale and they bring two. Then she orders a glass of wine with her main and they bring a whole bottle and two glasses. Also we have to catch someone else's eye to ask for recommendations and to order.
I'm intrigued by the pork starter while Samantha invests her calories in chips and salad to go with her main. James explains how the caramelised pig's head is made, "The face is removed from the head and lightly salted for 6 hours. The tongues are pickled in red wine and a little vinegar. The meat is then confit slowly at 90 degrees for around 4 hours. Most of the large chunks of fat are removed then it's rolled up into a large ballotine and set over night.". It is pressed into a round terrine shape and served sliced and pan fried with a maple gastrique (sweet and savoury sauce made using sugar, white vinegar and maple syrup) and French style peas cooked with onions and bacon and baby gem lettuce right at the end that is still crisp. I love the fatty texture of the pork-it's not for lean meat lovers but if you like lusciously melting pork then this is for you.
I try some of Samantha's lamb. I love pork and lamb shoulder when slow cooked and this had been cooked for 10 hours until it was so soft and luscious. It also came with buttered onions and carrots and mint sauce to lift the unctuous meat. James explains that the lamb jus is infused with fresh mint and a splash of sherry vinegar for freshness.
Despite the fact that I already had pork for my entree, I could resist having it for my main too. The pork jowl comes as two squares with wilted rainbow chard and a slice of star anise and ginger roasted pineapple. The crackling could be crisper and it is hard to cut but the lusciously fatty cut is appealingly good particularly with the aroma of the spices and it is perfectly paired with the pineapple. We see a lot of this going out at the pass (one of the advantages of sitting right next to it).
The fries come out in a large bowl and clearly our eyes were bigger than our stomach. The salad although crisp and fresh doesn't seem to have much of a dressing on it and because both are sizeable we can barely make a dent in it.
It's getting late and we've talked ourselves almost hoarse (the adjoining table is five very loud guys so we've had to shout) but there is always room for dessert. We go for the chocolate tart with a layer of salted caramel on the bottom and a layer of chocolate on top, served warm with a quenelle of Earl Grey ice cream. The ice cream is delicious - it is strong in Earl Grey and we like that the tart is served warm (and it's an enormous slice). But perhaps it was too ambitious after all the richness of the goat's cheese, pork and lamb.
Although now I've thought up a byline for my blog or book: "Eyes bigger than stomach."
So tell me Dear Reader, do you ever have the same protein for the entree and main? And do you think about where to invest your calories (e.g. entree and main, main nad sides or main and dessert)?
This meal was independently paid for.
The Bellevue Hotel
159 Hargrave St, Paddington NSW 2021
Phone:(02) 9363 2293
http://www.bellevuehotel.com.au/
Open Monday – Sunday
Lunch 12pm – 3pm
Dinner 6pm – 10pm