It was a difficult choice as to where to go for my birthday dinner. It had to have delicious food (that was a given), and it also had to cater for friends and their preferences. Saint Peter in Paddington ended up being the perfect choice. While has been open for a few years now, it has steadily been collecting awards and accolades. The smallish, simple exposed brick walled restaurant specialises in Australian seafood with an all Australian wine and drinks list.
"I think on your birthday you can pretty much choose wherever you want to eat," said Nina to me as we were on the way to Saint Peter. "OMG you were the hardest one to cater to!" I cried to vegetarian Nina because having been the listener to many of Nina's rants at a disappointing vegetarian meal, I didn't want to be the subject of such rant to someone else. Little did we know that she would be treated to one of the best meals that would have us all seafood eaters envious and curious.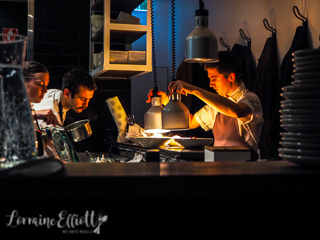 But I'm getting ahead of myself. For our group of 8, they were extremely accommodating with catering for Nina (vegetarian, no goats cheese or green beans), Viggo (allergy to shellfish) and me (allergy to barramundi) confirming that all of these would not be a problem within a matter of hours.
Because we are a group of eight, we are eating from a set menu which is a chef's choice with 6 courses including dessert. And they tell us that their aim is that "Nobody will leave here hungry," which causes human eating machines Garth and Mr NQN's eyes to light up. As we aren't sure what is on the menu, we ask for wine recommendations which they happily offer and the food comes out in a timely manner. Chef and owner Josh Niland is in the kitchen.
Raw broadbill, sour onion chives raw eggs, witlof
The first item to come out is the raw broadbill or swordfish with sour onion, chives and raw egg yolk. We are instructed to mix it up and spoon it on the witlof leaves. Like a beef tartare, it's creamy gorgeous with the seasonings and mix-ins the key to flavour. It get crunch and bitterness from the witlof.
Sweet & Sour Radicchio, Beetroot & Macadamia (vegetarian course)
As for Nina, she starts with a sweet and sour radicchio dish with beetroot and macadamias and she enjoys it immensely.
Coffin Bay baby octopus, squid ink, barbecue onion, kohlrabi
The serves are meant to be shared but they are in a good portion size so there is plenty to go around. Usually you associate Coffin Bay with oysters but the Coffin Bay baby octopus is coated in squid ink, with barbecue onion and kohlrabi with superbly crunchy semi translucent cracker made from mashed potato.
Glazed Jerusalem Artichokes (vegetarian course)
Nina's second course is made with Jerusalem artichokes and sliced Adelaide Hills porcini mushrooms, garlic and parsley. It's so full of flavour and this is her favourite course. I think I may have converted her over to fine dining ;)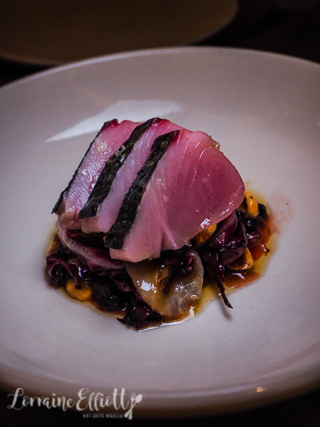 Bonito, sweet sour currants, shallot, radicchio, macadamias
The bonito comes as three luscious slices sitting atop a bed of sweet and sour currants with shallots, cooked down radicchio and crunchy hazelnuts, a version of Nina's first course. I love agrodolce or sweet and sour flavours especially with fish like bonito and bitter leaves like radicchio as they really bring out the best of each ingredient.
Rolled Silverbeet (vegetarian course)
I tried some of Nina's vegetable roll with plenty of sauteed silverbeet, barbecue onions, yogurt, vegetable XO and chilli oil. The vegetable XO sauce tastes remarkably similar to regular XO sauce which is why I enjoyed my taste of Nina's course so much.
Shark Bay red mullet, roasted tomato sauce, swordfish bacon
My favourite main is the Shark Bay Red Mullet from Western Australia which is paired with a cherry tomato based sauce and an aioli as well as cubes of swordfish bacon. I first tried the swordfish bacon at chef Josh Niland's Fish Butchery a few doors away which I adored so much raw that I thought that it was life changing (because it tastes like the delicious white fat of the bacon or lardo but is just fish so it's good for you-major win!). And because Ryan always makes fun of me and mimics me (I adore his wife Ivy so I put up with him), he parrots back about how I said the swordfish bacon is life changing but then he tries it and admits that it's pretty damn good. It's delicious when cooked but I'm going to say that I prefer it raw. And red mullet is one of my favourite fish too as I love the texture of the red mullet (also known as goatfish or rouget) and that the flesh is moist and quite fatty for a white fish.
Native Australian Sugarloaf Cabbage Curry (vegetarian course)
By now Nina is completely full but I'm more than happy to try her sugarloaf cabbage and broad bean leaf curry with potato crisp on top.
Geraldton kingfish WA Anchovy, Garlic, Silverbeet and Kale
This was a surprise dish because we thought that the red mullet was the main and that was it. It's kingfish has an intense aroma and is served with anchovy, garlic, silverbeet and kale with a purple sauce. The mains come with fantastic potato fries and a green salad. I have to admit I ate a few more fries than I intended to, using the excuse that it was my birthday.
Lemon Tart
It's dessert time and I made sure to save space for the tarts. The lemon tart here is one of those dishes that everyone raves about and is the creation of Julie Niland. And once I place a fork in it I understand why. The texture of the lemon curd filling is incredibly smooth and silky and just melts on the tongue while the pastry is artfully thin. It's one of those tarts that you don't quite understand how it comes together, as if the melting lemon centre should be liquid, so you just sit and eat and appreciate the perfect level of lemon tartness.
Custard Tart
And then they bring out slices of custard tart including one with a candle. "We have to sing Happy Birthday!" says Nina and it comes with a rousing version of Happy Birthday. The custard tart is all milky egginess. I adore these old fashioned custard tarts with the blanket of nutmeg on top. Again the pastry is wonderfully thin and it tastes a little like like a spelt pastry. And because it's my birthday I get to finish it all...
So tell me Dear Reader, on your birthday do you tend to forget diets? Do you try and accommodate everyone when choosing a place? And have you ever described a food as "life changing?" and if so, what was it?
This meal was independently paid for.
Saint Peter
362 Oxford St, Paddington NSW 2021
Monday closed
Tuesday to Thursday 5:30–10pm
Friday 12–2pm, 5:30–10pm
Saturday 11am–3pm, 5:30–10pm
Sunday 11am–3pm, 5:30–10pm
saintpeter.com.au
Phone: (02) 8937 2530