Headed to the beach for a sunny Summer's Day? There are some fabulous places to eat in North Bondi that can make your day rather than break it. Soak in the sun, smell the salt air and eat Bondi style with these three fantastic cafe and lunch spots!!
Mr Topper Toast Bar, Bondi Beach
NOW CLOSED
A toast bar? Is that such a thing? In the world of Bondi Beach it sure is and you know what? It's pretty fab. On the North Bondi side of Campbell Parade, Mr Toppers serves a neat selection of open faced sandwiches or tartines. Don't like the pre-selections that range from Fancy Pants, Fresh To Death to Mr Vegan? You can also choose a single topping and have it on your choice of white or seeded sourdough for $6 each. Mr Topper is brought to you by the man who launched the Doughnut Time chain.
Drinks are unsweetened ginger beer and matcha milk made with your choice of milk (JY and I go for almond milk and coconut). At $11 each I wasn't sure what to expect and unlike pizzas where I think less is more, on tartines it's all about the topping. But some might find $11 a tartine expensive.
The special of the day is leg ham and four cheeses (mozzarella, cheddar, gruyere and romano) and is perfect winter weather (not that it's ever winter in Bondi Beach, metaphorically speaking).
The Daily is avocado, ash coated goat's cheese, sesame seeds and chilli flakes on your choice of bread and we were recommended an upgrading with a side of bacon which is thoughtfully crumbled in a generous portion on that. It's so Bondi but so delicious. And if you're looking for something sweet there's the strawberry slider with fresh strawberries, clotted cream, coconut flakes, mint and honey.
Jo & Willy's Depot, Bondi Beach
Nina and Garth's favourite spot on a Sunday is Jo and Willy's Depot. For starters it has a good sized outdoor section for dogs but most importantly it serves up substantially sized, tasty breakfasts at very reasonable prices. Sydney is a city where a Sunday brunch meal starts at $20+ for just the food and Bondi is generally an expensive place to eat out.
Be prepared to queue on weekends or do a table shuffle as it is very popular for these very reasons. The menu is a mix of healthy Bondi fare but it isn't extreme and there's indulgent food too. The turmeric glow is a sweet juice made with mango, ground turmeric, maca powder, cinnamon and coconut milk. Mr NQN orders a cold drip coffee made over 8 hours.
Have you noticed how the word Paleo has disappeared from a lot of menus to be replaced by Caveman? The Caveman eggs are a slow cooked chorizo and beef mince ragu with 2 poached eggs, goats cheese, pesto and baked parmesan rounds on sourdough. It's also massive and filling and tastes more of lunch than breakfast to me but I think it's perfect for Garth or Mr NQN.
I can't go past truffle scrambled eggs with crispy prosciutto, with grilled asparagus and roasted cherry tomatoes on a slice of Sonoma sourdough. The eggs actually do have a good truffle aroma to them and I love the crispy prosciutto and who would have thought a truffle dish would be one of the least expensive on the menu?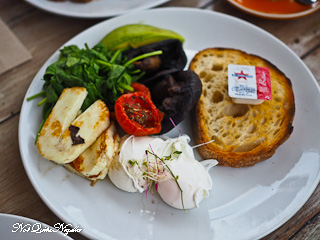 Every week Nina orders the big breakfast but switches out the bacon for halloumi. She offered me some but I didn't want to take her meal. Plus I had other things to eat ;)
This looks a tad pale in comparison to the other dishes but you know what? Looks are deceiving as this is my favourite item of the lot after the truffle eggs. It's a layer of hummus, kale chips, red rice, quinoa, seeds and poached eggs with a nice subtle kick of chilli to it. I'm going to make something very similar at home.
When Nina and Garth usually come here he wants to get the pancakes but she's usually too full to share them afterwards but that's the great thing about coming in a group - you get to split dessert! And this is one enormous pancake. It's thick and fluffy with lots of coconut with a big serve of creamy yogurt and blueberries. I think you'd be hard pressed to finish one by yourself but it's ideal for sharing for dessert afterwards!
Bondi's Best, Bondi Beach
Just near Jo & Willy's Depot is Bondi's Best, a seafood specialist whose menu is split in half. On one side is the fried food e.g. battered fish and chips, crispy skinned salmon, grilled barramundi and very good fries. But on the other side is the sushi which is what we're more drawn to. The sushi is popular with locals stopping their cars out front and picking up take away.
We start with the 12 piece nigiri sushi which has melt in the mouth fish atop a neat mound of rice. The aburi salmon (also available on its own) is a stand out here but all of the nigiri is good each with its own sauces. Then the sushi rolls come out and we love the White Snow sushi roll with crunchy tempura prawn inside with avocado and seared scallops on top and a teriyaki style sauce. "We need to get to Bondi more often," I say to Mr NQN.
So tell me Dear Reader, which place of the three would you pick to go to? And what do you tend to do over a summer long weekend? Do you work? Rest? Watch tv or go to the beach?
All meals were independently paid for.
Mr Topper's Toast Bar
NOW CLOSED 222 Campbell Parade, North Bondi NSW 2026
Open 7 days 6:30am-4pm (7am on weekends)
Jo & Willy's Depot
286 Campbell Parade, North Bondi NSW 2026
6am-3pm 7 days a week
Dog friendly area outside
Bondi's Best
39-53 Campbell Parade, North Bondi NSW 2026
Phone: (02) 9300 9886
12pm-9pm 7 days a week
Dog friendly area outside