We cross the Harbour Bridge to try Double Cross Espresso. It's a cafe that serves Japanese style cafe offerings like mentaiko pasta, karaage chicken burgers and pork katsu and egg sandwiches on brioche. And for dessert? A crème brûlée French toast that tastes just as good as it looks!
Double Cross cafe is a mainstay for the Fourth Kardashian Sister. She stops by every weekend and often during the week. We take a seat outside and survey the menu and my face scrunches up - there's so much that I want to try. I decide to start with a matcha latte that is rich in matcha and not overly sweet bringing the bitter quality of the matcha to the fore.
Although five minutes has passed there are still at least 9 things that we want to eat. "Ooh how about this? Or this?" and quite honestly we need a group of about 8-10 people to sample everything. Service is really friendly and helpful.
The Fourth Kardashian Sister takes charge and suggests her favourite dishes. The first item is a soft brioche bread with a pork katsu fillet and an egg omelette. It's so soft with a sweet edge to it and the crispy crumb from the panko crumbs.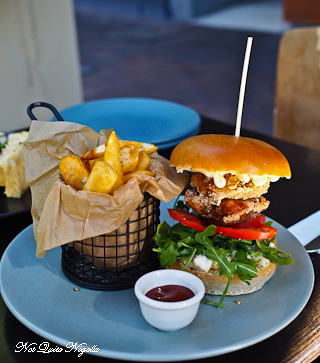 The karaage chicken burger has plenty of mayonnaise, tomato, Japanese macaroni salad and lettuce. The karaage could be a bit softer and a bit more spread out for the burger and I love milk buns warmed or toasted but it's a nice burger.
But the crème brûlée French toast doesn't disappoint. The thick piece of brioche is topped with what tastes like a cheesecake dollop with a toffee brûlée crust and a berry coulis. It's definitely enough to share between two for dessert or even a post savoury item.
A few months later Mr NQN and I were back over that side of the bridge around lunchtime and decided to take a second approach to try out some of the other things that I had my eye on. Service is again really attentive and nothing is too much trouble.
My favourite item is the crab croquette dish. It comes with two fat, crunchy panko breadcrumb covered crab croquettes in a cream sauce on the bottom with cashews, fried green shallots and parmesan. It's really rich, I think I could do one (okay who am I pretending to be? I could eat both!) but worth ordering and the prices are also surprisingly reasonable which I forgot to mention before.
I quite like the chicken karaage benedict but the thick loaf of brioche is a tad too thick for the proportion of the rest of it. Still, they tell us that it's one of their most popular items so perhaps I'm in the minority. It comes with a 63°C egg (alas solid yolked), rocket and hollandaise sauce.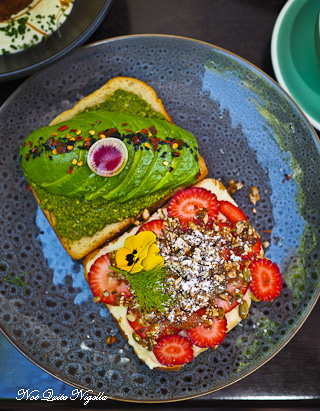 When I spied this I thought it was such a genius idea that I had to order it. You know how sometimes you feel like sweet and savoury? This is two slices of brioche done either way. The savoury half has basil pesto, avocado and pepperoncino while the sweet slice has mascarpone custard, fresh strawberries and granola. Both halves are delicious and I love the simple genius of catering to anyone who has FOMO and wants it all.
So tell me Dear Reader, do you often crave something sweet or savoury for breakfast? And what was your pick of the dishes that we ordered?
These meals were independently paid for.
Double Cross Espresso
2/118 Willoughby Rd, Crows Nest NSW 2065
Phone: (02) 9438 1058
Monday to Friday 6:30am–6pm
Saturday 7am–6pm
Sunday 7am–4:30pm