It's time for a food adventure and this time we are headed to Parramatta. The Zungle is a new Korean restaurant located on busy Church Street where all of the meats are served blowtorched at the table! It was the perfect spot for a Lunar New Year dinner with friends.
I first heard about The Zungle through a friend Muppy. One Tuesday night she and her family went and raved about the food. She has close family ties to Korea through in laws and has cooked a lot of Korean food. We decided to make a Lunar New Year date with her family to try it out for ourselves. Service is very friendly and accommodating. It's located on Church Street just near the river and the branding is everywhere (and I mean everywhere from the plates, shirts to the tables).
One of the owners is San Kim, who sold up his stake in Korea Fabulous Butcher or KF Butcher in Lidcombe to open The Zungle with his two uncles. There's a downstairs area with booths but we are sitting upstairs in a large table near the open balcony from where there's a view of busy Church Street below. You can order via QR code but they also can help you with your order and put it on the tablet. While they call themselves a barbecue restaurant you don't do any of the barbecuing at the table. It all comes cooked for you and they finish it off with the blowtorch at the table.
We start off with a cup of complimentary fermented Korean soft drink made with rice. It's very tasty and similar to Yakult or a non alcoholic version of Amazake with a sweet, slightly milky flavour. Then out comes the banchan or complimentary side dishes. There are pickled daikon slices, kimchi, corn, a cold mashed potato salad and cabbage salad. They're quite basic but tasty enough.
Zungle Gochujang Chicken With Cheese $31.50
The food arrives shortly after and the first item is the marinated chicken and onions seasoned with plenty of gochujang with melted cheese on top. It's good, with a fair whack of spiciness to it and the chicken is tender. I also like the crispy, spicy cheese that has been caramelised on the cast iron base.
Fruit Mayo Salad $17.80
Honestly I wasn't sure about a fruit and mayonnaise salad but when I asked if they recommended the tofu salad or this salad they overwhelmingly recommended this one. And surprise...it's delicious! It has a nice variety of fruit in this salad from apple, pear, strawberry and blueberry that doesn't feel out of place tossed with salad leaves, carrot and mayonnaise.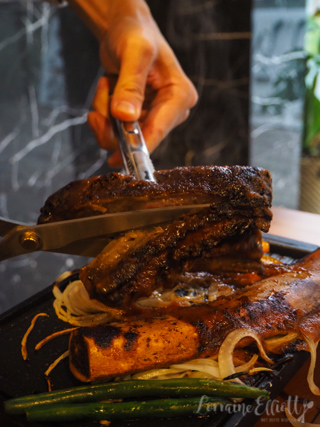 Super King Kong Rib $49.50
Then they bring out the blowtorch and the meat. While everything is already cooked the blowtorch finishes off the meat. My favourite meat is the Black Angus Short Rib. It's slow cooked and once they torch it the meat easily slides out and they cut it up for us so that it is easy to share. The flavour penetrates right through the meat and it has a luscious texture. We ask if they've ever had an accident with the blowtorch and San admits that he has burnt little baby hairs off!
Zungle RAD Pork Rib $47.90
Another favourite is the rack of pork ribs with gochujang sauce. They describe it as their Korean version of the famous Hurricane's pork ribs. They also give the weight for the ribs at around 580~680g. They torch them and then slice them up ready for us to eat. They also offer us gloves which I happily take them up on (I have OCD of hand washing) which makes picking up and nibbling on these tasty, slightly spicy ribs easy and clean work.
Zungle Marinade LA Rib $36
The only meat that we didn't love was the marinated LA rib. LA galbi ribs are beef short ribs that are cut across the bone flanken style so they are served on the bone. Because they are thinner they are quicker to cook. The LA rib is a bit dry and doesn't have a lot of flavour to it. I'd say recommend ordering the King Kong Rib instead of this.
Fried Chicken $28.90
The Korean fried chicken has two types: the original seasoning or sweet chilli. We can't choose and they are nice enough to do half half so we can try both. This Korean Fried Chicken is absolutely delicious and I know this restaurant is all about the meat but the fried chicken was one of my highlights. The original comes with snow cheese which is usually a bit too sweet for me but here it perfectly season the chicken and the sweet chilli has a delectable sticky quality to it.
Cold Noodles $18.80
There are a few types of noodles and of course no Lunar New Year celebration is complete without them (long noodles are said to signify long life). There are three noodle dishes on the menu: Japchae as well as spicy and non spicy cold noodles. Since the kids can't have super spicy food we go for the regular cold noodles with thin vermicelli noodles in a chilled, iced broth with pickled radish, boiled egg and condiments that you add at the table. They're refreshing and well seasoned noodles with a nice range of textures from the slippery noodles to the crunchy vegetables.
Fried Chips Deep Fried Chips $10.80
Muppy's son Nate loves chips so we ordered a serve of these and they're sprinkled liberally with the snow cheese powder which gives it a very sweet, cheesy flavour to it.
Rice Ball $13.50
I love Korean rice balls especially with barbecued meat. The sesame seasoned rice is paired with crispy dried seaweed fluff and diced, pickled radish. Muppy's daughter Evie takes on the task of donning a glove and mixing up the rice and shaping it into balls which she performs expertly.
There's no dessert on the menu but options outside on busy Church Street (although we are too full) as we leave I spot some of the traditional Korean outfits hanging up. "You can try them!" they say enthusiastically and so Mr NQN and I don the hanbok! And somewhere on a wall in the restaurant is a picture of us in our outfits.
So tell me Dear Reader, do you have a favourite Korean bbq meat? And if you were offered to try on a traditional dress at a restaurant would you?
This meal was independently paid for.
The Zungle. Marinade BBQ
329 Church St, Parramatta NSW 2152
Open 7 days 11am-10pm (11pm Friday & Saturday)
Phone: 0481 386 633