I know this is a hard sell, this recipe for making Dolmades is a little complicated when you can go to the nearby supermarket and buy them for $10 a kilo. So I will try and entice you by saying that these are different from the regular Dolmades that you may buy. These have an Olive, Oregano and Pine Nut stuffing inside them.
These little parcels of creamy olive studded rice are fantastic finger food. They're just the right size for popping in the mouth although you might need to take a couple of bites if you're feeling dainty.
I would recommend that you give these a go just once, if only for knowing that these are absolutely fresh and gorgeously different, but not different enough to make you regretful.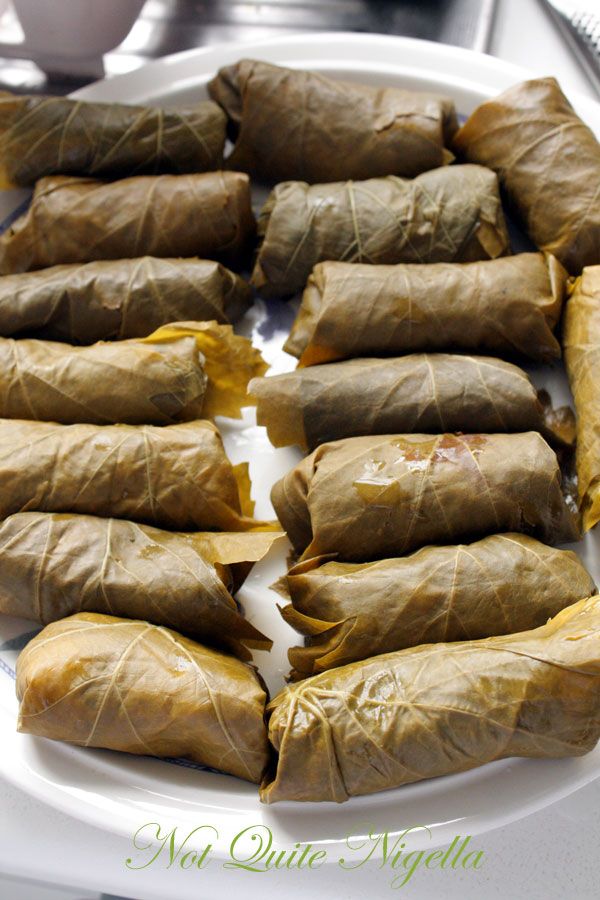 Rolled and ready for steaming
DID YOU MAKE THIS RECIPE? Share your creations by tagging @notquitenigella on Instagram with the hashtag #notquitenigella
Olive Stuffed Dolmades
Makes 16 Dolmades
Ingredients
400g vine leaves in brine
1 tbs extra virgin olive oil
Rice & olive filling
1 brown onion, halved, finely chopped
125ml (1/2 cup) vegetable stock
110g (1/2 cup) medium-grain rice (I used Sushi rice and it was fine)
55g (about 10) pitted kalamata olives, finely chopped
1 tbs drained capers, finely chopped
1/2 tsp dried oregano leaves
2 tbs chopped fresh continental parsley
Salt & freshly ground black pepper
Method
Step 1 - Rinse the vine leaves under cold water and pat dry with paper towel. Set aside.
_Par cooked rice with olives, oregano and pine nuts
_
Step 2 - To make the rice and olive filling, place pine nuts in a saucepan over medium heat and cook, stirring, for 2 minutes or until toasted. Add water, onion and garlic and bring to the boil over high heat. Reduce heat to low and cook, covered, for 8-10 minutes. Stir in stock, rice, olives, capers and oregano. Bring to the boil over medium-high heat. Reduce heat and simmer, covered, for 10 minutes or until the rice absorbs the liquid. Stir in the parsley. Season with salt and pepper (go gently with the salt as the vine leaves are in brine and are still salty). Set aside for 20 minutes to cool slightly. The rice will not be fully cooked at this stage.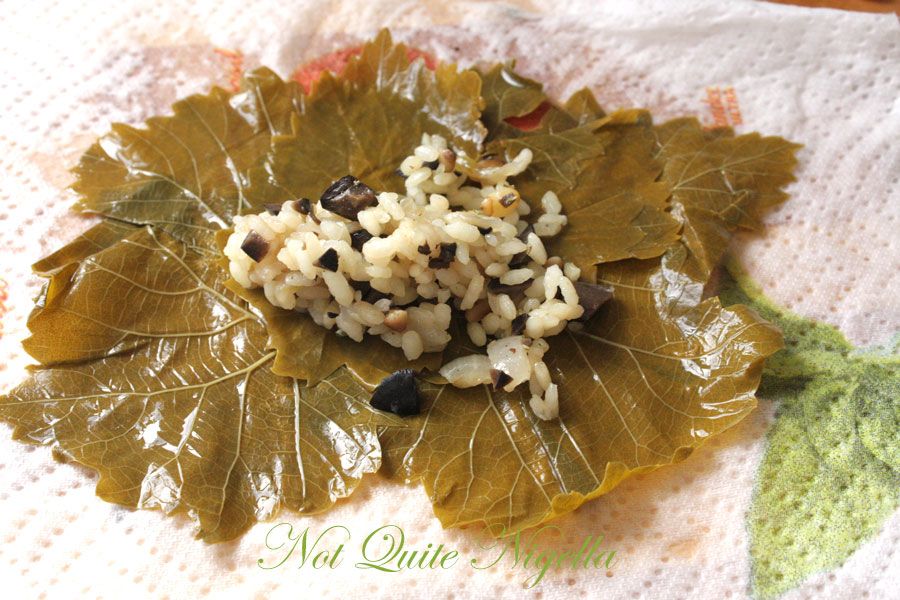 Filling and wrapping the vine leaves
Step 3 - Place a vine leaf, vein-side up, on a clean work surface (if the leaves are torn or 'gappy', place a section of another leaf on top to cover any holes). Choose the larger leaves to make it easier and then add a medium leaf, I used 2-3 leaves her dolmade. Place a heaped tablespoonful of filling in the centre of the leaf. Fold in one side, then the sides, then roll the leaf firmly to enclose filling. Repeat with the remaining leaves and filling.
Lining pan with spare vine leaves
Snug fitting in the pan
Step 4 - Place any damaged or leftover leaves over the base of a large saucepan. Arrange rolled vine leaves, seam-side down, on top in a single layer. Pour over the water, lemon juice and olive oil. Bring to a simmer over medium heat, then reduce heat to low, cover, and cook for 50 minutes covered with a lid. Set aside to cool to room temperature. When they are hot they are very delicate so don't try and remove them from the pan at this stage.
With water, lemon juice and oil, ready to cook
Step 5 - Place dolmades on a serving plate. Cover with plastic wrap and place in the fridge to chill for one hour before serving. Or just eat once cool.
Australian Good Taste - May 2003
Recipe by Jan Purser