I am a woman of ratios. For someone that was average at best at Maths at school, for me food is all about ratios. The correct ratio of moisture to dryness the correct ratio of salt to sweet and the correct ratio of popcorn to caramel. I always find that when I get a bag of caramel popcorn there are never a) enough caramel to coat the pieces or b) enough good nuts. I understand that for them it's not so much a matter of ratios but more a matter of economics with ratios running a poor second.
One of the things growing up is embarrassing. We always thought that store bought was always said to be better than home-made. I think it came about as my mum was too busy working to spend a lot of time cooking.  Even now whenever I give my mother some home baked goodies she sorts through them asking me which ones were home-made versus bought but now I'm know the truth and that is home made is better than store bought in many cases.
I don't mean artisan bakeries etc but I mean supermarket products where costs and shareholders dictate the quality and type of ingredients that go into the food. If it's home-made it's usually made with pride and care and with a generosity of ingredients as the person making it puts their stamp on it and declares it theirs. Of course there are exceptions but most home cooks do it with pride.
This whole recipe is done and dusted in about 30 minutes including setting time. Like home-made pizza dough, once you try making it at home, you'll never buy it again.  And like me, you may find yourself smuggling it into the movies in a large ziplock bag or you can even buy these little bags from variety stores. Be prepared for some envious sideways glances though.
So tell me Dear Reader, what do you buy at the movies to eat? Or are you like me and smuggle in your own?
Caramel Nut Popcorn - Better Then Bought!
4.5 cups of unsalted popcorn (1/3-1/2 cup of unpopped corn should give you enough)
1/4 cup golden syrup or honey
1 teaspoon vanilla bean paste or vanilla extract
1/4 teaspoon bicarbonate of soda
1.5 cups toasted nuts of your choice (pecans, almonds, cashews, macadamias etc)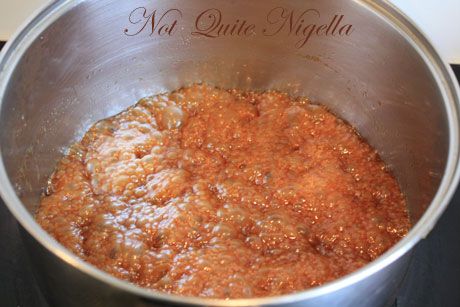 Step 1 - Line a baking tray with parchment. In a large, heavy based saucepan, place sugar, syrup, butter, salt, vanilla bean paste and heat on low to medium heat until sugar has dissolved. Increase to medium heat (not hot, sugar burns easily) and cook without stirring for 5-7 minutes. Stir in baking soda and then add nuts and popcorn and stir to coat kernels all over (I turn off the stove but use the residual heat from the hot plate to try and keep the caramel liquid so it's easier to coat the popcorn as it hardens quickly otherwise).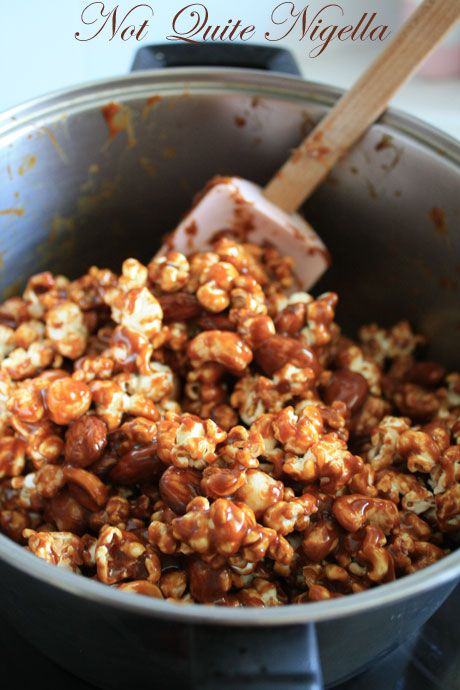 Step 2 - Quickly spread it out onto the lined baking tray and allow to cool and set. Break up into chunks-but never too small chunks. You know it's always a thrill when you come across a super chunk!