"Honey! Honeeeey!!!" I said waking Mr NQN shaking his arm urgently.
"Mmmppffhhh" he muttered still half asleep.
I climbed on top of him so that he could sense the urgency. "Honey, we need a ransom question, you know, just in case one of us is kidnapped!"
"Whaaat? Who was kidnapped?" he said slightly more awake and immensely more annoyed.
"I had a dream that you were kidnapped and I had to ask a ransom question but I didn't know what to ask" my bottom lip turning out slightly,  recalling the dream where only minutes before he had been snatched away from me and his ring finger with wedding ring had been sent to me. "So you see, we need to figure out ransom questions..." trailing off because I started to realise how unlikely it would be that either of us would be kidnapped.
"Oh you're silly" he said giving me a hug nevertheless. "How about for the ransom question, we ask what your mother's maiden name is?" he suggested.
"Don't be silly, that's like a bank I.D. question and that's easy enough to find out!" I said.
"Well, what about your favourite fruit?" he then suggested.
Of course I couldn't answer this question-there are far too many delicious fruits to count. And if anyone has read my blog, they'll know that cherries feature highly up on the scale. To me, cherries are always reliably sweet, plump and juicy and I can eat bowls of them in one sitting. A few weeks ago I was lucky enough to be sent a 5 kilo box of them and a load of Lurpak butter and after downing down much of the cherries I decided to make a galette. I had originally seen the recipe in the new 10th birthday issue of Delicious magazine, the recipe by Valli Little. Sadly I wasn't able to make it to their birthday party event as I was overseas but I figured that making something would be just as good. Trying to choose one item though was hard.
And whilst I really wanted to make the cake on the front, it looked like a bigger production than this simple, chic galette. I went to buy some strawberries only to find the store punnet-less. But cherries, well they would do me nicely along with some festive cranberries. If none of these fruit are in season for you, you can also do this with peaches, nectarines or any fruit really.
The dough is an absolute dream to work with-it is soft and pliable but not prone to breakage and it only needs half an hour of resting. And the flavour? Divine! The whole tart is very worth the small investment of time and the dough is tender, buttery and provides a rich foil to the sweet, plump fruit filling highlighted with lemon zest and vanilla.
I wasn't done with Mr NQN though.
"OK but what if I am reincarnated as a cat? How can I signal to you that it's actually me?" I asked, the train of thought still going around in my head.
"Do like you usually do, ask for massages and attention" he said.
So tell me Dear Reader, have you ever discussed ransom questions with your spouse? And what is your favourite fruit at the moment?
Cherry, Cranberry & Almond Christmas Wreath Galette
Adapted from delicious. magazine from a recipe by Valli Little
200g/7ozs chilled, unsalted butter, chopped
1/2 cup (120g) light sour cream (you can use full fat but light works too)
750g/ 1.5 pounds cherries
1/2 cup dried cranberries
5 tablespoons cornflour or custard powder
finely grated zest of 1 lemon
1 tablespoon vanilla extract
1 egg yolk, lightly beaten
2/3 cup (50g) flaked almonds
Extra light sour cream to serve
You will also need a pie dish and some little Christmas bows to decorate (optional)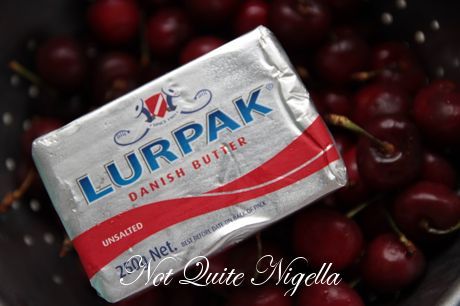 Step 1 - In the bowl of a large food processor (I tried doing this in my small one and it didn't quite fit) process the butter, salt and flour until sandy in texture. Add the sour cream and form a ball of dough by pulsing together. Wrap in cling film and refrigerate for 30 minutes.
Step 2 - Meanwhile preheat the oven to 180C/350F and pit the cherries. I use the fat end of a chopstick and push through the hole and the pip pops out easily. It takes about half an hour to pit the required amount of cherries (or use plums, peaches or strawberries too and it is much faster). In a large bowl add the pitted cherries, cranberries, cornflour or custard powder, caster sugar, lemon zest and vanilla and mix to thoroughly combine. Set aside.
Step 3 - Grease a 22cm pie dish. Take the dough out of the fridge and lightly flour a clean surface and rolling pin. Roll out the dough to make a 35cms/14inch round-you can see mine wasn't a  perfect round and it doesn't really matter that much really. Gently, lift the dough and place it on the pie dish-I find it easier to flour my hands, fold the dough over, and then move it like that as it is less likely to tear that way. Fill with the fruit filling and fold over the edges, tucking them under if they're too long in places.
Step 4 - Brush with egg yolk and then sprinkle over with flaked almonds. Bake for 45-60 minutes until pastry is cooked through-I find that the glass pie dish is useful because you can see if the underside of the pie is cooked. Dust with sifted icing sugar and serve with a dollop of light sour cream.