I may have mentioned it once or twice before but a while back Mr NQN had a DNA test done to try and trace his ancestry. He's rather dark haired and olive skinned for a half Finn so we just assumed that his father's side had some Aboriginal blood in it. We had somehow, blindingly, completely dismissed the fact that when he has long hair he looks just like Rafael Nadal and when we got the results back, we found out that he has a significant amount of Basque heritage in him. It made sense of course and we were literally laughing at how silly we'd been. His father's mother had always told him that they were of German royal blood and oddly enough there was very little German heritage. I guess the genes don't lie and neither do the looks.
When Myriam invited Mr NQN and I over for dinner she told us that she and her fiance Jean would be making a Basque themed dinner as Jean is also from Basque. I volunteered to make dessert and I searched for a typical Basque style dessert. Gateau Basque came up repeatedly and you can't really deny the validity of a cake named after the region. I had to make it. It was a cake that was made with a thick tart dough filled with creme patissiere and cherries and it had a lot of history and pride attached to it.
Dorie Greenspan visited the Basque region and wrote about the Gateau Basque Museum. She asked the question "...wouldn't you want to go to a region that nurtures a museum dedicated to one particular kind of cake?  And wouldn't you be willing to travel about 8 hours to get there?" And I found myself nodding "Of course!". She wrote about them only using one type of jam made in nearby Itxassou (which I had virtually no hope of getting at this late stage) and that the way to distinguish a cake made filled with cream patissiere and one with the jam was that the jam one was decorated with the Basque cross. The recipe I found has a bit of both and since I would probably mess up a cross I decided just to do a pattern with a fork instead rather than risk insulting the Basque people with a butchered up cross.
The recipe is interesting, the creme patissiere filling is very thick and floury - in fact it has more flour than I've used in a custard so I added more milk. This resulted in more custard than was needed and contributed to the overflow. The tart crust is also very wet so it needs to be rolled between two pieces of parchment and rested for a while so that it firms up. Once cooked, it tastes similar to a rich almond biscuit and is quite indulgent with the amount of butter and eggy, creamy custard inside. It's a cake best served in smaller slices (and you know me, I sliced it up big) and also benefits from being refrigerated for a few hours after it is baked so that the custard firms up a little.
Back to the dinner party though, Myriam and Jean had themed the dinner in the style of the Fêtes de Bayonne, a festival in the last weekend in July and the first weekend in August in Bayonne in the Basque region of the South West of France. In this festival, people  dress in white with a red kerchief, scarf or sash. A mythical King Leon appears on the Town Hall balcony and throws the symbolic keys of the city into the crowd. There's also running of the young bulls and bull fights as well as music and festivities.
Everything at their dinner was themed in red and white (phew, I think the red cherries and white filling may have qualified!) and we ate gorgeous things such as tomato tarte tatin, garlic prawns,  gazpacho and roasted capsicum on toast among other delicious items.
So tell me Dear Reader, do you have a local festival that you look forward to?
Gateau Basque
Recipe from Daniel Boulud
Dough
3 1/4 cups all-purpose flour
1 1/2 tablespoons baking powder
2 sticks plus 2 tablespoons (9 ounces) unsalted butter, softened
1/2 teaspoon pure lemon oil (see Note)
Filling
1 vanilla bean, split and seeds scraped
1/2 cup plus 2 tablespoons granulated sugar
3 tablespoons all-purpose flour
1 cup brandied cherries, drained
1 egg mixed with 1 tablespoon of milk, for brushing
Directions
Step 1 - Make the dough: In a medium bowl, whisk the flour with the baking powder and salt. In a standing mixer fitted with a paddle, beat the butter with the sugar at medium speed until light and fluffy, about 3 minutes. Add the egg yolks to the mixing bowl along with the whole eggs, lemon oil and almond oil. Beat until they are thoroughly incorporated. At low speed, gradually beat in the flour mixture and the almond flour.
Step 2 - Scrape the pastry dough out onto a work surface and form it into 2 disks. Wrap each disk in plastic wrap and refrigerate until very firm, at least 4 hours or overnight.
Step 3 - Make the filling: In a medium saucepan, bring the milk to a simmer over moderate heat with the vanilla seeds. In a medium heatproof bowl, whisk the cornstarch with the sugar and flour. Whisk the hot milk into the cornstarch mixture, then pour the mixture into the saucepan and cook over moderate heat, whisking constantly, until the mixture is bubbling and very thick, about 5 minutes (I added another 3/4 cup of milk as it seemed too thick but you may want to try the original recipe and see how it turns out). Add the egg yolks and the whole eggs and simmer, whisking, for 3 minutes longer. Scrape the pastry cream into a large, heatproof bowl and press a piece of plastic wrap directly onto the surface. Let the pastry cream cool to room temperature, about 30 minutes.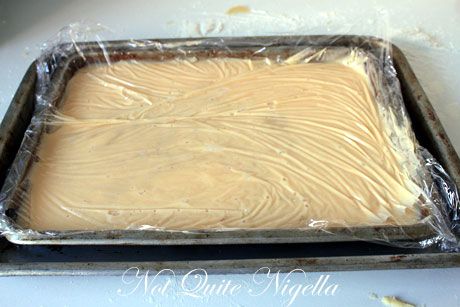 Step 4 - Preheat the oven to 160°C/350°F. Roll out the first disk of dough between two sheets of parchment to a 1/4-inch thickness and cut out a 12-inch round. Place it with the parchment on the bottom in the refrigerator until firm, about 10 minutes.
Step 5 - Meanwhile, roll the second disk out to a 1/4-inch thickness, and cut out a second 12-inch round. Transfer it to a 9-inch fluted tart pan with a removable bottom. Lightly press the dough onto the bottom and up the side of the pan. Trim off the excess and refrigerate the tart shell until firm, about 10 minutes. The excess dough can be made into cookies.
OK this is too full, trust me...
Step 6 - Spread the pastry cream in the tart shell in an even layer and dot with the brandied cherries. Cover the tart with the first round of dough and press gently to seal the edges. Trim off any excess. Brush the tart with the egg wash. Using a fork or skewer, lightly score the top of the tart in a diamond or swirl pattern.
Step 7 - Set the tart on a baking sheet and bake on the bottom shelf of the oven for 20 minutes. Rotate the tart and transfer it to the upper third of the oven. Bake the tart for about 40 minutes longer, until golden brown on top. Transfer the tart to a large wire rack to cool. Serve warm or at room temperature, cut into wedges.
The tart dough can be frozen for up to 1 month. The pastry cream can be refrigerated, covered, overnight. Bring the dough and pastry cream to room temperature before using.