All images taken on a Sigma 17-50mm F2.8 EX DC OS lens
Names are evocative. Some can conjure up images from being merely spoken. And when we're told our next destination in Buenos Aires Mataderos Market which means "place where they kill the cow", I get the feeling that we're in for something rather fascinating. Today is our final day in Buenos Aires and already the five of us are completely captured by its spell. It is undeniably the Paris of Latin America with a curious mix of people and a divide between the wealthy areas and the poorer but food is a uniting force no matter what postcode you live in.
On every Sunday the Mataderos markets are said to be a real local's market. Luciano and Francisco from Cultura Cercana tell us that this is where the locals visit because it is further away than other downtown markets (it is about twenty minutes away by car). But that doesn't mean that it doesn't put on a good show for visitors as Gauchos (Argentinian cowboys), tango dancers and ballroom dancers twirl while ponies balance dogs on their back and llamas stand alongside ponies. It is a bit of a trek via public transport and you are advised to exercise caution in this area and getting there so it's ideally visited with guides.
A rainbow is always a good sign
It is earylish but as we are on a mission. A food related one as you may have guessed. Luciano and Francisco as regulars to this market know that there is one stall that we must visit but we must also arrive there before the lunch rush as once 1pm hits, there will be standing room only as people line up for empanadas filled, crimped and deep fried in a flash before you can choose the fillings that you want.
Cheese & onion empanada
They order with the woman that runs the stand and before long plates of hot deep fried empanadas hit our table as well along with red wine. There are several different flavours all with slightly different shapes, all with crimped edges (they tell us that using a fork is not the true way to make an empanada).
Meat filled empanadas
They are all delicious but the ones that I particularly like are the spicy meat - this refers mainly to spices rather than chili heat. This is particularly saucy and delicious with a lovely thin outer encasing a scrumptious pocket of saucy meat. The other favourite is the cheese and onion filled with mozzarella cheese and diced onion.
Chicken empanada
OK I didn't have a knife so I know that this isn't the most attractive picture
Francisco and Luciano from La Cultura Cercana
Wrapped tamale
Inside the tamale
Tamales are made using masa around a filling of either meat or corn and wrapped in corn husks. There is one filled with pork meat and it is good but the absolute favourite is the gluten free eater Kathy's corn filled one with the sweet corn encased inside which pervades the whole tamale with its sweet perfume and flavour.
Locro
Last but not least is a dish called Locro that is only served on May 25th. It is a lightly flavoured and filling stew with corn, beans, beef, hominy and other vegetables.
Francisco shows me more of the items available at the market and these include these cute little containers that are made out of citrus fruit. The lemon is particularly lovely and the lady that makes them tells us that she uses the same method that they use for leather to preserve the skins.
Tango shoes
Gaucho tools and equipment
Figs and popcorn $13ARS/$2.87AUD
There is a stand with popcorn covered toffee apples and these sticks that look quite interesting. They're dried figs that have been coated with toffee with popcorn stuck to them. They're sweet from the toffee and fig and crunchy from the toffee and popcorn.
Home made cheese
Empanadillas - sweet emapanadas
And what is the difference between empanada and empanadilla? The latter is filled with a sweet filling, in this case, a sweet potato filling. I try one and it's not bad with a distinct flavour of sweet potato but I prefer the savoury ones that are freshly cooked.
All sorts of alfajores (biscuits) and empanadillas
Dulce de leche
Artisisinal cheese
Artisinal chocolate
Cheeses
Most of the items are artisinal products and there are plenty of goodies to try or take home and they are generous with samples. The prices are very good.
Chipa are little dough balls that are flavoured with cheese and baked and they are eaten as an afternoon snack to fill the tummy. Another dough stand has a sign for "Pan caliente" which means hot bread and there is a sign with the time when the next loaves of bread will emerge out of the oven.
Pancetta in a jar as well as pancetta stuffed olives-they love their meat!
One last stop for the afternoon and it has nothing to do with food! It is the largest bookstore in Latin America. And if you're wondering why I'm taking you to a bookstore, you'll see why when you see inside!
Isn't it gorgeous? Formerly a theatre, it retains its glamour and perfect bones and simply showcases books instead of performances.
They even show you the tango steps on the street
Fuudis Food Experience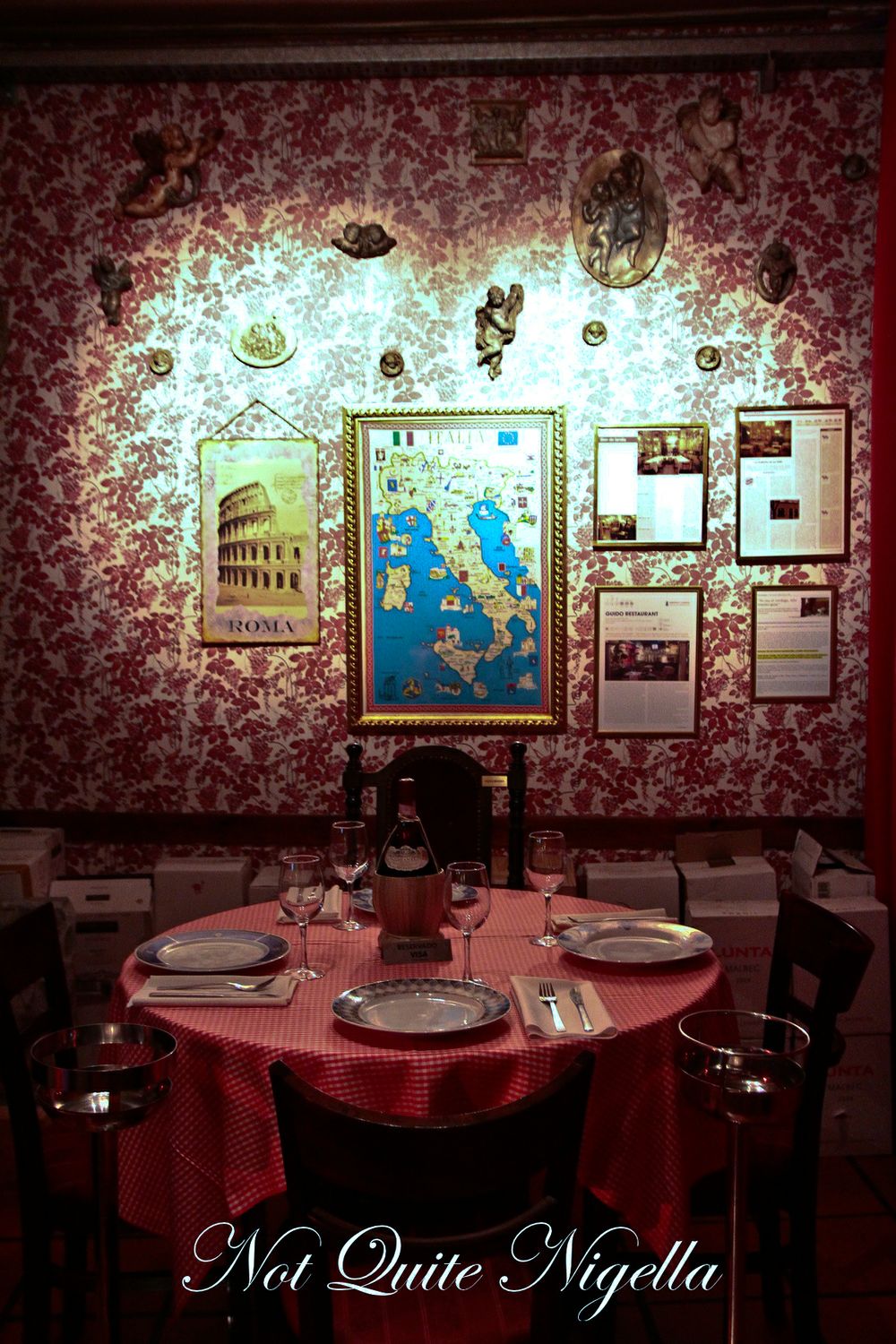 Chef Santiago Macías Acuña (left) and Anne Reynolds 
Our last meal in Buenos Aires is a five course progressive dinner across the charming Palermo area of Buenos Aires. Fuudis and these progressive meals are the brainchild of Australian Anne Reynolds and Argentinian Marina Ponzi who combined their skills and experiences to bring visitors and locals hand picked food experiences.
Our first stop in our Fuudis tour at the first restaurant Guido's on Boulevard Cervino which is one lined with bars, restaurants and cafes and people walking and holding all sorts of little dogs. Guido's has been operating for twelve years and serves Italian food in an atmospheric setting. Their walls are lined with photos of icons and movie stars from Marilyn Monroe to Monica Belluci and tables are set with red and white checked tablecloths and red lights cast a warm and cozy glow. There is an outdoor courtyard and a bar area.
We're having antipasti here which starts with mortadella folded like a handkerchief, a creamy burrata cheese, white anchovies and prosciutto. the pick is the burrata which is so creamy with a mozzarella-like outer that it is hard to stop eating it.
Pizza
The pizza, on a crisp thin base, comes topped simply which is how the best pizzas generally are. There's a layer of
mozzarella and parmesan cheese as well as rocket.
The owner Guido asks if we have room and time to try another course-his grandmother's recipe for baked eggplant layered with ham and cheese. When faced with such a tempting offer, we can't resist and the dish is delicious and comforting.
"We have two minutes!" Anne says checking her watch. We are expected at our next destination Olivetti which is just a few doors down. Most of their progressive dinner locations are near each other although they tell us that this one has the
shortest amount of walking with all locations being close to each other and within the one block.
Olivetti's is relatively new but nevertheless is packed with diners most of them enjoying their hand made pasta. We are to have some pasta courses before adjourning to another restaurant for our mains. They also encourage diners to try wine sold in 250ml carafes which allows enough of a taste of wine for two people rather than buying wine by the glass.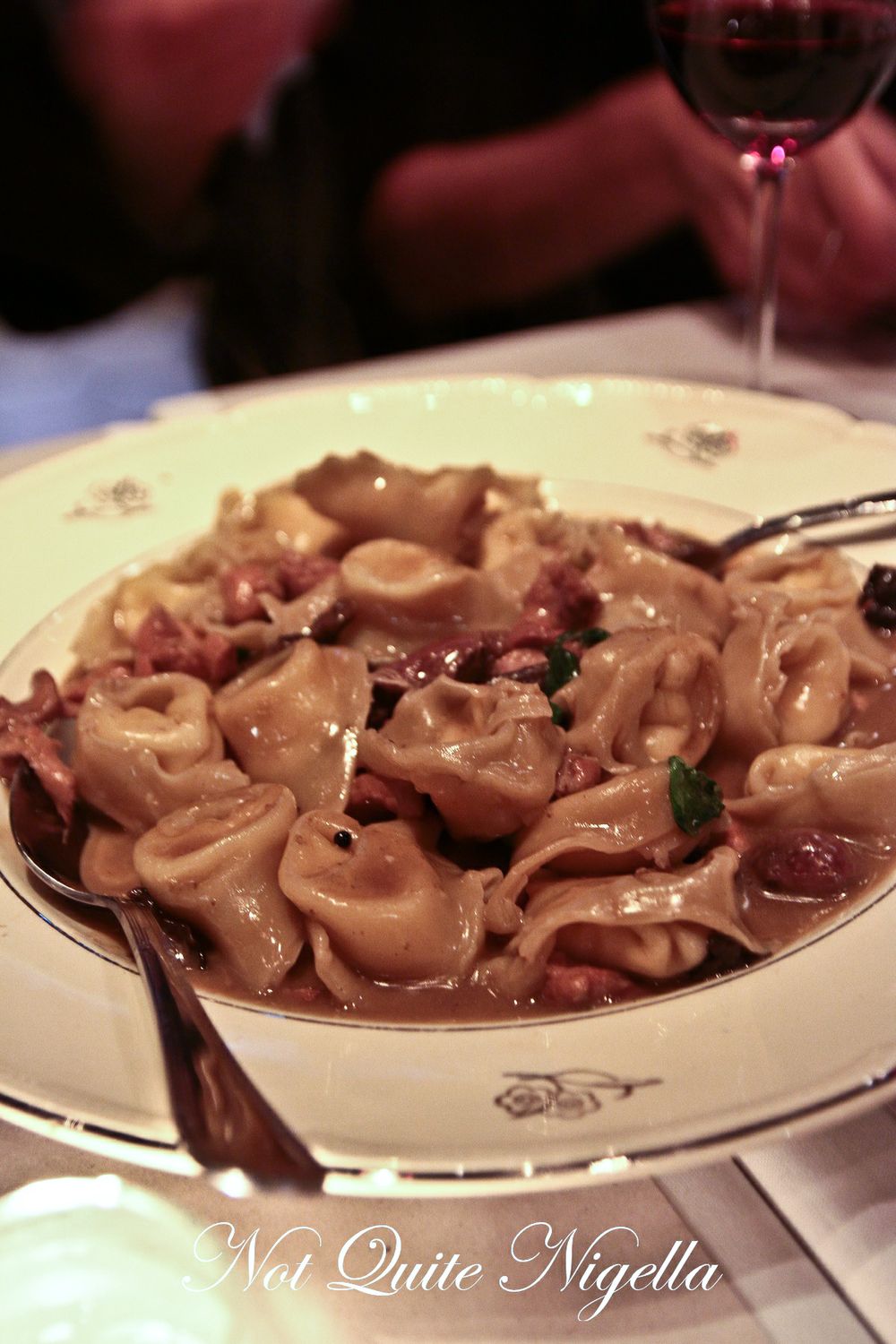 Tortellacci with parmesan and rabbit sauce
The tortellachi are largeish, plump pasta dumplings filled with an oozy parmesan cheese filling paired with a rabbit sauce with pieces of tender, succulent rabbit and their livers. Every bit of this plate is gone before we know it and it is a dish that you reluctantly share.
Radiatori pasta, which is a short, ridged pasta so called because it resembles a radiator, is served with a pesto Genovese, beans and cubes of grainy potato. It is very good although I prefer it a little more al dente but against the Tortellachi it doesn't get as much of a look in.
Our main awaits us at our third destination for the evening, Leopoldos just nearby and they promise us that this will be a dish to remember. We walk in and there is a bright green glowing wall for the bar and comfortable seats and tables. We are seated at a booth and they bring us a bread basket with a sesame and carrot dip which is very good but I'm mindful not to fill up considering that we have two more courses.
Pork with peach, potato galette, brussel sprouts and plums
The surprise dish is pork and here it is beautifully cooked so that it is tender and melts in the mouth. The flavour is
concentrated and pairs perfectly with the sweet accompaniments and the delicate and multi layered crispy potato galette and the pick is the dark glazed cube of pork on top of the potato galette.
We meet chef Renato Rosano who has worked in 3 Michelin star restaurants in San Sebastian and Catalonia. He uses seasonal ingredients and tells us that at the moment, there is an emphasis on quince and pomegranate because they are in season.
But they're not quite done with us yet and there is a display of petit fours on sticks. They range from fresh marshmallows to macarons to my favourite - caneles which have a lovely caramelised outer and a soft and spongey interior.
Our dessert course is at Jauja, an Argentinian ice cream shop that has just opened a branch in Melbourne. They hired chef Santiago Macías Acuña who has come along to the progressive dinner tonight, to design some dessert flavours and they specialise in South American and Patagonian flavours. Their dulce de leche ice cream menu has eight varieties including a version with brownie and blackberries, the latter having an unusual taste to it combining the two flavours.
My favourite is the sauco de la Pasion which balances tart passionfruit with cream and a fruit called sauco that originated in Peru. For tart fruit lovers the Corinto provides some tartness although nothing as mouth puckeringly tart as some strong lemons. The mousse de guindas is also a favourite balancing the guindas fruit with the cream.
Anne and Marina Ponzi
With bellies full of ice cream, we head back to Guido's for a Calabres aperitif before making our way back to the hotel to leave for our 5am flight back to Sydney. We're full of food and stories for the trip back.
So tell me Dear Reader, do you like the idea of progressive dinners so that you get to try a lot of different things or do you prefer to stay put once you go out?
NQN travelled around the world as a guest of Accor hotels, Skyteam and Rail Plus
Sofitel Buenos Aires
Arroyo 841, Buenos Aires C1007AAB, Argentina
Tel: + 54 (011) 5547 8050
Skyteam
www.skyteam.com
Rail Plus
www.railplus.com.au
Cultura Cercana
www.culturacercana.com.ar/
Mataderos Markets
Avenida de los Corrales, Mataderos, Buenos Aires, Argentina (although it is considered very dangerous to get there by bus or walking, instead visit with a tour guide or take a taxi there)
Fuudis
http://fuudis.com/
A Fuudis progressive dinner is $200-$230ARS ($44-$50AUD) and includes all drinks, meals, coffee and tip
Guido
Blvd. Cervino 3943, Palermo, Buenos Aires, Argentina
Tel: +54 (011) 4802 1262
Olivetti
Blvd. Cervino 3800, Palermo, Buenos Aires, Argentina
Tel: +54 (011) 4802 4075
Leopoldos
Blvd. Cervino 3732, Palermo, Buenos Aires, Argentina
Tel: +54 (011) 4805 5576
Jauja
Blvd. Cervino 3901, Palermo, Buenos Aires, Argentina