Every person that we encountered had the same reaction when we told them that we were going around the world in ten days. Their head would swivel back around for a double take and they'd say "ten days?" and then look at us as if we were slightly mad. Which we probably were.
However, in between the short stops all over the world, we knew that we had quite a spectacular ending planned: three nights in Buenos Aires. B.A. airport is our first introduction and the baggage collection is not unlike being part of a rugby scrum. And it is 4.25am when we arrive too to add to the surrealness.
Two and a half hours later, we are through the queue we make our way into the booked car for our transfer to the Sofitel. Our drivers travels down the highway at fast speed changing lanes constantly-we later learn that the lanes are just "guides" and most drivers drive outside of the lanes. We arrive at the Sofitel on Arroyo or the "Art District" in its gleaming, grand glory.
Harpers Bazaar named the Sofitel Buenos Aires one of the top five star hotels in B.A. and the lobby and entrance are designed to impress.  The lobby is made out of Paris stone with marble floors and a glazed atrium roof. An enormous 48 light lampshade is suspended above the check in desk. We are just hoping that at this early hour they have our rooms ready for us. "Of course, we've been expecting you" they say.
We have breakfast at Le Sud, the breakfast restaurant and dining room. The smell of buttery pastry and breakfast goodies gets our stomachs rumbling and I stand there transfixed by the sheer variety of cakes on offer for breakfast from strawberry tarts to chocolate tarts, alfajores and sliced large cakes.
There are also savoury items like scrambled eggs, thin bacon, smoked salmon and tomato as well as a range of cereals. Hot meals can also be ordered a la carte but as for me I'm happy with a buttery light mini brioche with wild rose jam and the omnipresent dulce de leche, smoked salmon, tomato and Swiss cheese (hehe not all together in the one mouthful, I promise!).
Last is a medialuna which resembles a thinner version of a croissant. Unlike a croissant which is made with butter, the medialuna is traditionally made with fat. I must confess that I prefer the croissant and the medialuna is  drier and reminds me of what you might make using commercial puff pastry made with mostly vegetable fat.
Yup, there's my luggage, the mothership. It was too heavy to lift so it stayed in the photo
After a quick breakfast, we go straight up to our rooms. I am told that I have a luxury room (room 612) and it is nice and spacious indeed. Large at almost 40 square metres there is a king bed and a lounge area that has fresh fruit and fragrant tiger lilies waiting for us. On this level there isn't much of a view except for the building opposite.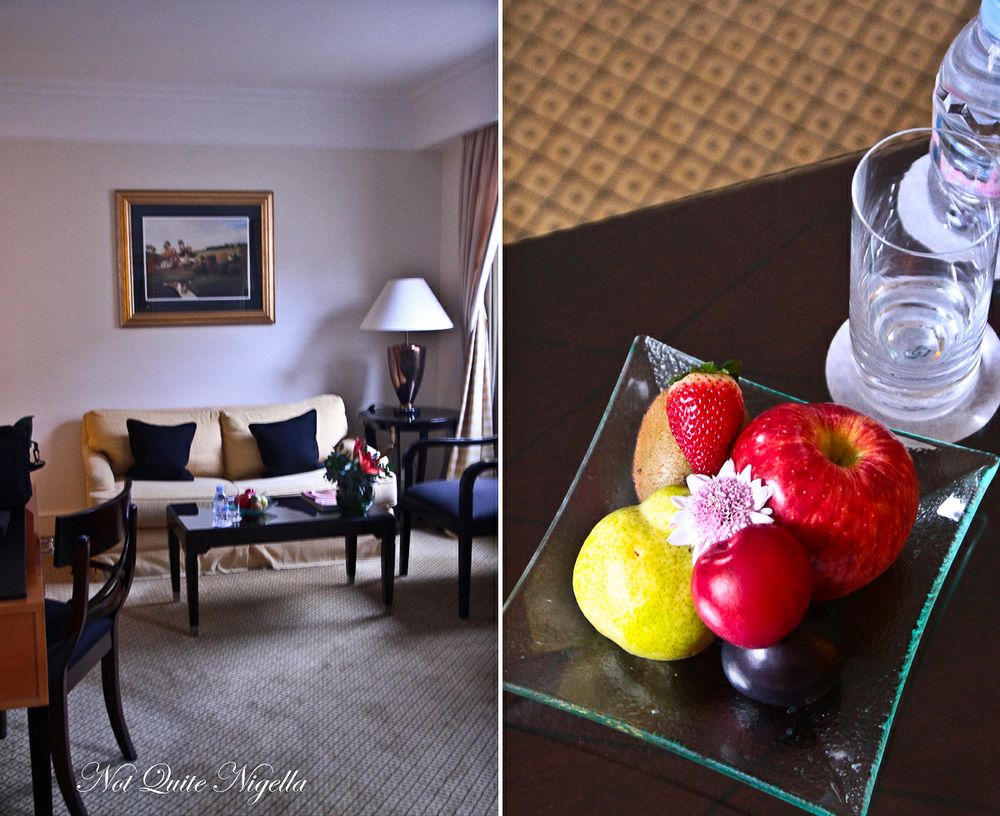 The power points have three different types of power points including Australian which is a nice touch. The bathroom has a separate shower and bath and L'Occitane products including shampoo, conditioner, body lotion and shower gel. there is also a box of nail files,  cotton tips, cotton pads and shower cap.
I have some time to freshen up and work so I order a pot of tea and it comes quickly along with a rose and an alfajore biscuit. Indeed the attention to detail is impressive as when I order tea they ask if I would like skim or full cream and hot or cold milk. I take a shower and settle down to some work and talk to Mr NQN online before going out to explore the streets of Buenos Aires a bit more.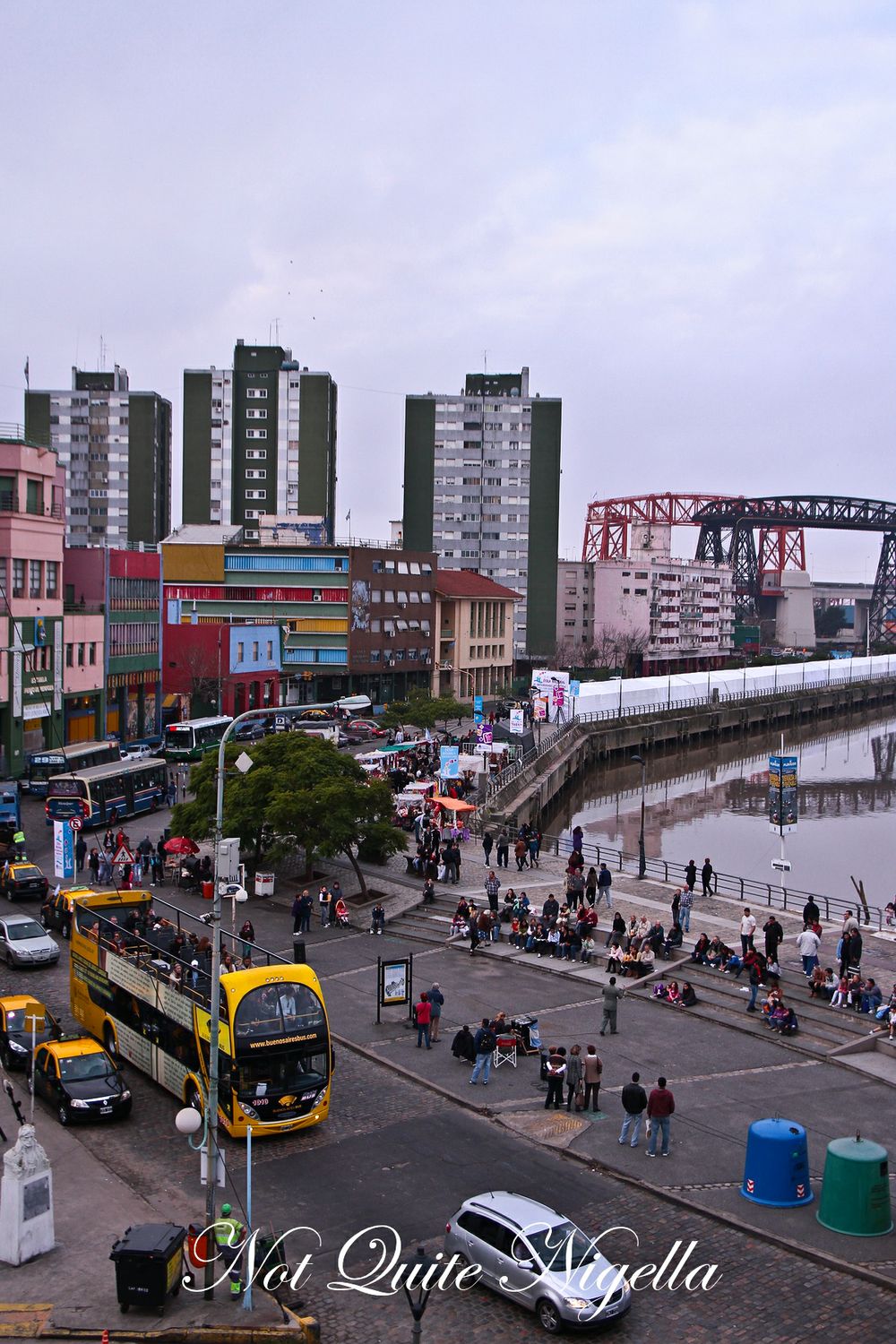 And the best place to start? La Boca on the South side of Buenos Aires is one of the less affluent areas and provides an interesting contrast to where are staying in chic Recoleta. We are being shown around by Luciano Bullorsky and his guide Francisco from Cultura Cercena. They conduct popular English speaking private tours in their native Buenos Aires. Luciano tells us that La Boca is known for three things: workers, immigrants and soccer. He also tells us that there are some streets in La Boca that tourists nor locals shouldn't walk.
There is one restaurant in the area called "El Obredo" (meaning "the worker) where he tells us "a cab should drop you off as far as the kitchen." Bono from U2 visited recently to eat as have Tim Robbins and Susan Sarandon. It is a Bodegones or in Luciano's words, an "old, ugly and delicious" restaurant whispered through word of mouth.
A group of schoolgirls wearing matching pink laced sneakers, hot pink lipstick on their prepubescent mouths and mournful expressions slouch on the steps outside a building. Pairs of greying socks hang high from a security grill.
All images taken on a Sigma 17-50mm F2.8 EX DC OS lens
Colourful graffiti adorns the walls, music plays behind closed doors at stadium strength where men are most likely playing card games or having a siesta (which begs the question, how, given the noise?), tango dancers stretch and stride in front of diners and dogs patter by the colourful buildings.
And why the colourful buildings? Francisco explains that from 1895-1914, people stole paint from the nearby ships to paint their homes. Because the paint was stolen and tins were taken at random, they didn't have just one uniform shade so it resulted in this vivid mixture of colours. The area Boca is so named after the football team, in football mad Argentina. The colours blue and yellow are often seen as these are the team colours.
One of the most well loved figures in La Boca is painter Benito Quinquela Martin who painted with a trowel rather than a paintbrush. He captured La Boca's essence through his art and despite being wealthy towards the end of his life, chose to remain in the working class neighbourhood saying that it was the vibrancy of the neighbourhood that inspired his art and success.
We are here for the weekend of  the Argentinian National day so the wharf is lined with stalls selling traditional items like alfajores (biscuits sandwiched together with dulce de leche), salami, tortas fritas and cute items like these amazing little finger puppets, three for $10ARS or $2.21AUD!
The area of Santa Fe is known for its chocolates and here they sell chocolates filled with dulce de leche for $2ARS each (about $0.44AUD).
If you've ever heard of yerba maté, yerba means tea and maté means cup. On sale there are glazed ceramic cups as well as more traditional types such as wooden ones which must be coated with butter on the inside before using. There are also cups made out of hollowed pumpkins and these need to be treated by filling them for 24-48 hours with tea and leaves. The second and third types are said to produce the best result with the best tasting yerba.
A mate (cup) made out of hollowed pumpkin
This whole area with its vibrant street life has been revitalised to bring tourism to an area that people would not usually visit. Restaurant after restaurant is packed with diners watching tango dancers and the atmosphere is buzzing (just watch out for the ever present dog poo!). Men and women dressed in tango gear lure you in with a hat on your head and coax you into taking a photo with them - for a fee of course. There is even a Maradona lookalike offering to take photos with people.
Camanito (meaning little path or little way) street is where people first gathered to dance the tango. And did you know that the dance of tango originally started as a dance between two men? For a period, there were only men in this area so they danced together. When women started arriving the tango dance started to change and become more passionate and some say the dance which has a push pull rhythm is because men tried to keep the women next to them while they danced.
If art is more your thing follow the wooden bricks to PROA, an art gallery and exhibition space which houses some interesting modern art pieces. For example, there is a piece with cut toenails, bread plastic ties, corners snipped off milk bags (milk comes in bags here as cartons are too expensive) and dog poo.
Another piece is 3000kms of black wool that you can walk over. Entry to PROA is $18ARS/$3.98AUD a person and there is also a cafe and bar upstairs with a terrace that has a wonderful view of the harbour.
"The Lovers of La Boca"
No visit to La Boca is really complete without a drive around the neighbourhood away from La Boca wharf to capture the colour and spirit of the people. Incredible murals and graffiti alternate with colourfully painted houses. A brick stops a dusty car from rolling back onto the road and the translation reads "The lovers of La Boca."
It's a short walk to Il Matterello, an Italian restaurant serving home made pasta. And I know how crazy it must sound to go to B.A. to have Italian but this is excellent Italian and if you want to know where locals eat, this is The Barro or neighbourhood haunt. Indeed today the restaurant is full and we are the only tourists. This would be considered to be a mid priced restaurant.
We are having lunch with Anne Reynolds who along with her partner Argentinian Marina Ponzi set up Fuudis, a gastronomic tour company that shows people the best of Argentinian food. Anne is young and originally from Australia and moved to Argentina to learn more Spanish as theirs is said to be the most straightforward version of Spanish. She ended up staying and now conducts tours on a regular basis sharing her beloved city with others eager to learn more.
As the pasta is hand made we order some of this as well as a range of antipasti. Bread is set down on the table and there is a white loaf sliced diagonally, breadsticks as well as crispy round of four dusted crackers that taste like breadsticks in a round form. Alas since it isn't the 29th of the month we can't order gnocch (ñoquis in Spanish). Restaurants in B.A. continue an Italian tradition of only serving gnocchi on the 29th of a month as it is considered good luck. The story behind it is that gnocchi was considered a poor food as it only contained potatoes and flour and one day, a man down on his luck discovered a dollar note under his plate of gnocchi. Now, it is only served on the 29th and a $10ARS (about $2AUD) note is placed under each plate by the host.
Antipasto
The antipasto platter consists of a few of their hot and cold antipasti items. Included were olives, mozzarella, reggiano, salami, soft eggplant ribbons, paper thin marinated sun dried tomatoes, spinach patties coated in crispy breadcrumbs and round zucchini fritters. They were all excellent and it was hard choosing a favourite.
Ravioli Genovese a tuci $82ARS/$15.66AUD
I got quite confused by the pasta as there is a range of pastas with sauce, a list of sauces and a couple of additions. As it is relatively cool today in BA, I craved ragu but was politely steered away from it by owner Sandra as she felt that it would clash. Instead I went for the ravioli filled with pork, beef, chicken and vegetables and comes with a delicious tomato base sauce. The flavour and seasoning on this dish are ideal and it is indeed very filling.
Tortelli bianci, burro fuso all'aglio $88ARS/$16.81AUD
The dish to order though is the bechamel, cheese and vegetable filled tortelli so skillfully made that the pasta is paper thin and almost translucent. This is paired with a fragrant browned butter. Anne was kind enough to let me try some of hers and I still melt at the memory of this dish. Oh and those prices? Amazingly good, aren't they?
Caprese $49ARS/$9.36AUD
With a surprisngly generous amount of mozzarella (they're very generous with the cheese here) the Caprese is a fresh salad with creamy mozzarella, tomato and basil chiffonade that has a welcome freshness to contrast with the rich pasta.
Ricola y parmesan $55ARS
"Would you like a bit of rocket with your parmesan?" we joke with each other. Indeed, the amount of parmesan in this dish is very generous and comes as a snowy blanket on top of the rocket.
Tiramisu $42ARS/$8.02AUD
Not one to ever miss dessert, we try their tiramisu which has a layer of mascarpone and coffee soaked sponge, a frozen layer of liqueur, more sponge, more mascarpone and chocolate shavings. It has a good hit of coffee and liqueur.
Della Nonna $42ARS/$8.02AUD
What we at first mistook for the tiramisu is a layer of sponge, then vanilla custard, more sponge and then chocolate custard which combines to keep kilos on rather happily!
So tell me Dear Reader, when you go on holiday, do you end up adding a few kilos or pounds on eating the food or are you rigorous with your diet?
Gaynor and I doing the tango! Either that, or me as Sofia Vergara.
NQN travelled around the world as a guest of Accor hotels, Skyteam and Rail Plus
Sofitel Buenos Aires
Arroyo 841, Buenos Aires C1007AAB, Argentina
Tel: + 54 (011) 5547 8050
Skyteam
www.skyteam.com
Rail Plus
www.railplus.com.au
Cultura Cercana
www.culturacercana.com.ar/
PROA
Avenida Don Pedro de Mendoza 1929 1169 Ciudad De Buenos Aires, Argentina
Tel: + 54 (011) 4104 1000
Fuudis
http://fuudis.com/
Il Matarello
Martin Rodriguez 517, Buenos Aires, Argentina
(54 11) 4307 0529