Dear Reader, at some of your request, I'm putting up some of the missing chapters of my book. The first series of missing chapters refers to how I got my book deal, which is a topic that I am often asked about. These chapters were removed from the book because my publisher felt like they took the reader out of the book which I think was a good decision. This chapter was called "The Book That Ate My Life." To read the first part, see here.
I had handed in my first two chapters to my agent and nervously awaited a reaction. Getting a rejection, even though it could be done diplomatically was still a  rejection. Sophie let me know that initial positive reactions came in quickly. One publisher said  ' The Elliott proposal is right up my alley (I especially appreciate someone who has as detailed a 'last meal' list as me!) and I look forward to reading in more detail and getting back to you' – and at another  – ' This sounds most interesting – and delicious (it's made me think it might be time for lunch!). Another publisher said that she really wanted to read more once she reached the end of the text.
There was some hope. Sophie continued to forward through their comments as they had a few weeks in which to make their final offer. One publisher wanted to talk to me on the phone. She was lovely and sweet and she understood what I wanted from the line drawings to the tone and the cover that I wanted. She was sweet enough to send me some copies of books they had published with lovely covers.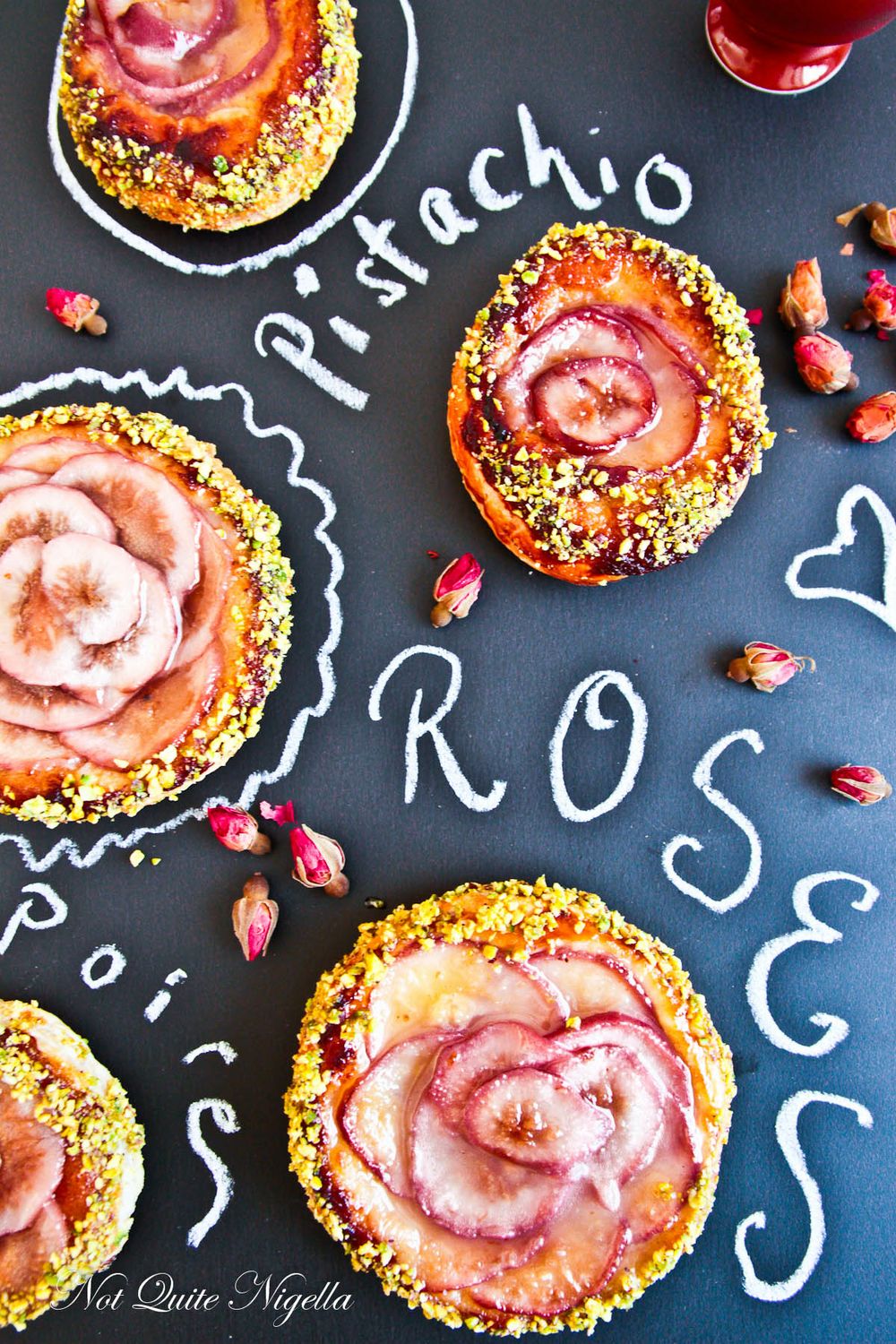 She was visiting Sydney and asked if we could meet up. We had lunch at Gusto in Watson's Bay where I brought my camera along. I wanted her to experience a bit of what my life was like and to understand what I did and how I did it. If she cringed or was embarrassed I knew that it wouldn't be the right fit. We ended up having a great lunch which followed on from our phone call. She was genuinely sweet and polite and I could see us getting along very well. She made a preliminary offer to Sophie which was a generous one indeed, more than Sophie had anticipated and more than what a first time author receives. Sophie's words to me were:
"From now on, your book IS going to be published. You are going to be a published author."
To be continued 
I remember that moment well. I remember where I was sitting and what I was doing. And it seems that I do remember most of the important things in life according to the food that was served and I certainly remember certain foods. When I was in Hong Kong last year, I caught sight of a tart-literally a rose patterned tart in a patisserie called "Gerard Dubois Passion" and I haven't forgotten it since. When I saw it I filed it in my mind for when winter arrived and pears would be in season. The start of this is actually red wine cooked pears which are wonderful in themselves. However there was a bit of fiddling and delicious experimentation to get this just right as the recipe would differ in cooking times.
My version of the rose pear tart features an aromatic frangipane filling aromatic with mandarin zest, rose water, cinnamon and of course almonds. This is topped with thinly sliced red wine simmered pears that are fanned out to look like roses. This is then baked in the oven and then glazed on top with a clear mirror glaze and then the sides rolled in finely chopped pistachios.
So tell me Dear Reader, what's your ultimate last meal request? And do you ever have dreams that end up coming true?
DID YOU MAKE THIS RECIPE? Share your creations by tagging @notquitenigella on Instagram with the hashtag #notquitenigella
Rose Pear Tart
Degree of difficulty: medium but can make ahead of time before serving
Preparation time: 30 minutes
Cooking time: 12 minutes stovetop plus 20 minutes baking
Makes 6 tarts
6 very firm corella pears (I like them because they're very firm and small so ideal for the tart size but use Beurre Bosc if you want to make a large single tart)
For frangipane almond filling
35g/1ozs butter, very soft
1/2 teaspoon ground cinnamon
2 teaspoons orange or mandarin zest
For clear glaze and to decorate
1/4 cup caster or superfine sugar
1/2 sheet titanium strength gelatine
1/4 cup pistachios, finely chopped
Step 1 - Place the red wine, sugar, cinnamon stick and zests onto the heat to boil in a pot that fits all of the pears snugly upright. Meanwhile peel the pears well making sure that you get all of the skin off (the skin that remains won't colour). By the time you've finished peeling, your wine should be boiling. Add the pears and cook turning three or four times for 8 minutes if Corella pears and 12 minutes if Beurre Bosc pears (check as it also depends on how big your pears are).
Step 2 - Remove the pears as soon as they are done to prevent further cooking (you don't want them to become soft). Take a knife or a mandolin on setting two and slice the pear to get thin rounds and set aside.
Step 3 - Meanwhile, make the frangipane filling by mixing all of the ingredients together until smooth. Set aside.
Step 4 - Thaw out pastry and cut out 12 large rounds. Line two baking trays with parchment and sandwich two rounds together by brushing one round with the beaten egg. Brush the top round with the egg too. Using a slightly smaller round cutter, press lightly to indent one of the pastry rounds to form a border and spread a little (just over a teaspoon) of the frangipane inside.
Step 5 - Layer the pear on top of the franipane filling starting from the outside going in to make a rose shape. Bake for 20 minutes until golden and the pastry has risen (it will deflate when it comes out of the oven.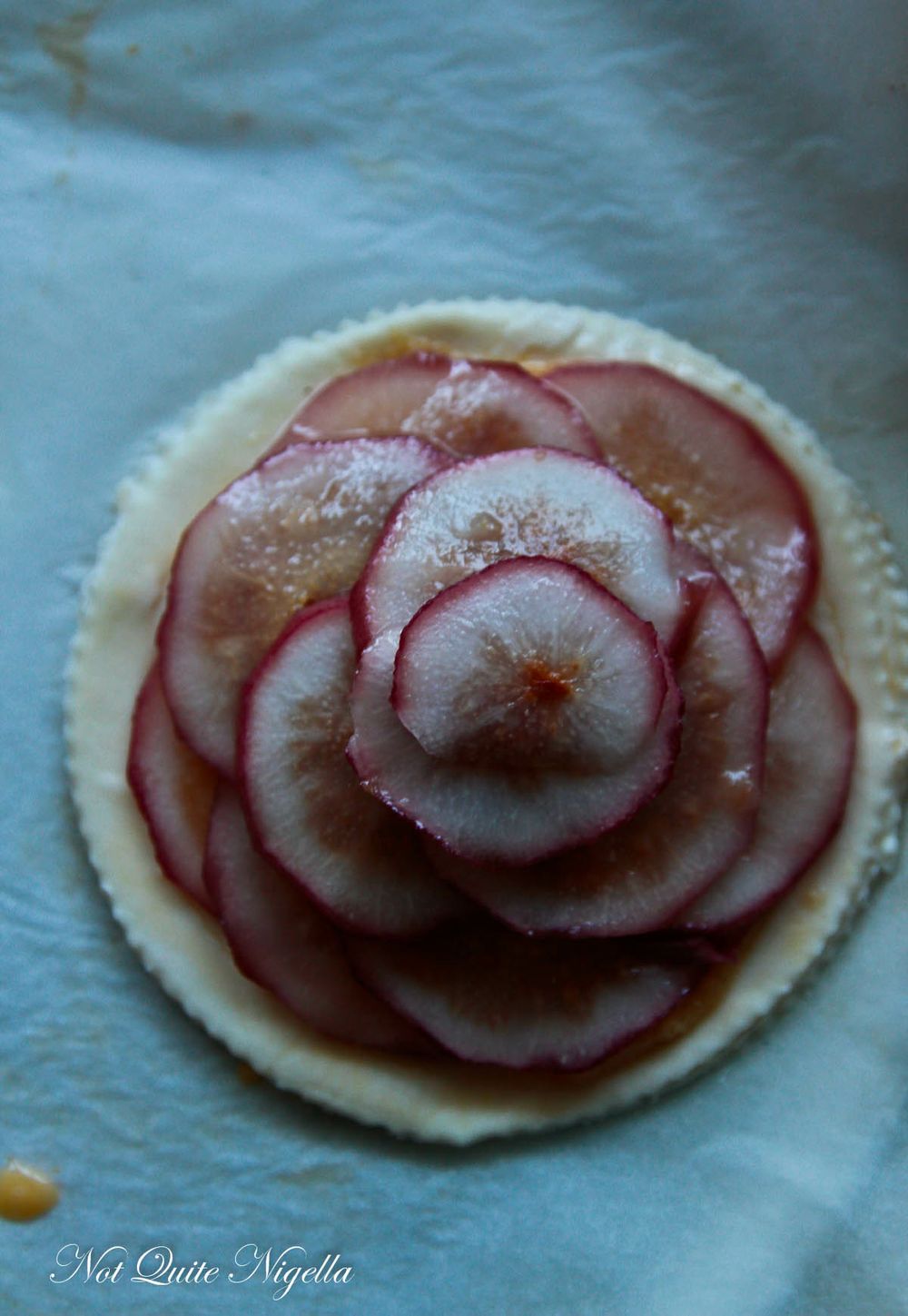 Step 6 - Make glaze by boiling the sugar and  water for a few minutes until you get a syrup. Soften the gelatine sheet by soaking for a few minutes in cold water. Squeeze the excess water from the sheets and melt in the sugar syrup. Cool for a few minutes and then brush over tarts to give them a shiny look and then decorate with finely chopped pistachios.