Mr NQN always has a laugh at the fact that I'm so sports star ignorant. "Did you see him?" he will ask and reel off the name of a sports star of some note. I'll often have no idea who he is talking about and will continue on blissfully unaware. So when I'm sitting in Isabella's in Randwick and there's apparently a very famous footballer sitting right next to me, I'm ignorant and instead of taking pictures of him, I'm taking pictures of my food. Oops, is that considered a photo fail?
I'm at Isabella's with reader Jaqi who has baked me a beautiful quince cake-I'm honoured as this is the first cake in her new oven. Isabella's was her suggestion and it's a regular for her and her family. It's unpretentious, the food is good, plentiful and the place is absolutely jam packed with people this early Sunday morning. If you've had breakfast out in Sydney, you and your wallet will probably be painfully aware that paying up to $20 per person can be normal for breakfast but here prices hover around the $8.50 mark. A big breakfast is $12.50 while French toast, waffles and omelettes are $8-$8.50. Dinner options are all $13.50 each including steak.
Service is fast and although Isabella's gives the impression of being Italian by the name and signage, it's run by Darto who is from Malaysia. Jaqi tells me that he is there every day of the week. There's a small corridor in which they've managed to fit more booths-there are colourful flashing lights and plenty more people seated there. Darto tells us the name of the footballer next to us as well as other celebrities that frequent the cafe including Rachel Finch and plenty of Channel 7 reporters and newsreaders.
Watermelon juice $4.50
I saw the prices for the juice so I was curious to see what it was like. I was expecting it to be packed with ice as large juices are usually more expensive than this but I'm pleasantly surprised to see that there was just a few cubes of ice and a big glass of fresh, sweet watermelon juice.
Sweetcorn fritters $8.50
The sweetcorn fritters have lots of sweetcorn, onion, ricotta and  caramelised pumpkin and these come with two poached eggs, two rashers of middle bacon and a slice of Sonoma bread. You can also opt to have a free range egg with your food ($1 extra) or an organic egg ($2 extra).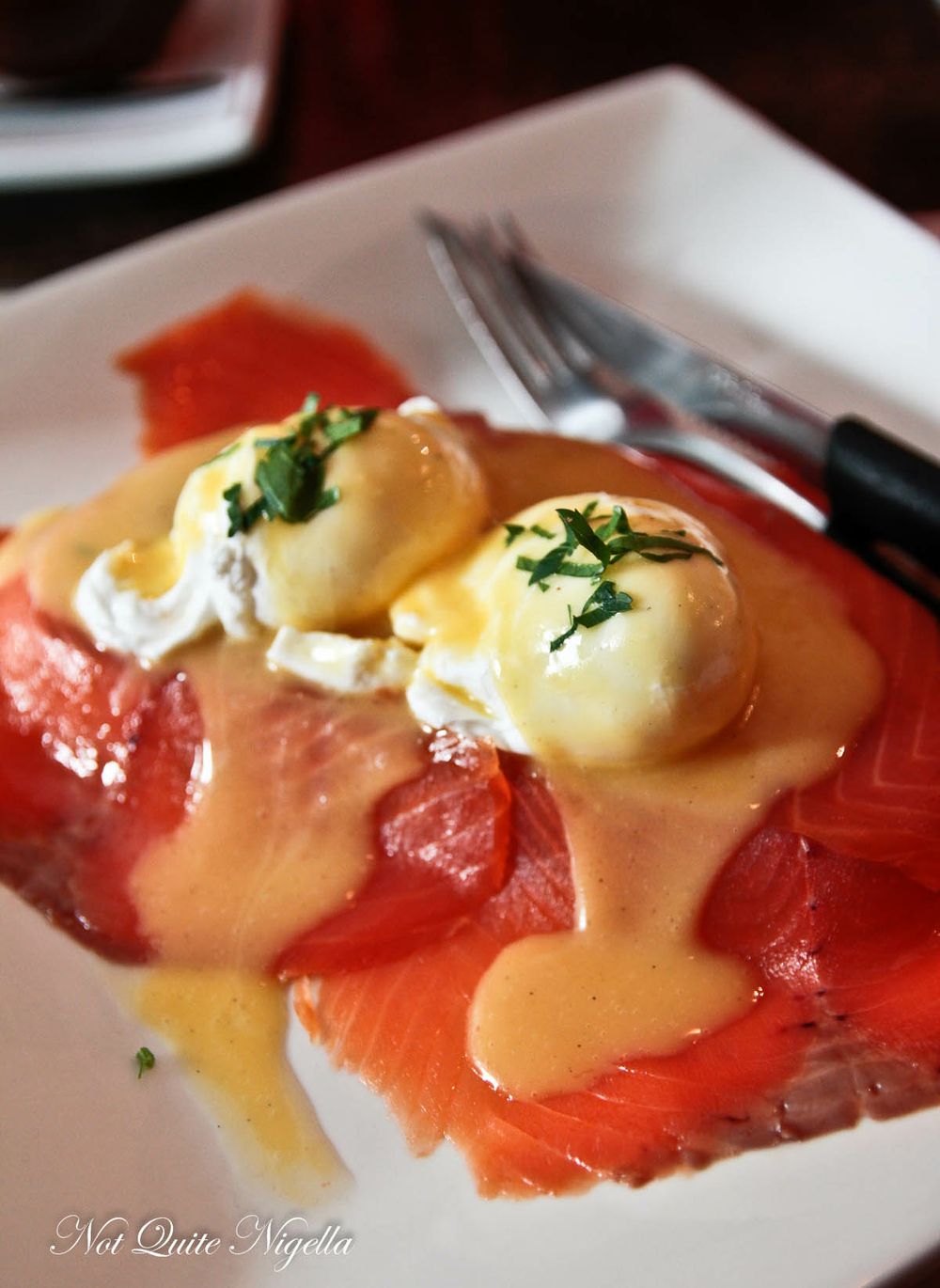 Salmon Benedict $8.50
The salmon benedict looks fantastic and it's just what you'd want, two perfectly poached eggs and a generous draping of smoked salmon on top and some hollandaise sauce. I like my hollandaise with a little more tarragon but it's a small complaint because it's a great price for breakfast. As we leave Isabella's shows no signs of slowing down as table after table around us is taken by breakfast hungry customers.
So tell me Dear Reader, do you recognise famous people when you are out? And how often do you go out for breakfast?
Isabella's
2/183 Alison Rd, Randwick NSW 2031
Tel:+61 (02) 9314 7399
Open 7 days a week, 8am-3pm, 5pm-10pm