Our last meal in Canberra was set to be a great one. If only I hadn't made a pig of myself and succumbed to the vanilla slice winking at me from the marble table in our hotel room. Allow me to rewind a few hours if you will. Earlier that day we'd visited the Braidwood Bakery and then gone to the Old Bus Depot Markets and then settled our weary selves into Hotel Realm. Booked thanks to the lovely people at Toyota it was a toss up between the Hyatt and The Realm and they had chosen The Realm because of its modernity.
It's modern indeed with nice touches and I take off my heels and sink my feet into some comfortable padded slippers. In the room there's no bath, the view is of a construction site, there's no porter to speak of and the gym and sauna is privately owned so when Mr NQN wants to use the sauna at 4pm on a Sunday like a good Finn he is told that it is shut. The positives is that the room is very nice and modern, they happen to stock Pickwick's Earl Grey tea which I happen to love, there are complimentary Byron Bay cookie company biscuits and cable stations are great. And for dinner we don't have to go far except for downstairs which is a winner given how exhausted we are.
So fast forward and one vanilla slice down the hatch we make our way down to the restaurant to meet with Todd from Toyota and his wife Melissa. There's one other table dining tonight and so we have a booth to ourselves. This is their first time dining with a Foodus Bloggerus and I accepted Todd's invitation for dinner  after asking if they would mind the whole photo taking experience.
Rigatoni with pork sausage, ham hock, tomato, garlic and chili $20.50
Melissa asks "So...do we all swap plates?". It's music to my ears as I didn't want to ask that we swap plates and so we do and we get to try and discuss everything. The rigatoni features enormous tubes of pasta with a soft, texture and slices of a chorizo like pork sausage. The Ham hock is melted within the sauce.
Stinging Nettle and potato gnocchi $19.50
The  Stinging Nettle was something that immediately caught our eye as how often do you have verbs intruding on a menu item? The potato gnocchi is soft, the sauce is creamy and stinging nettle is quite good although it's perhaps less exciting than the name suggests.
Oven Baked Goat's Cheese Ravioli sage, capers and EVOO $20.50
Melissa's Oven baked goat's cheese ravioli is thinly rolled pasta squares filled with creamy goat's cheese that look to be lightly touch by the pan. it sits on a bed of diced tomato and capers and is topped with deep fried sage leaves.
Risotto of confit of mushrooms finished with black Canberra truffle $24.50
The one thing I just don't really love is truffle oil. The odour is gasolineish for most of them and when you try actual truffles, you'll see there's a world of different between the oil and the actual truffle. Actual truffles are amazing an earthy and almost impossible to describe but the aroma wafts up your nose and into your core and you never forget it. So I'm ever so glad to see finely shaved real black truffle on top of the risotto. It's delicious and this entree size is about the same size of a main in Sydney.
Three sauces to go with mains: red wine jus, Bernaise and chili jam
The Three sauces to go with mains cover the spectrum of the dishes: red wine jus, Bernaise and chili jam.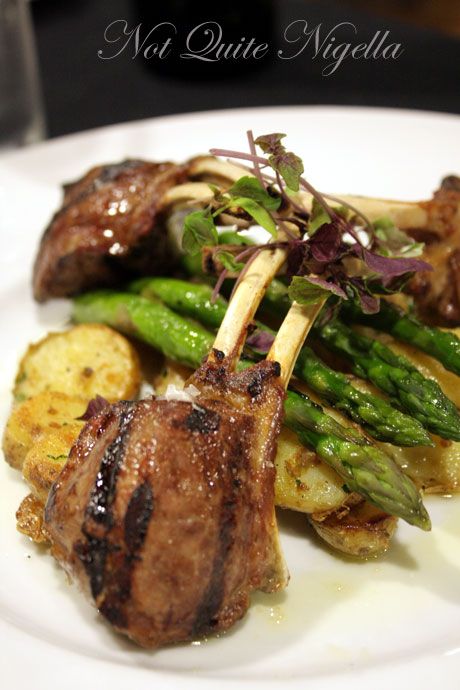 Western Australian grain fed lamb rack (Q Lamb) $32.50
We've also chosen mains from the Grill and all come served with roasted Kipfler potatoes and a range of sauces: Bernaise, chili jam and red wine jus. Mr NQN's lamb racks are tender and juicy and I pick up the bones and nibble away ignoring any surprised glances.
Petuna Ocean trout Fillet $31.50
I love Tasmanian Petuna Ocean Trout (the fish Tetsuya uses in his signature Confit of Ocean trout dish). As that dish is my point of reference I am slightly aghast at the size of the fillet I'm facing. And I can tell you the exact size of it : 17cms x 6cms x 4cms. And how do I know this? Because  we've been renovating and I carry a tape measure around with me nowadays.
Tasmanian Cape Grim Grass Fed MSA Beef Sirloin 260g $32.50
Grass Fed beef has that distinctive look to it and it's lower in fat so you don't see so much marbling throughout the fillet. This is soft and tender and one of the favourites for the table.
White River Veal Cutlet $31.50
The European style veal raised in the dairy region of Southern NSW and I particularly like the veal cutlet which is full flavoured and simply prepared with a lovely succulence to it.
Greek Salad
Chocolate Cadeaux with Creme Anglaise and berries $15.50
The chocolate Cadeaux is a n airy and light moussey cake give a tart punctution from the berries.
Frozen Nougat Sandwich $15.50
I particularly liked the Frozen nougat sandwich as it was so creamy although others found it too creamy. Indeed it was, with some parts of the frozen nougat resembling pure, sweet double cream.
Warm chocolate and caramel fondant pudding with vanilla ice cream $15.50
The test, and one which I've failed to make is the chocolate fondant. I've tried twice with Nigella's recipe and it has never worked so if I see it on the menu I'll order it as I know I'll never recreate it at home. I've heard Gordon Ramsay say how a kitchen often makes two of these for each order in case they don't turn out. This one is fantastic and breaks away to reveal a molten lava centre. The ice cream sits on a creamy caramel ring which bizarrely reminds me of Yogo.
Sorbet and frozen yogurt $14.50
The selection of sorbets are mixed berry, passionfruit and strawberry and of the three the passionfruit is my favourite although I have to admit now I'm way beyond stuffed and can't really comprehend eating anymore. I could get used to these warming Politician sized meals though.
So tell me, when you go on holidays is the mini bar important to you and what do you usually eat from there?
And in some exciting related news, I have had my story on Formula 1 drivers and their diets published in Toyota's Driver's World magazine! :) Needless to say I no longer have fantasies of being a Formula 1 driver.
Konoba
18 National Circuit, Barton, Canberra, ACT
Tel: +61 (02) 6163 1818
Open: breakfast: 6:30-10am (weekendds 6:30am-11am)
Lunch: 11:00-3:00pm (no weekend lunch)
Dinner: 6:00-10:00pm (weekends 6pm-late)