A taste of Japan's famous Robot Restaurant comes to Sydney. With neon light, laser beams, booming J-Pop, two giant robots and plenty of skimpily clad girl and a pole dancer, it is a sight to behold and enormous fun to boot. Open for nine shows only over three nights, the events proved extremely popular selling out within three minutes.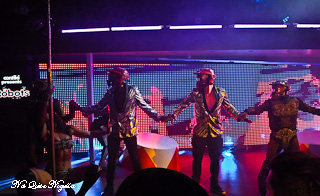 Growing up, there used to be a saying that went, "Only in America." I'd argue that there need to be a similar phrase the lines of "Only in Japan". It's no coincidence that Japan is my favourite country to write about because they're just a little bit (read: very) eccentric with their themes. And this week, that "Only in Japan" phrase applies to Australia with a taste of Tokyo's Robot Restaurant in Sydney's Darlinghurst.
Part cabaret, part robot show, part cartoon come to life, the Robot Restaurant in Shinjuku's Kabukicho district books out four months in advance. Diners sit down at tables and chairs and are served a bento box and the show begins. Skimpily clad girls, dancers and robots take to the stage to the sounds of J-Pop and laser lights. It's a unique experience that one finds hard to draw parallels with.
To launch Contiki's 13 day tour of Japan, Contiki have brought the robot show to Australia to give Australians a bit of a taste of the eccentric brilliance of Tokyo's themed restaurants (I contend nowhere in the world does theme restaurants better). There are nine shows in Sydney only across three nights and they all sold out within three minutes of tickets going on sale. Each show lasts about an hour and this is a small scaled down version of the Tokyo show with Australian performers. The original Robot Restaurant cost ¥10 billion ($108,000,000AUD) to fit out while this is done at a fraction of the budget.
We file into the small Darlinghurst nightclub that fits about 70 people. People are offered canapes and drinks - the bento of Tokyo's version has been morphed into a roving bento as there aren't any chairs and tables. The canapes are plentiful and range from chicken yakitori, sushi and miso eggplant on spoons.
"Are they actual robots?" I overhear someone ask. They're actually human performers inside robot costumes. After a brief introduction we are asked to take our seats and the lights dim. Flash photography is encouraged - amongst the neon and laser beams it's all part of the madness.
One robot emerges. He's backed up by a band and the electronic music and dancing buoys the crowd. With every new performer comes squeals and excitement. A posse of bikini clad girls comes out and a pole dancer twirls and writhes in front of the crowd. Three girls come out in cute Lolita outfits and sing and dance to "Turning Japanese" and Daft Punk features.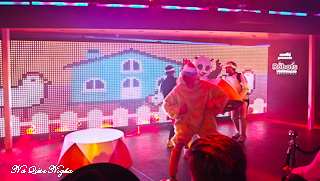 I'm not sure what the narrative is but it seems that robots and female super heroes fight a lot and there's also a silver clad woman who appears to be choosing between two robots to the tune of Kylie Minogue's "I Can't Get You Out of My Head" but with half Japanese and half English lyrics. And there are always the dancers, female and male. The women wear bikinis and filmy outfits while the men channel pop star backup dancers. It's an adult show and a woman takes an angle grinder and creates sparks against her crotch much to the delight of the row of men in the front row.
An enormous dismembered dragon or dinosaur head bobs up and down and there's also a panda. Psy's "Gangnam Style" is one of the last songs ensuring that all of the dancers and robots take to the stage. Again, we're not sure what these mean or where they fit into the storyline but it's only upon reflection afterwards that you contemplate it but when it is front of you, it all makes some sort of crazy, fun sense. Only in Japan right?
If you want to have more of a look, I also made a little video of the event last night!
So tell me Dear Reader, have you ever been to a Japanese themed restaurant? What do you think of the show? Are you a fan of J-pop?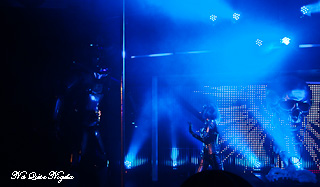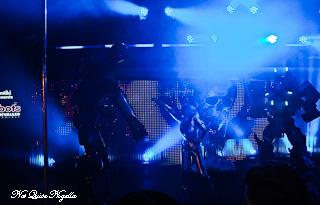 Robots Unrivalled
The Robots Unrivalled shows run from the 23rd-25th February, 2014.
Contiki runs 13 day Japan Unrivalled Tours. On the tour, participants are guaranteed a seat at Robot Restaurant.
http://www.contiki.com/destinations/asia/tours/2056-japan-unrivalled
The Japanese Robot Restaurant: http://www.shinjuku-robot.com/pc/