Looking for somewhere fast and tasty when you're off to the movies in the city? Ramen Zundo is located just around the corner and has tasty ramen and fast service. You can be in and out in about 20 minutes!
It was a cold, rainy night and Mr NQN and I were seeing Top Gun in 4DX in the city and we needed somewhere quick to eat. Ramen Zundo was on my list and when I suggested it to Mr NQN he said, "Oh I've been there heaps of times." It turned out that it was a favourite ramen place for Mr NQN and his former colleagues as his work was located near World Square. The World Square branch was opened in 2012 by Hiroki Nagao. There is an indoor section as well as an covered outdoor section in the alleyway.
Ramen Zundo's menu has a range of dishes from ramen soup noodles, tsukemen or dipping noodles, abura soba soup-less noodles as well as a large range of donburi if rice is more your thing over noodles. There's also a vegetarian menu and a few side dishes as well as soft drinks and ice cream for dessert. Service is friendly and everything runs like clockwork. Ordering is done at the front counter and you take a number to your table. The food will hit your table in about 5 minutes just by the time you've settled yourself in.
The chicken karaage is said to be really good here and I need very little persuasion to ever order fried chicken. It comes in 3 and 6 piece serves and I grab one sizeable piece and sink my teeth in. I wasn't sure what it would be like since it came to the table so quickly but it is wonderfully juicy. The chicken thigh melts in the mouth and ate most of this dipping the piping hot chicken into the mayonnaise on the side. I ate so much karaage that I wasn't sure if I had enough room for the ramen.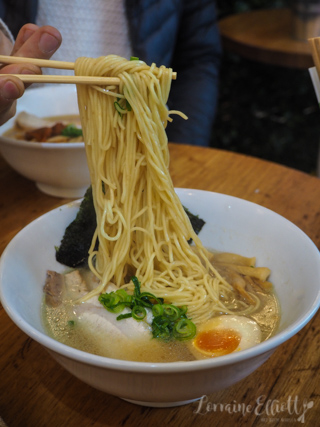 The most popular ramen is the tonkotsu ramen made with a creamy, collagen-rich pork bone broth made over 2 days and cooked over high heat for 8 hours. The noodles are thinner for the tonkotsu ramen and are made with standard flour mixed with whole grain flour and the result are fantastic noodles with just the right amount of bite to them so that they aren't soft. The broth is rich but not overwhelmingly heavy and there are two slices of soft chashu as well as menma or bamboo shoots, a sheet of nori and half an onsen egg. I can see why this is so popular.
Mr NQN's regular order (he's the kind of guy that will order the same thing over and over unlike me who wants to try everything) is the spicy ramen. This is a limited edition special although he tells me that he has been ordering it for a year now. The spicy ramen comes with either ramen or soba noodles. We went with the ramen noodles that are curlier and like regular ramen noodles in a spicy salt or shio based broth. It has a good level of spiciness although it isn't ferociously so. It has the same accompaniments as the tonkotsu and is satisfying and just the right size for dinner although surprisingly I prefer the tonkotsu whereas I usually go for anything spicy.
And from start to finish we are in and out within 20 or so minutes, just in time for the movie!
So tell me Dear Reader, are you the type to order the same thing over and over again or do you want to try everything? Do you eat at the movies or before or after seeing a movie?
This meal was independently paid for.
Ramen Zundo
644 George St, Sydney NSW 2000
Open 7 days 11:30am–9pm
Phone: (02) 9264 6113