This restaurant is now closed
It's the unlikeliest of locations. Wedged right between two sex shops among the gay bars of Oxford Street lies a tiny, blink and you would miss it Japanese restaurant whose menu changes daily, serves fantastic sashimi with Japanese food beyond your expectations.
It is a rainy Saturday night, not the best night to be looking for a park. There are no taxis because the Randwick races have just finished and even race goers tried to plead for a lift with us. We are driving around Darlinghurst for what seems to be an inordinate amount of time, the rain pouring down on the windscreen and people blurring behind it. We are already 45 minutes late for our reservation at Yokozuna. I ring to let them know and around and around we go, searching Darlinghurst for a spot to park like hungry, desperate sharks.
While waiting at a light I look at the car next to us. "They look like Nazis," I say to Mr NQN and Nick. The car of bomber jacketed men drive off and my eyes widen as I see their number plate confirming that they were indeed Nazis. I shudder. "It's like Indiana Jones!"
At last, after 60 minutes I float the suggestion that perhaps we need to cancel and find somewhere else. But because the universe works in mysterious ways, a parking spot materialises right in front of us. We execute a couple of dodgy maneuvers to snag it and 75 minutes after we leave home, we finally make it to Yokozuna.
I'm surprised to learn that Yokozuna has been here for five years. I honestly have no recollection of seeing it. It's a small family run restaurant and not much bigger than it looks from the street. Previously the Oka family from Yokohama and Chiba city owned Umaimon in Town Hall. Service is kind and sweet and the mother sympathises with our parking plight as her son the chef wasn't able to find one earlier that night making him late to the busy restaurant.
She hands us two menus: one hand written photocopied menu that changes daily as well as a long rectangular menu. The hand written menu has things that intrigue us including a whole section written entirely in Japanese. I see toro the most desirable type of tuna from the centre front belly of the fish.
There is also belly salmon and kingfish sushi. "Which do yooouu like?" Nick coos to the lovely young waitress, smitten. She gives us a few recommendations and I also ask her to explain a few of the Japanese only items that we end up ordering. There are also plenty of more commonly found Japanese items like chicken teriyaki, bento boxes, ramen and salads.
Fish Bones $6
I was told that Yokozuna isn't a restaurant to go to if you are in a hurry but we didn't wait long until the first bites arrive. First was fish bones. They are slightly sweet fish bones dusted with a spicy salt and drizzled with mayonnaise. They're like a calcium filled fish chip and they are surprisingly good. We eat a few each.
Goatfish $15
Nest comes three goatfish, dusted in seasoned flour and deep fried. It comes with a ponzu sauce and the fish is tender and moist and the lime adds a refreshing element as does the ponzu sauce.
Sushi, Otoro 4 pieces $24, Salmon belly 3 pieces $10, kingfish belly 1 piece $4
The sushi comes out next and they explain that they only have one piece of kingfish belly. The ōtoro with its light pink shade is meltingly good. It has almost a raw steak like texture. The salmon belly is so fatty and unctuous. The kingfish belly is also good but not quite as rich as the salmon. Occasionally they will also put up interesting items just in like sea urchin, turbin shells and marlin on their Facebook page.
Soft shell crab $16.90
The soft shell crab is said to be a popular dish here. Whilst it's not bad, parts of it are quite wet from where it sits on the dressing but the lotus chips remain crispy.
Tofu with ginger $10
One of the simplest looking dishes but most refreshing was the tofu filled with a special type of Japanese ginger called Myoga. It featured on the Japanese only menu. The tofu is cut into four cubes and there is plenty of thinly sliced myoga, spring onion and bonito flakes. The mother tells us that the myoga season is nearing its end.
Kimoyaki $15
The grilled kimoyaki is another Japanese only dish made with squid legs, bean sprouts, nori, mayonnaise and spring onion with the flavour of liver. It's actually very good although quite unusual sounding and the squid is tender with a slight chew to it. It's a comforting dish.
Tempura $16.90
The tempura was a lucky dip as it is said to be cuttlefish with vegetables. You never quite know what is inside the tempura batter coating. One piece is cuttlefish, the other a meltingly tender white fish and another is soft, juicy shimeji mushrooms.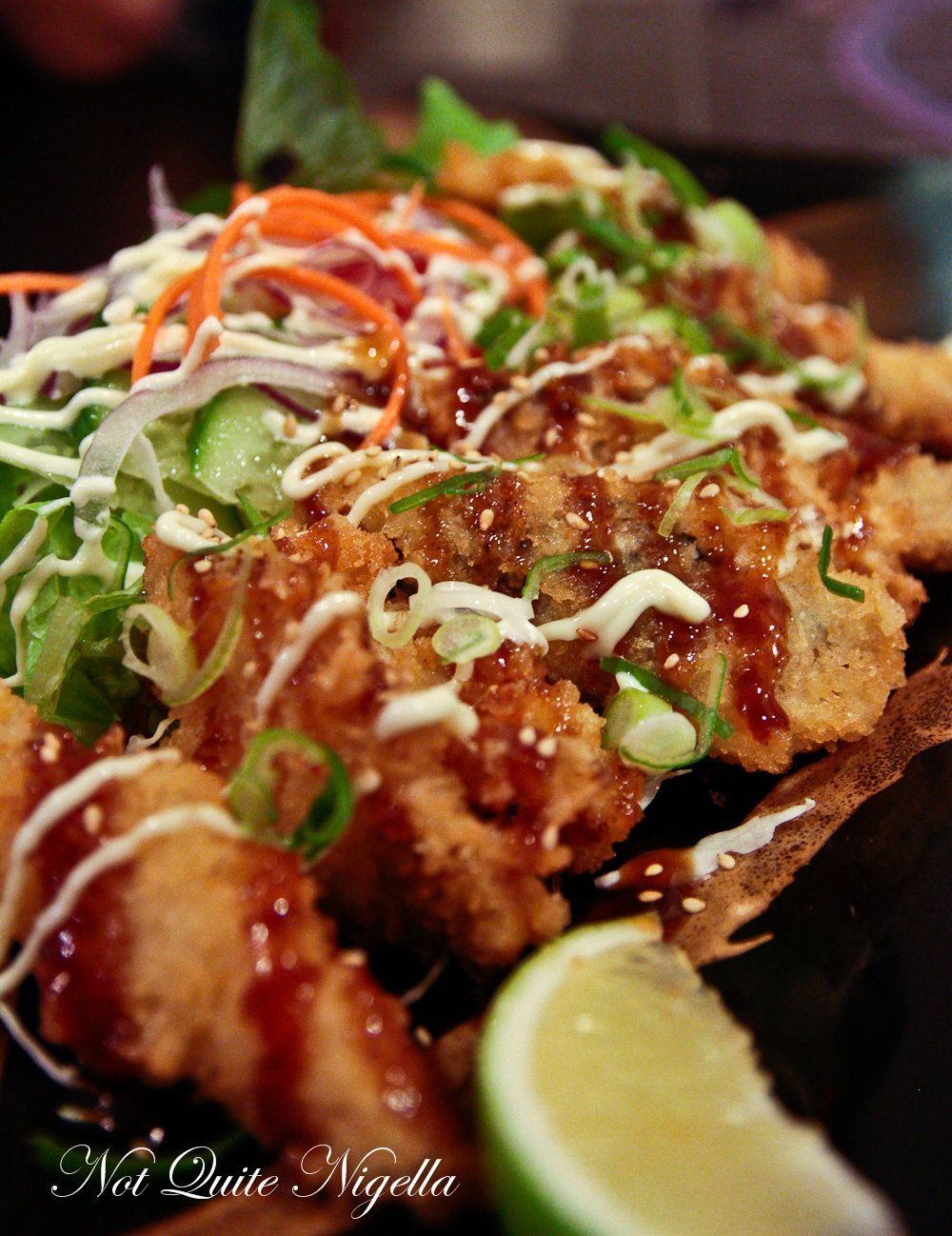 Yellowtail fry $10
The yellowtail fry is the last savoury dish that we almost completely forgot about. It comes as fillets of yellow tail dipped in panko crumbs and drizzle with katsu sauce. It's moreish and crunchy good.
Home made green tea ice cream $6
We are told that they only have one serve of home made green tea ice cream which suits us just fine but it ends up being a sizable portion with plenty for three of us. The smooth ice cream strong in green tea is given a further tea boost from the green tea syrup drizzled on top.
As I go to pay, the mother takes a look at our order and shyly smiles and inquires, "I see you have a lot of Japanese things on the order. I am afraid that you didn't like it?" I let her know that it was exactly what we wanted and the proof was that nothing went back to the kitchen uneaten.
And just to show you what the regular food is like, and because we enjoyed it so much, we visit again the following Friday night to eat some of their more regular meals (just in case the fish bones weren't your cup of tea). It's quiet when we walk in at 6pm but come 7pm the restaurant is completely full.
Wafu salad $8.90
The wafu salad arrives first and it's a refreshing salad with cubes of firm tofu, lettuce, tomato and spicy seaweed as well as a wafu dressing which is made with soy, sugar, sesame and rice wine vinegar. It's tangy but delicious.
Scallops with tartare sauce $12.50
I share the Japanese obsession with mayonnaise and our fridge is never without it. Here they coat three enormous Hokkaido scallops with tartare sauce and grill. It's so rich and decadent, too rich for Mr NQN who claims it so all the while sucking back two of the suckers while I savour my serve. And yes I licked the shell when nobody was looking...
Eggplant with miso pork mince $12.50
The next dish to arrive is the eggplant. It smells incredible and it's a very generous serve of soft, large chunks of creamy, melting eggplant in a perfectly seasoned miso and pork mince sauce. It needs rice or something to soak up the delectable sauce and the eggplant's texture is wonderfully soft. The only thing I would have changed was to make the eggplant pieces half the size so that you get the sauce penetrating more through the pieces.
Salmon avocado roll $14.50
The salmon avocado roll is well made and very good. I had to give most of this to Mr NQN who looks to be enjoying it immensely.
Bento box $16.90
Our last item to arrive is the bento box. There is a choice of fish or chicken teriyaki and since we've had a lot of fish already, we thought that we'd try the chicken. There are four pieces of skinless chicken teriyaki which are tender and juicy. It comes with four pieces of nigiri sushi as well as some luscious salmon sashimi and sweet pickles. There is also a bowl of miso soup which is just the right level of saltiness - sometimes it can be overwhelmingly salty.
"Could we have found our regular place?" I say to Mr NQN who looks delighted and counters with a suggestion that we ride our bikes here to avoid any parking issues.
So tell me Dear Reader, would you go for the items in Japanese or would stick more to what you know and love? Have you or would you ever tried fish bones?
This meal was independently paid for.
Yokozuna
159 Oxford St, Darlinghurst NSW 2010
Phone:(02) 9357 7808
Saturday to Sunday 12:30-10:00 pm
Monday closed
http://www.yokozunacuisine.com.au/