The destination of Orange, just under four hours' drive away from Sydney has changed since our last visit a few years ago. It has always had a rich food culture owing to the produce grown in the region but this time we take a good look at the cafe and restaurant scene in Orange and the fantastic local produce that they showcase.
The windscreen wipers beat against the glass turning blurry images clear before they disappear behind the grey liquid landscape. As we near the town of Orange, the vivid yellow London Plane trees start to appear flanked by vivid red lipstick maples. Autumn is the most picturesque time to visit Orange and it also happens to be Orange F.O.O.D Week so not even the rain can dampen our spirits. "Look at that tree!" I say repeatedly, unearthing some kind of deep seated arborist fantasies.
A pack of colourful galahs are seen foraging for food on the ground, a lone palomino horse chews grass in a paddock and a pack of alpacas in three different tones graze in another, their heads turned our way as we drive past. We arrive at our first stop. I pull down my sleeves to cover my hands as we delve deeper into Autumn. Orange's elevation means that the weather is a few degrees cooler than Sydney but the elevation also gives rise to great produce.
So it seems entirely appropriate that our first stop is at The Agrestic Grocer. It's busy here and if anyone thought that people weren't interested in buying local fresh produce they need only visit here where locals snap up a fantastic range of produce from white heirloom carrots, golden beets, purple congo potatoes and Trunkey Creek smallgoods.
There's also a bike where you can roll your own oats fresh. These oats are different to than the commercial variety as they are less rolled with less surface area so that less oxidation occurs. The space was formerly a pear and stone fruit farm and the main building where the store and cafe sit is what they believe to be one of Orange's first coolrooms made with straw bales. The Agrestic Grocer was started by Katie & Beau Baddock and Danielle & Lucas Martin. The Baddocks are orchardists while the Martins were health food shop vendors.
Outside there is a stall selling chocolate headed by Fiona and Jo who produce Chocolate With Purpose in nearby Millthorpe. Starting in 2013 with a range of bushfoods inspired by Fiona's heritage as part of the Wiradjuri tribe it proved popular and now they have branched out into a range of white, milk and dark chocolate using Belgian Callebaut chocolate with local grown fruits and nuts. Flavours include fig and pistachio, white chocolate, cherry & saffron, milk chocolate with pear and chestnut and a delicious dark chocolate with sangiovese grape.
We head in for lunch and there is an indoor and an outdoor area. We opt for the outdoor section and take a look at the menu. Mr NQN orders a coffee while I go for a juice - cold pressed fresh apple juice because Orange is known for their apples and we have arrived mid apple season.
It arrives, a slightly cloudy pale yellow shade. Katie places it down and tells us that it is made from Gala apples, grown by her husband Beau. Do you know the moment when you bite into a juicy apple and the crisp, sweet juice runs down the sides of your mouth. Every mouthful tastes like this. Heaven.
The food arrives and the first thing I try is the Ploughman's lunch which is a comprehensive platter that could even feed two people. There is Trunkey Creek ham and salami - I particularly like the peppery salami. There are also olives, house made chutney, taramasalata, local fruit including strawberries, fig, pear, pickled white carrot strips, local hazelnuts, Kalavista olives, bread and several cheeses made on site including a quark, washed rind and camembert made using local milk and cream. The variety and quality is excellent.
*Korean bbq beef burger $21 *
The Korean barbecue beef burger is a thick grass fed beef patty topped with plenty of thin cheese slices, mayonnaise, tomato and lettuce. I don't really get a Korean bbq flavour to the patty, it's more like a regular beef patty. But it is served with house made kim chi made with apples and pears so it has a sweeter, milder kick to it. Then there are the hand cut sliced across triple cooked potato chips, all crunchy goodness and translucent appeal with a side of miso mayonnaise. After some purchases we make our way to our second stop.
It's mid afternoon so we take the short 5 minute drive to Lakeview Cabins which is our home for the next two nights in Orange. There are currently three cabins that are built for couples. Each is self contained and private. The first thing I notice is just how quiet it is, except for the occasional bush sound as our cabin backs onto a lake. A couple of members of a resident family of kangaroos makes a very brief appearance.
We park our car in the carport outside and open the door. The cabin is open plan with a large lounge room with a three seater lounge, flat screen television and fully stocked kitchen. And this is where many guests really appreciate the time that owners Pam and Trevor take with stocking the kitchen with local produce.
There is a very comprehensive range of local goodies from Fish River roasters coffee, Teahouse tea, a bottle of Ross Hill Wine, Badlands beer, Trunkey Creek double smoked bacon and honey pork sausages, Fourjay muesli, Racine bakery bread, Second Mouse cheeses (double cream brie and a cider washed semi hard Swiss style cheese called Henri), Agresti Grocer pumpkin pickles, cakes and chocolate figs as well as shortbread, eggs, mushrooms, croissants, cherry tomatoes, fruit platter and a tub of Maggie Beer burnt fig ice cream in the freezer and freshly picked apples from their garden. All of these items are included complimentary for guests. Pam had even emailed a few days before to ask us what sort of wine we would like.
The bedroom has a queen sized bed with comfortable sheets and pillows. Outside is a barbecue for cooking our provisions. The bathroom is also large with heated floors and a large bath that looks out onto the bushland. The amenities provided (soap and shampoo) are by a local brand called Lavendilli Blue. There are tissues and makeup remover wipes but you'll have to bring any other items.
The only concerns are that because it is so open plan, there is no door on the bathroom so everything that happens in there can be heard in the rest of the cabin! Also there is no internet in the cabins so this is either good or bad depending on what you want to do while there.
After doing some work we realise that it is time for dinner which is at Racine restaurant about 10 minutes' drive away. Tonight's dinner is part of Orange's F.O.O.D. week where husband and wife couple Willa and Shaun Arantz have combined forces with their respective talents.
Willa usually covers the floor and he the kitchen but tonight, she adds another role to her portfolio as an artist. She has painted five paintings and Shaun has used them as inspiration for the dishes that evening. At the end of the evening, all of the paintings will be auctioned off with 10% of proceeds going to the Royal Hospital for Women in Randwick to the Neonatal Intensive Care Unit. This is a cause close to Willa and Shaun's heart because only last year, they lost a baby there. And in a surprising turn of events, now she is six months' pregnant.
Racine means "root" of the land in French and Shaun once worked at a restaurant with the same name in London on Brompton Road in Knightsbridge. The name always stuck with them and when they were offered the space and saw that the winery attached La Colline was French, the name Racine was a natural choice.
We find ourselves sitting in amongst a table of Orange locals who are very friendly (which ends up really being the theme of our stay here). Our first bite is a Pork Rillette en Croute. Setting the tone for the evening, it's absolutely delicious.
The potato onion and cheese dish is a halved kipfler potato, charred onions and cheese soubise.
The freshwaster trout comes out in a glass jar and has thinly sliced carrot escabeche, almonds and a mild flavoured dashi. There are pops of coriander seeds that give the spoonfuls a burst of flavour and this is subtle but very good.
The pressed duck comes as a single slice with crispy skin and a soft meat underneath. Well seasoned, it reminds me of a confit with the intensity of flavour and soft texture. It comes with a savoury granola, tiny halved beetroot and pickled onion.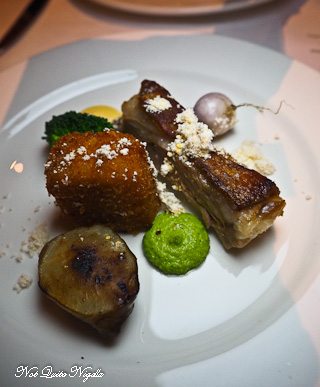 *Lamb Assiette *
The lamb assiette has changed from what was detailed on the menu. It is a single lamb rib, all luscious fattiness, a crumbed pressed lamb belly croquette, a piece of broccoli, a mustardy white anchovy bagna cauda, baby turnip and red capsicum powder and dehydrated black olive.
Apples are in full harvest at the moment so it seemed appropriate to have an apple dessert. This is using Granny Smith apples with a large quennelle of Granny Smith apple sorbet flecked with pieces of apple skin with squares of a light, fluffy toffee parfait and quinoa flake granola. We would all have loved a bit more crunch to the granola but the dessert is a substantial one.
Once the dishes have come out, it's time for people's wallets to come out. Willa's father plays auctioneer and coaxes bids out of people. The paintings fetch a good price and the sheep gets the highest bid followed by the duck.
The next morning we start the day at Factory Espresso. Bill Parianos and Lisa Poole are both from Sydney and set up Factory Espresso and Bill's beans in 2012. Bill comes from a long line of coffee roasters who have been roasting coffee from the 1920s to the 1980's and he roasts all of his beans using the San Francisco Coffee Company's machines. So what makes this coffee machine different? "Metallurgy. Nobody builds a roaster like this, this is heavy gauge steel," he answers. He finds that this makes the machine more thermally stable which impacts the roasting process. They wholesale to forty businesses in NSW.
Another contributor to the roasting process is the high altitude location 860 metres above sea level. This allows them to use less gas pressure and this results in a fuller bodied roast. Here they do several types of coffee including a pourover coffee and cold brew coffee with bottles of cold brew lattes and black coffee on the counter.
Food wise, it's easy to pick what to order. There's a good range of classics but two things catch our eye: Honeycomb Bacon and The Remy (named after one of Lisa's beloved dogs).
Although it is very busy the food doesn't take long to arrive and the honeycomb bacon is a thing of beauty. The hot honey is still trickling down the rasher of bacon. It's one of those Homer Simpson drooling moments. It sits on top of split Turkish toast with butter and honey and Worcestershire mushrooms, grilled tomato, chunks of honeycomb, honey and bacon.
At first you may wonder who wants a burger for breakfast? Well me for starters as this baby has a delicious sweet and spicy pulled BBQ hickory smoked beef brisket and bacon (yes both!) with fried egg, grilled halloumi, sliced tomato, mayonnaise and lettuce. The top of the roll is a touch crusty (I prefer super soft for burgers) but the bun itself is downy and fresh. It's also enormous so bring a sense of appetite with you for this or the dish above.
At night, after escaping the rain we drive back into town for Percy's Bar and kitchen. And although it is raining heavily, it seems Percy's is the place to be with an energetic crowd in the pub. Percy's serves a range of cocktails, wines and jugs of cocktails along with tacos, burgers and share plates. Named after Captain Percy Simpson, owners Fraser Haughton and Chris Cornforth were originally Sydneysiders who made the same journey West as Captain Simpson did.
Granny's Gums is an Australian twist on the mojito. With sweet eucalyptus syrup with muddled Granny Smith apples, Havana white rum, mint and soda it's intriguing and yet accessible. The "Like She Cares" cocktail is a muddled mix of lychees, elderflower liqueur and fresh lime with vodka. It's sweet and refreshing with lime being the dominant flavour but there is a trace of elderflower and lychee perfume.
The savoury food comes out quickly and we start with the soft shell crab tacos. They are mini tacos really and the crab pieces are a tad on the small size or maybe that was just mine. There is also pickled radish, pear and cucumber and the element that I was most intrigued with was a sesame orange toffee but I couldn't really see or taste that at all.
My favourite dish is the lamb riblets and I was willing to risk getting the meat sweats for these. They are rich and delectable with a spicy bourbon barbecue sauce. They easily fall off the bone like all good ribs do.
The fried whitebait comes as a generous sized portion of lightly dusted whitebait (tiny fish although larger than NZ whitebait). We squeeze lemon juice onto these and dip them in the aioli provided and eat them whole.
The Southern BBQ brisket comes with crispy onions and house bbq sauce in a soft bun with melted Swiss cheese. Alas the crispy onions as detailed on the menu aren't on the burger - it was very busy but it would have been good to have the onions on the burger. The curly fries are good and we ask for some tomato sauce and aioli to dip them into.
The original order of a ginger bread pudding with salted caramel sauce has unfortunately run out so we go for a deconstructed cheesecake which comes out as one large scoop of light cream cheese filling atop a bed of crunchy cookie crumbs. On top of this is a tuft of rose flavoured pashmak or Persian fairy floss. Eaten in tandem it is a light and well balanced dessert that prepares us for a fun day ahead the next day exploring more of Orange via a foraging trail.
So tell me Dear Reader, which is your favourite season of the year and why? And when you travel and stay at places, do you need internet or do you prefer to switch off entirely? And have you ever bid on a live auction? Did you win?
The Agrestic Grocer
426 Mitchell Highway, Orange NSW 2800
Phone:(02) 6360 4604
https://www.facebook.com/theagresticgrocer
Lakeview Cabins
57 Stanford Rd, Canobolas NSW 2800
Phone:(02) 6365 3378
http://www.lakeviewcabins.com.au/
Racine
42 Lake Canobolas Road, Orange NSW 2800
Phone:(02) 6365 3275
http://racinerestaurant.com.au/
Factory Espresso & Bill's Beans
135 Kite Street, Orange NSW 2800
Phone:(02) 6360 2858
http://www.billsbeans.com.au/espressobar.html
Percy's
120 Summer Street, Orange, NSW 2800
Phone:(02) 6361 2400
http://percysorange.com.au/