Planning a weekend away to Port Stephens? Arm yourself with this good eating guide that will have you indulging in the best of the region's food. Just 2.5 hours north of Sydney, Port Stephens is a popular place for a weekend away and in August it hosts an annual Love Seafood festival!
SATURDAY
Saturday 9am Brunch At The Little Nel
So you've just arrived in Port Stephens and you're hungry and need a coffee or a tea? One of the best spots for breakfast is The Little Nel on Government Road in Nelson Bay. Grab a seat on the sun drenched front patio or hibernate inside nestled on a banquette with a blanket on your legs if it is cold. Chefs Dan James and Mat Key focus on local and house made ingredients.
I start with a Tropical Magic juice made with pineapple, watermelon, lychee and mint, a perfectly sweet and fresh juice concoction.
The most popular item that they are known for are their very tasty zucchini and green pea fritters served with a generous heaping of crisp bacon, poached eggs, kale pesto and a slow roasted tomato chutney.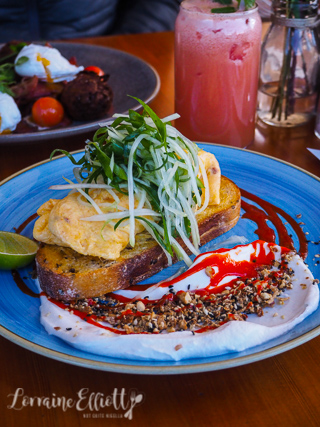 My favourite from the menu is the sambal chilli scrambled eggs with coconut yogurt, Sriracha, shredded green papaya, cashews, crispy shallots on soy and linseed bread. The scrambled eggs are creamy and I love the fresh, Asian twist on scrambled eggs.
For August's Love Seafood festival, the chefs are adding some extra seafood dishes to the menu. The spanner crab omelette with XO, chilli oil, oyster mushrooms and coriander is fantastic with a satisfying kick from the XO sauce.
But my heart is completely won by the Newcastle Balmain bug and nduja mafaldine pasta made by local pasta artisans Pasta di Porto with cherry tomatoes, basil and a rich fish bone stew and a light sprinkling of cheese. The sauce brings this whole dish together along with the tender Balmain bug meat and I find myself slurping away at the ribbon like noodles long after my stomach tells me to stop.
The Little Nel: 3/7 Government Rd, Nelson Bay NSW 2315 Monday 7–11:30am, Tuesday to Sunday. Phone: (02) 4916 4600
Saturday 11:30am Whale or Dolphin Watching
Usually on the agenda for every Port Stephens visit is a spot of whale watching as the whales make the area their home during mid May to early November each year.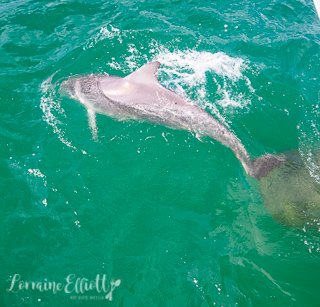 Moonshadow-TQC cruises also offer dolphin watching cruises. Small pods of up to 5 dolphins make the Bay their home and the one and a half hour cruise finds several pods of dolphins.
Moonshadow-TQC cruises: 3/35 Stockton St, Nelson Bay NSW 2315 Open 7 days 8am 5PM. Phone: (02) 4984 9388
Saturday 2:30pm High Tea and Spa At The Anchorage
Hampton dreaming? Pay a visit to the Anchorage, a gorgeous resort that is set along its own marina with a view of the bay outside most of their rooms. Even if you aren't a guest (a separate review of this hotel to come soon) you can still book in for one of their afternoon teas.
"High Tea by the Sea" runs from 2:30-4:30pm every day and involves dainty morsels of savouries like lamb sausage rolls, coronation chicken finger sandwiches and sweets made by their talented in house pastry chef. The cakes glisten and the deal is made even sweeter by the free flowing sparkling wine for the duration of the tea. Follow or precede it with a visit to Spa Lucca, just a few steps away where you can succumb to the serenity and warmth of the stunning spa (I recommend the marine facial).
The Anchorage: 26 Corlette Point Rd, Corlette NSW 2315 Phone: (02) 4984 2555
Saturday 8pm Dinner At Little Beach Boathouse
The one place that everyone will tend to ask you about is Little Beach Boathouse. The split level waterfront restaurant has a bottom level bar with snacks while the top level above houses the restaurant. If you're lucky or book enough ahead of time you'll nab a corner front table and watch pelicans skimming the water below for that evening's dinner.
At Little Beach Boathouse, chef Ben Way has cracked the regional dining code that keeps both locals and visitors happy. The menu is full of classics that everyone will love-there's nothing experimental that may deter locals but everything is executed perfectly.
For example the prawn cocktail, something that might be relegated to retro quirky, is a standout. Succulent local prawns, with their winter layer of fat are served with chiffonaded lettuce, the thinnest brik pastry and a pitch perfect cocktail sauce. Likewise the mussels with a Thai coconut style curry sauce are pneumatically plumped up yet tender.
If you're they will have some locally caught kingfish. This isn't the pale creamy fleshed farmed Hiramasa version of kingfish; this is wild caught kingfish with a distinctly pink hue to it. Ben compares it to grain fed beef vs grass fed with the wild being the latter. He loves fish during the winter months, even with all of its challenges sourcing because it all has a tasty layer of fat on it.
There's no point in recommending one dessert over another because you can get a tasting platter that involves all three and that way you can try all of them. Be prepared to fight over the lemon tart with its crisp shell and coconut mousse topped with crushed meringue.
It sounds simple enough but I literally had to fight Mr NQN for this and he doesn't even like lemon tart. Similarly the date and walnut pudding with salted caramel ice cream and butterscotch sauce and the chocolate rockpool with layers of milk, dark and white chocolate and sour cherry and crunchy churro chunks also vy for attention. Okay maybe get one tasting plate each.
Little Beach Boathouse: 4 Victoria Parade, Nelson Bay NSW 2315 Monday closed, Tuesday to Saturday 12–2pm, 5–9pm, Sunday 11:30am–2:30pm. Phone: (02) 4984 9420
SUNDAY
Sunday 9am Breakfast at Evviva Cafe & Bar
Although Evviva (meaning "Cheers" in Italian) bar is known for their cocktails they've also evolved into becoming a coffee and breakfast/brunch location (and there's no reason why you can't have a cocktail in the morning). Try the Turkish eggs with paprika yogurt, wilted spinach and red peppers for something tasty and vegetarian.
For something sweet at breakfast the French toast with plenty of bacon on the side and maple syrup is sizeable. And if you're feeling the need, an Evviva French martini any time of the day is a sensible idea.
For the upcoming Love Seafood Festival they're collaborating with My Kitchen Rules' winners Luke Stewart and Matt Gawthrop who are serving up a four course dinner including a delicious chamomile semifreddo dessert with honeycomb and citrus.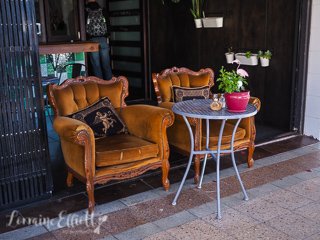 Evviva Cafe & Bar: 14 Stockton St, Nelson Bay NSW 2317 Monday to Wednesday 8am–2pm, Thursday to Saturday 8am–2pm, Sunday 8am–12pm. Phone: (02) 4984 2211
Sunday 10:30am Horse Riding or Walk
Because Port Stephens is so much about the vast expanse of water and coastline, many activities are located at the beach. Be it 4 wheel driving on the sand dunes (a much closer prospect than flying to the Middle East), camel riding or horse riding.
Sunday 1pm Lunch at The Poyer's
Oyster farmer Paul North owns 85 acres of oyster hatcheries across the Port Stephens area. He and his fellow 40 or so fellow oyster farmers can hardly keep up with demand. When business is good, it is booming. However when it isn't, he came within a hair's breath of losing everything.
He bought his first farm when he was 17 years old at a cost of $25,000. Now his oysters are served at restaurants like The Poyer's a short 15 minute ferry ride (or alternatively a 45 minute drive) from Port Stephens. It is said that Tilligerry Peninsula is fed largely by couple Ludovic and Mandy Poyer. While the Normandy born chef Ludo stresses that the menu isn't French per se, it definitely has French overtones and plenty of French selections. They've transformed what was once a takeaway shop into a chic beach destination.
As for Paul's oysters, Ludo serves them 4 ways: natural, a version of kilpatrick, white wasabi balsamic and a version with truffle oil, cream and parmesan. These slip down easily with a glass of wine and some sunshine streaming through the windows.
We also try a couple of entrees-the prawns with pastis and ratatouille is well balanced with flavours from the anise rich Pastis but this is mellowed with cream and a judicious hand.
The quail is dainty and sweetened with port and served with beetroot puree, port mushrooms and crunchy tempura enoki mushrooms on top.
The Poyer's: 42 Cook Parade, Lemon Tree Passage NSW 2319. Monday closed, Tuesday, Wednesday and Sunday 8am–3pm, Thursday to Saturday 8am–3pm, 6–9pm. Phone: (02) 4984 5827
7pm: Dinner at Seabreeze
The Seabreeze Hotel has a welcoming pub bistro with lots of white wood, plants and banquettes. The wine list is made up of lots of local wines with the nearby Hunter Valley represented well and the food menu is a mix of pub favourites (there's always a schnitzel) as well as Asian style and Modern Australian dishes.
The entree platter gives you a taste of a few entrees (and is substantial enough to feed two for dinner). The lamb ribs are so tender and fall apart soft and brushed with a glaze with plenty of lime including kaffir lime. The salt and pepper calamari is delicious and tender while the baos have a slice of sticky caramelised pork belly. You may have to fight over the last one on the plate.
The local snapper is so moist and well cooked that Mr NQN finishes most of this (and he isn't even a fan of cooked fish). It's served with a green bean, feta and almond salad. I can't resist ordering some truffle and parmesan cheese fries too.
Seabreeze Hotel: 1 Stockton St, Nelson Bay NSW 2315. Bistro open Monday to Sunday 12.00pm – 3.00pm, 5.30pm – 9.00pm. Phone: (02) 4981 1511
Love Seafood Festival - August 2019
During the month of August, Port Stephens holds the Love Seafood festival. There are special events, masterclasses, cooking classes and restaurants put on special menus for the month long festival.
One of the events is a Munch and Move progressive lunch at Tomaree Peninsula on the 11th of August for $59 a person. This features four restaurants serving one course each. Transportation is included.
The first course is at Maverick's On The Bay at d'Albora Marina which is busy with families enjoying the sunshine and watching the boats. It's also where people can buy fresh seafood to take home too a little further down the drive. The offering here is for three coconut and macadamia crusted prawns with a balsamic dressed rocket salad on the side. The prawn batter is thick and coconutty in texture and the wine is a Bimbadgen Sparkling Semillon.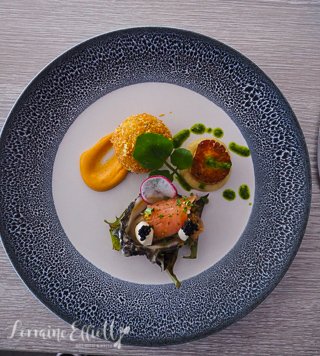 The next course is at The Point restaurant on Sailor's Point marina and features an entree of Holbert's oyster, smoked salmon, creme fraiche and caviar. I actually prefer the components separately so that I can enjoy the oyster's flavour. To the side is a delicious blue swimmer crab and corn arancini with Sriracha aioli and a seared scallop on cauliflower puree with salsa verde. This is served with a glass of Andrew Thomas Murphy's Semillon 2008. The next course at Murray's Brewery is a semolina crusted squid with lime aioli served with an Asian salad with a choice of a glass of Skinny Dip Sparkling Wine or a 1/2 pint of Whale Ale.
Dessert is at the Seabreeze Hotel bistro for a wobbly delicious strawberry panna cotta that tastes of fresh strawberry. It is paired with meringue, honeycomb and a strawberry coulis with a glass of Marview Pinot Chardonnay.
For a lunch with a distinctly Sicilian flair Sienna's Pizzeria and Bar is an Italian restaurant with its roots in Sicily's Aeolian Islands. On the 18th of August they will serve up a 3 course Italian lunch for $60 a person.
The first course is a seafood penne with octopus as well as a generous serve of bread with olive oil and balsamic. Servings are generous.
The second course is stuffed calamari in a rich tomato based sauce. It comes with potatoes and a dressed iceberg salad. The calamari is plumped up with a breadcrumb and cheese filling and it is tender and toothsome.
While the last course is an Italian classic-tiramisu paired with a glass of limoncello!
Where to Stay
Stunning Waters in the picturesque suburb of Corlette and is, as the name suggests, all about gorgeous views. Located on Sandy Point Road, the two bedroom house has two apartments with panoramic bay views with absolute water frontage. It is part of the Alloggio portfolio of Port Stephens beachfront and family friendly accommodation.
The location is the real drawcard with that view and the nearby dog beach (alas we are without Teddy!). Rooms are comfortable but the beds are on the smaller side. Whilst it is a comfortable and spacious home there are some quirky things to be aware of when staying there that make this accommodation quite different from other similar types of accommodation.
There are no toiletries provided including no soap (I expect to bring my own shampoo and conditioner but not soap). The tea and coffee making facilities are basic with no milk so you will literally have to bring things like soap and milk for your stay.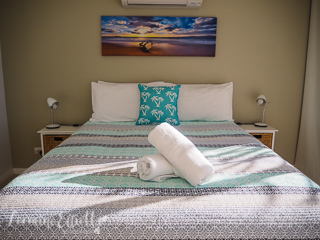 Also I personally prefer accommodation where you can access the property through a code or a lockbox key whereas we had to drop into the office in town to pick up the key and drop it off when we were leaving (at 5am in the morning).
Alloggio: www.alloggio.com.au/port-stephens-accommodation
Love Seafood
www.portstephens.org.au/loveseafood/