One of the biggest events of the calendar year in Orange is Forage, set during the beautiful season of Autumn. Based on the Italian concept, Forage is a picturesque walking trail that spans 3.7kms or 2.3 miles. During the trail there are organised stops for wine, cider, canapes and a range of food. The event started off small but has now grown to capacity with tickets being snapped up quickly every year - this year's was sold out within 45 minutes. Come along and see what the fuss is all about!
There are some people for whom food is an often unwelcome distraction. A pause in an otherwise productive day. For others, it's something hotly anticipated, looked forward with a measure of zeal. It's not only the eating but the finding or foraging and preparing of the food that is welcome.
The Forage event in Orange's Food Week is the flagship event for food lovers. The public release tickets sold out in 45 minutes and it has grown from a small event to one where they need to cap the numbers at 1,000. A 600 strong waiting list of applicants hold hope that there might be the chance to forage an otherwise untresspassable trail across Orange's wineries.
Forage is a progressive degustation with 8 stops with 9 different tastes of food and wines to match. The whole course stretches for 3.7 kilometres or 2.3 miles and stops vary slightly in distance although none are too far from each other. On the way you walk through vineyards and fields that would otherwise not be accessible to the public. Participants can pick grapes from the vineyards, eat dishes prepared by Orange's most prominent restaurants and personalities and taste wines and ciders. It can take anything from 2.5-5 hours depending on how leisurely a pace you want to take.
At 11:30am we reach the Orange Civic Centre. We show our tickets and are handed a bag containing a bottle of water, map, vouchers, a rain poncho and a glass on a lanyard. I am wearing gumboots because the weather had predicted rain and it is miserable walking through mud. Gumboots are definitely the footwear du jour.
The bus takes us to the first stop at Highland Heritage Estate. Because there are 1,000 people they stagger the buses so that each vendor isn't overwhelmed by visitors and this also ensures a steady but manageable stream of customers so that you never have to wait very long.
Winemaker and Orange F.O.O.D week president James Sweetapple gets up and explains the day's proceedings and welcomes everyone. The idea of Forage originated in Italy and came to Orange 5 years ago. Unlike Italy which is all downhill, the walk is a little up and down but nothing is too strenuous.
I cannot tell you how friendly people are in Orange. Even though most people are in large groups everyone is polite and friendly and even though Mr NQN and I aren't locals, people chat easily and make us feel welcome. We line up (and meet two very friendly NQN readers-hi!!) for our wine, a 90ml/3oz glass of Zinga 2013 Sauvignon Blanc Swift Cuvee NV and a boat of 5 spice pork with crispy salad. I was so smitten with the salad as it was a delectable crispy, crunchy, fresh and sweet salad and it didn't even need the pork! I did ask for the recipe but alas it was not forthcoming.
Our next stop is at a marquee where Orange's Lolli Redini restaurant is serving up canapes alongside Patina Winery and Orange Mountain Wines. Although they are serving up so many people in a remote location the quality of the food is excellent. Lolli Redini's offering is a chicken rillette with orchard fruit confit, much like a chutney and a crisp hazelnut biscotti. There is a choice of a Patina 2011 Chardonnay and an Orange Mountain Wines 2013 Viognier.
The views are absolutely spectacular and the gently rolling hills are easy to negotiate and walking through the vineyards is a pleasure as we can help ourselves to the grapes on the vines. The Cabernet Franc grapes are sweet, especially the shrivelled ones their juice concentrated like a raisin. Everyone picks them as we walk along, the purple shade colouring our fingers purple and sticky.
The facilities are only at certain stops and these are the portaloo variety. We feel the light patter of rain on our heads so we quickly duck into the marquee. Stepping Stone restaurant is serving up Nonna's Minestrone, with a mix of celery, carrot, beans and Trunkey Creek pork. It needs some seasoning as it is missing some flavours but it is a warming cup. The wines on offer are from Philip Shaw No 17 Merlot Cabernet Franc 2012 (the grapes we had just been walking through); Brangayne Tristan 2012 and Jarretts Wines 2014 Pinot Gris. You can try all of the wines here and they're served in 60ml pours.
By now my feet are starting to get a little sore and I don't think I'm the only one. When we reach our next stop everyone else is resting on the grass and eating their wild mushroom pies by The Agrestic Grocer. The wines on offer are a Swinging Bridge 2014 Pinot Noir and a Hedberg Hill 2014 reisling which Mr NQN really likes.
On the way people stop to pick apples from the trees. Shining them up on coats we start munching on them and they're juicy and crisp.
The pies are a mix of wild mushrooms and potatoes and they're served hot with a flakey puff pastry. There are also bottles of the Agrestic Grocer's Farm Gate apple juice that you can help yourself to. We relax and stretch our legs and backs, the sun peeking out from behind clouds while we watch the thunderclouds in the distance with a cautious eye.
The next stop has Fiona Hall from Bite Riot! orchards who explains how her apples are grown, picked and processed to the crowds. Alongside her is Small Acres Cyder where they are offering glass of a 2013 Norfolk Still cider.
"Shall we go?" Mr NQN asks and we walk to our final savoury course, a beef shin braised with coconut cream and pappadums with rice by Edwena Mitchell Catering. It's spicy in flavour and heat and bold and just what you want on a day with a chilly edge. Lisa from Bill's Beans invites us to sit with her and her friends and music plays by Pat O'Donell.
From where we sit, we can see the final two stops, all within easy walking distance. We've been lucky with the rain thus far and not wanting to chance our luck we head off to the first dessert station of three. It is a hand pressed shiraz sorbet by Vindevie Vineyard served alongside a Cargo Road Wines Moscato. And this sorbet? I want to have a whole tub of this and make it again and again. It's one of those refreshing but perfectly sweetened intense sorbets. I did ask for the recipe but made it but unfortunately it tasted nothing like the one we had there even with the fresh black muscat grapes that I bought in Orange.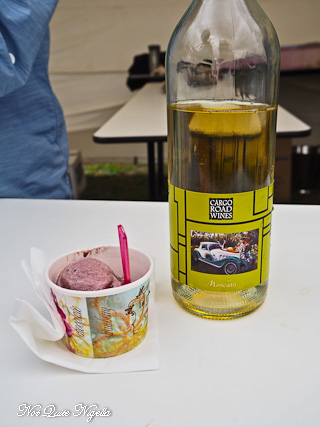 Former MasterChef alum Kate Bracks is serving dessert and offering up participants her sunny and cheery disposition. Her dessert is a chocolate and red wine cake with roasted pear and cinnamon cream with chocolate crunch on top. It's a delicious finish to the sweet components and there is also coffee by Thorn's Coffee to accompany this dessert.
I particularly like the soft cake with the lightest hint of red wine and the chocolate crunch and the sweet poached pear. We enjoy the cake while playing with Max the 10 week old pomeranian, the pet of an 8 eight year old girl who lives nearby. You see that's how friendly everyone is, they just let you play with their pets and shoot the breeze with you while you eat.
Our last morsel is a cheese course just around the corner by the Second Mouse Cheese company. There is a camembert style and a Swiss style cheese with a little jelly on top with water crackers. It is accompanied by a Mortimer's Wines 2009 Shiraz.
And you know I believe in fate right? As we bid Max and his owner Elise adieu we feel light drops of rain on our heads. We climb on board the bus and by the time we arrive back in the centre of Orange the rain pelts harder. By the time we get back to Lakeview Cabins it is pouring down and we've missed the rain by sheer seconds.
But there is other opportunities for foraging as the produce in Orange is so spectacular. A more mainstream form of food foraging can be had at the Sunday Producer's Market in Cook Park the next day. The rain and mud hasn't dampened any enthusiasm and there's a range of stallholders and some food outlets to keep you busy.
Much of the produce that has been used during this weekend can be purchased at these markets. We make a beeline for the longest queue of the day. Trunkey Creek bacon has the added advantage of the smell of bacon wafting throughout the market. I leave Mr NQN to order one while I walk around looking at items. I buy a large jar of boysenberries and we buy a few bits and pieces. And when I get back to him he is smiling triumphantly with a grin wider than a monkey with a clutch of bananas.
"I got the very last bacon and egg roll!" he says lifting up the paper bag. And once I unwrap it I can see why it has such a devoted following. There are lashings of crispy bacon in the roll, the egg is almost lost inside the roll as it is an ode to all things porcine. There's some bbq sauce in there too but really, it's all about the bacon.
I try to buy some black muscat grapes from the Thornbrook Orchards stand to make the sorbet that we had eaten at Forage but alas they are sold out. No matter, we can apparently pick our own grapes and figs. Figs? FIGS? PICK MY OWN FIGS? Yes I'm shouting but that's pretty much a dream come true for me. We make our way over to Nashdale.
By now the rain is back and the chill factor is high. The weather reads 9 degrees but it feels like 5 degrees and we are shivering and wet. But do we care? No, because we are picking our own figs. For the price of an incredible $8 per kilo for figs and $3 per kilo for muscat grapes, we lift the netting and find fat, luscious white figs ready and ripe for the eating. Janet adds up our total and we gladly run off with our spoils. And that's the thing about Orange, there is just so much fruit and vegetables produced here.
Bonny Glen Orchard is a major grower of NSW apples selling to supermarkets and independents. Fiona Hall originally came from a cattle family and married her way into this orchard farming family, established by her husband Bernard's family in 1969. Their apples and cherries are sold under the label "Bite Riot!".
There are ten varieties of apples grown here and we watch as they are busy sorting out the royal gala apples. The whole process of cleaning, sorting and grading each apple is fascinating to watch. Each apple is initially sorted and the very small or blemished ones are set aside for juice while the remaining ones are then washed, dried and then waxed.
So what is the wax exactly? Fiona explains, "Food-grade wax is added to the outside of the produce to augment the fruit's natural waxy covering. Apples do produce their own waxy coating. Additional wax can be added, but it depends on the maturity of the apple after harvest and variety. Waxes are either derived from natural or synthetic processes, but all are organic compounds."
Each apple is then photographed five times and the computer then sorts it for colour and size - each customer has certain specifications whether it be a certain % of colour on the apple or size - supermarkets want larger sized apples while others want smaller apples more suitable for lunchboxes.
Fiona explains that Orange and their orchard 100 metres above sea level has the ideal climate for pink lady and gala apples with cool nights while Granny Smiths tend to get a blush on them. And the question that everyone has is about cold storage of apples. Fiona is eager to discuss this to dispel any myths.
Because apples are seasonal and only harvested from February to May they are "put to sleep" using Smartfresh technology that removes the oxygen from the room to keep them crisp and replaces it with a non toxic gas so that they remain dormant. Demand for apples year round means that they need to do it and come November, apple supplies are virtually depleted - the other alternative is really to sell all the apples at once and to import the rest.
Come November and December, the opposite section of the factory will be active sorting cherries. They sort and box 1,000-1,500 tonne of cherries from all over Central NSW and these are mainly destined for Asia. Unlike the apples where they are photographed and graded using 5 photographs, each individual cherry is photographed 30 times in order to sort it!
Any slightly imperfect cherries go into cherry juice, each one litre bottle using 2.5 kilos of cherries. The flavour of the cherry juice reminds me of a plum liqueur - intense and sweet with almost a hint of alcohol and is said to be good for arthritis and other ailments.
About half an hour's drive away we visit farmer Dougal Munro to whom farming is a concerted small business. His main crop is garlic (purple, white and elephant garlic), hence his business name Boutique Garlic. He specialises in cold climate produce but his passion is with ensuring the rare or old breeds of fruits and vegetables prosper. He digs up some Burgundy Blush potatoes that are a bright red colour. These are planted near Dutch creams and Purple Congo potatoes.
One of the most interesting places is Dougal's micro orchard on his parents' adjacent property with 138 trees. Here apples dubbed "Papa's Big Apple" weigh up to almost a kilo in weight. He grows 25-30 types of apples, seven types of pears, three types of chestnuts, seven types of apricots, five types of cherries and a dozen types of nectarines.
He comes from a farming family that settled in Australia in 1864 after his father's family were displaced from Scotland in the Highland Clearances. They now have beehives and Dougal trained as a geochemist and worked in mining for 18 years before coming back to become a farmer.
He experiments with different plants and finds that he can get better prices for an artichoke flower ($5) as opposed to an artichoke that nets him 50 cents. He is also growing New Zealand yams which he tells us can be treated like a carrot and eaten raw or cooked. Although potato varieties such as Burgundy Blush provide less yield, he still grows them. He wants to ensure that he is no more than one degree of separation from his customer so he prefers to sell his produce to restaurants rather than to the public as there is less need to "sell" produce to chefs.
He shows us some quinces and he asks us to help ourselves to these fuzzy, fragranced fruit bringing these home to make quince paste. These will not be destined for the market but he particularly likes this French breed as it is low in grit so it is better for eating. And on our way out we spot a large dome shaped tree (under which there is a building!). He pulls back the leaves and shows us the kiwifruit, not quite ripe.
We roll the prickly chestnut burrs under our boots and out pop the chestnuts. We stop by a Medlar tree, a fruit that is hard to find and he adds handfuls of these fruit to the box of produce. He warns us to blet the fruit which means placing them in a paper bag for 2 weeks. When they look like they're almost rotten, they're good to eat!
Dougal farewells us with a box of quinces, apples and medlars as well as a bag of garlic and a box of Burgundy Blush, Purple Congo and Dutch Cream potatoes!
Our last stop before we leave Orange is at Small Acres Cyder where James and Gail Kendall produce their apple and pear cider. And did you know that cider is a word specific to apples and that pear cider is technically called Perry? It's just one of the things that we learn along with the cider making process. Cider apples are used (although eating pears are used for Perry) and they are blended up whole. The mass is then placed in porous sheets and which are weighed down on top of each other and these are then pressed extracting the juice.
The juice of these Kingston Black and Brown Snout cider apples is thick and sweet, with a smooth texture not unlike an apple sauce. They use no added sugar or water in the cyder and for their premium ciders they use a natural carbonation process not unlike champagne (their 330ml stubbies are artificially carbonated and cater to a different market). They targeted fine dining restaurants and see their ciders as an alternative to a white wine.
During the class James matches the Somerset Still with a fantastic farmhouse terrine with the strong flavour of caraway seeds. He pairs the sparkling cider with a hard cheese and the pear cider or Perry with a soft cheese. They're all excellent matches and enhance the cider more than if sipped alone. And why the spelling cyder over cider? It is the old English spelling.
James's two daughters have an enterprising business selling the apple juice that we pressed earlier and for a gold coin donation, we can take home a bottle of this delicious apple juice. We buy two bottles and load up our car which is piled high with rubied apples, figs, muscat grapes, quinces, cherry juice, cream, red and purple potatoes, local beer, bacon, muesli, preserves and chocolate. Forage indeed.
So tell me Dear Reader, do you know many people for whom food is an annoyance? And would you like to do the forage trail? And do you come back from road trips with lots of produce?
Forage
http://www.orangefoodweek.com.au/foodwk_events
Thornbrook Orchards
39 Nashdale Lane, Nashdale via Orange NSW
Tel: +61 (02) 6365 3145
https://www.facebook.com/Thornbrookorchards
Bonny Glen Orchards and Bite Riot!
http://www.biteriot.com.au/meet-the-growers-2/bonny-glen-fruits-pty-ltd/
Not open to the public, produce available in Orange and in supermarkets in NSW
Boutique Garlic
https://instagram.com/boutiquegarlic/ Not open to the public, produce available in Orange stores and at the Agrestic Grocer
Small Acres Cyder
12 Akhurst Rd, Nashdale NSW 2800
Phone:(02) 6365 2286
Open Saturday and Sunday 11am-4pm