This meltingly soft beef brisket is absolutely worth the wait. It takes 10 days to make a tough beef brisket into a beautifully soft and tender meat. In fact I suggest that 10 days after you start it, invite your best friends over for lunch to have some of the best sandwiches they will ever have. This is a rewardingly easy but delicious project.
I have a fun project for you Dear Reader! I originally saw the idea for this corned salt beef on the fantastic Glamorous Glutton's blog and it's salt beef or corned beef in American Jewish and Irish culture (although the way that they're served is quite different). It is made using beef brisket that undergoes a 10 day curing process. It is then boiled creating an unbelievably tender, delicious meat that is well worth the wait. Some versions use silverside but I have a love of the brisket ever since we smoked it Texan style. It's a tough piece of meat but once you romance it, it's a meltingly soft delight.
You can buy corned beef already cured but it may be the silverside or eye and what's the fun in a project unless it takes a while and you do it yourself. The brisket dare I say is a whole lot more delicious because of the juicy fat that runs through it and you know fat equals flavour . It's also an economical cut and I bought it for $13 a kilo, trimmed.
The only issue might be getting some curing solution. You see it contains saltpetre or potassium nitrate that keeps the meat pink after cooking (otherwise it turns grey although it is perfectly fine to eat). Saltpetre is also a poison and it is very hard to get a hold of. I asked a butcher (Colin's Butchery in Zetland) and he was a bit worried about selling me some but he did give me some of the curing solution which I was happy with. All I had to do was add sugar and spices to it and cure the brisket (and I had to pre-order the brisket too as it's not a cut that a lot of butchers have to hand).
Once I had cured it in the solution for 10 days flipping it over every day, the beef had an entirely different texture. It was spongey and soft - I will admit this sound odd but it felt like squeezing a baby lamb or something it was that light and fluffy. I rinsed it well and then simmered and sliced it. I could tell from each slice that it was absolutely perfect. Reminiscent of Montreal smoked meat in texture (although it isn't smoked) it melted with every bite. I served it on rye bread with dill pickles and mustard, the traditional way. You can also make a terrific Reuben out of it with sauerkraut, thousand island dressing and Swiss cheese and slabs of this soft meat. I almost wish that we had done the 2 kilo version it disappeared so quickly.
Because I am married and have been so for a while, I get most of the dating shenanigan thrills through my friends Belinda and The Wizard. Up until recently, they were both on Tinder (no they're not dating although I did love that readers suggested it) so it makes for great conversation. The Wizard travels to Melbourne for business a lot and when he was on Tinder he would swipe it in whatever city he was in. However, even he will admit that it changes his entire perspective on dating. There's little investment in someone because just a few seconds away, there is someone else. It's a bit of a dating merry go round.
But there are also times that he can chat to girls the old fashioned way. He was on a flight back to Sydney the day that we met up with him and there was a girl in the seat next to him. She was attractive, so that was the first hurdle overcome. He had his headphones on and she started talking to him. He took out the headphones and she kept talking. And talking, and talking, scarcely taking a breath. It was also talk about how she was angry at a guy for something so it wasn't exactly the conversation that The Wizard was hoping for. The clincher that she wasn't "the one" was a little lizard brain warning signal that when he started fidgeting, she reached over and held down his hand holding the earphones ensuring that he would keep listening to her. Inner panic ensued.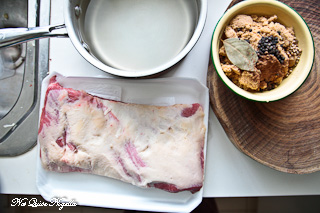 Out of the blue came his white knight. A gentleman on the other side overhead the conversation and offered to switch seats with The Wizard. The white knight winked at The Wizard as they switched seats and puzzled, he watched him listening intently to her conversation. The white knight was absolutely riveted by her words and offered her sympathetic noises and sound advice. She seemed much happier with her new seat interested mate and who knows, they may now be dating!
So tell me Dear Reader, do you like long food projects? Do you have a favourite cut of beef that you like to cook with? Do you cook with brisket much? And who is on Tinder?
Salt Beef Brisket