This delicious warming winter beef and tomato stew is made with the goodness of green or romano beans for the most delicious one pot stew. This recipe slow cooks gravy or casserole beef or sirloin with tomatoes and slow cooked beans for a delicious Lebanese take on beef stew!
This Lebanese beef stew recipe is called Loubia bi Lahme and is one of the easiest, tastiest stews you can make. It doesn't require much attention at all and you just leave it all to simmer gently away on the stovetop and after 1.5-2 hours you'll have a hearty, delicious stew. Or if you use a different cut, it will all be done in less than 30 minutes!
Which beef to use? You can use gravy or casserole beef chunks in this which benefit from a long cooking time at around 1.5-2 hours. If you don't have as much time try using sirloin steak cut into cubes and it should be cooked in around 20 minutes. You can also use ground up beef mince if you like and it will be done in around the same time (even less but you want the flavours to infuse into the beef). A lot of traditional recipes use less beef and more green beans, it's up to you whether you want to use the same amount of beef as beans.
Don't want to use beef? You can also use chicken pieces in this. If you are vegetarian try this other slow braised Romano bean recipe.
Romano Beans
Which beans to use? I used Roman beans, which are an Italian variety of flat bean in this recipe but you can use regular green beans in it too. Romano or Roman beans are also called pole beans or Lebanese beans. You can use fresh or frozen beans for this.
What to serve with this green bean stew? I love this with some rice to soak up the sauce. I also love serving this with dried mint topped natural yogurt. You can also serve it with a wedge of lemon if you don't have pomegranate molasses. The key to this recipe is having a slight sour component. Pomegranate molasses works well in this - all it needs is a tablespoon or two at the end.
You can also make this in the slow cooker: Add all ingredients (except pomegranate molasses and yogurt) in a slow cooker and cook for 4 hours on high heat or 8 hours on low heat. Add the pomegranate molasses in at the end to taste and serve with yogurt.
As I mentioned I serve this with long grain rice but you can also use couscous or pasta or anything that really goes well with that delicious tomato based sauce. I'm always about a good sauce and a good sauce can transform a boring dish to a delicious one. Because my friends and I tend to talk about food a lot I was talking about a sauce to Sammie and she was telling me of a friend of hers who had a rule which I had never heard of before. Wait for it...
No WET food.
I did a double take, "Whaaat? Who doesn't like sauce? Sauce is a reason for living!" I said. Perhaps I was exaggerating a bit (but upon reflection, no, sauce is indeed a reason to live). She explained that he hated sauces and any dishes that were wet in texture. That meant that he ate dry pasta and plain meat without any adornment. GULP. Imagine swallowing something dry.
I pressed her further for details - I have to say this was one thing that I would find impossible to commit to. I know that some people have these genuine dislikes while others just love the attention and controlling the table. But of course, because any fussy foodie is easily undone, there was an exception: he loved curry and curry is indeed "wet" and indeedy saucy! I dare say he wouldn't like this dish but he's missing out...
So tell me Dear Reader, do you have any food dislikes? Do you know anyone that doesn't like "wet" food?
Did you make this recipe?
Share your creations by tagging @notquitenigella on Instagram with the hashtag #notquitenigella
Beef & Green Bean Stew
An Original Recipe by Lorraine Elliott
Preparation time: 10 minutes
Cooking time: 30 minutes-90 minutes
Serves: 4
Oil for frying
1 large onion, peeled and diced
4 cloves garlic, peeled and diced
2 teaspoons ground cinnamon
1 teaspoon ground cumin
1/2 teaspoon black pepper
500g/1.1lbs sirloin, casserole or gravy beef cut into chunks
400g/14ozs. crushed tomatoes (tinned or fresh)
1 tablespoon tomato paste
2 cups/500ml/1pint water or beef stock
500g/1.1lbs Roman or green beans
1-2 tablespoons pomegranate molasses
Yogurt and steamed rice to serve
Step 1 - Heat a large cast iron pot onto medium heat and fry the onion until softened. Add garlic and sauté for a minute. Then add the cinnamon, cumin and black pepper and fry for a couple of minutes until it becomes very fragrant. Add the beef and stir to coat with the spices. Add the tomatoes and tomato paste and stock place the lid on and simmer. If you are using gravy or casserole beef you will need to cook it for 90 minutes to 2 hours and you will add the beans in halfway through the cooking. If you are using sirloin it takes around 20 minutes to make so add the beans in at the same time as the beef.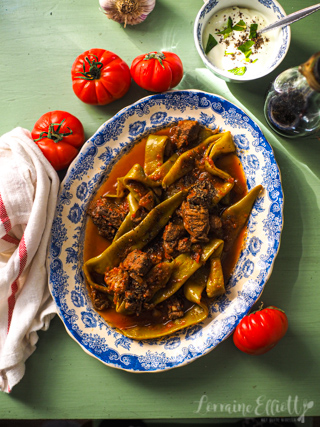 Step 2 - Add pomegranate molasses in at the end and then season with salt to taste. I also add a little dried mint on top at the end too.