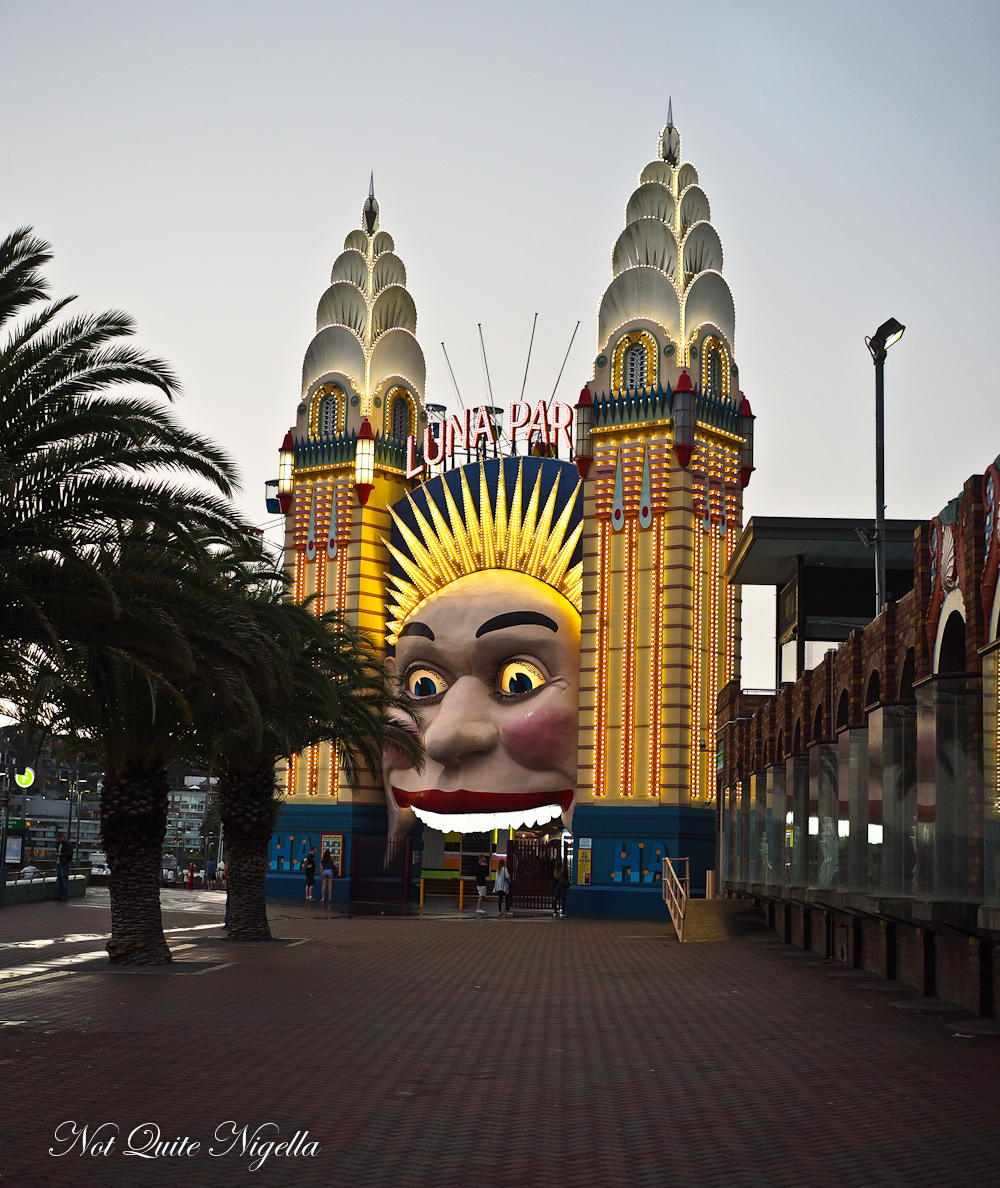 Ever wanted dined at a height of 40 metres in a compartment of a Ferris Wheel? Now at Luna Park you can as part of Good Food Month (until the end of the season in March 2016). The award winning experience serves couples a three course dinner with matching wines. And the view? Well it can't be beaten...
There's very little in life that is assured or a sure thing but did you know that if you propose marriage to someone on the Luna Park Ferris Wheel while dining 40 metres above, chances are that it is almost a sure thing? Well it is if the numbers are anything to go by.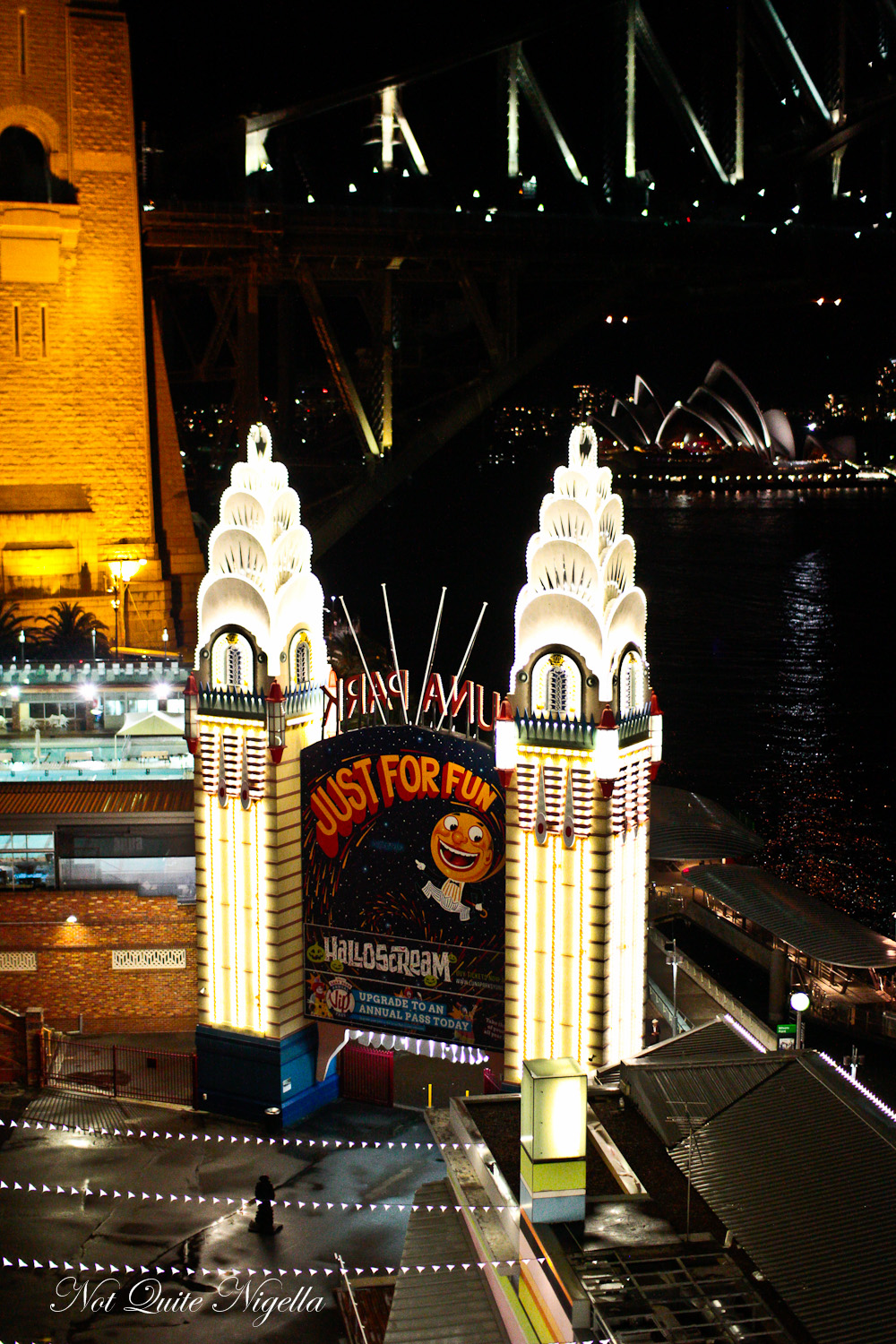 In its second year, Sydney's Luna Park Amusement Park has been lifting couples 40 metres high to dine on a three course meal in a Ferris Wheel gondola. The season spans from October to March every year and this month it is part of the Good Food Food Festival. Mr NQN and I are lucky enough to be able to experience this one Sunday night.
Except for one thing: the weather. It does what it does.
As we leave our apartment the first drops of rain start to fall and we check the forecast. There's a forecast for thunder and rain. Undeterred, we make our way to Milson's Point where 23 other couples have gathered. Diners can arrive at The Deck bar from 5pm for a drink. We are poured a very generous glass of Marc Bredif sparkling wine and given a cured salmon amuse bouche to start. We are also handed a boarding pass with our carriage number.
Liftoff or takeoff has been delayed and Mr NQN watches the radar which looks promising. At around 7:30pm they call some of the patrons and we wait with the second half of the patrons. Our carriage is 12 out of 24 and around 8pm they call us to join the queue. We watch as they load two carriages at a time with guests. It's all done quickly by the many staff with practised precision as they wipe down the seats, attach padded seats and serve the entrees. We are the last carriage to board which means that we get just over two hours up in the air.
If in the unfortunate circumstance that the ride isn't able to go ahead the menu will be served in the restaurant and each guest gets a complimentary single ride pass for the Ferris Wheel and a complimentary drink voucher.
The food is prepared by The Deck's chef Michael Roper who has been with the restaurant since it opened in 2007. The restaurant sits alongside the Ferris Wheel so that means that the food doesn't have far to travel although it does require a lot of staff going back and forth. All crockery, cutlery and glassware has been specially chosen to absorb the movement of the Ferris Wheel gondolas.
Our shared entree plate is served with bread rolls as well as a choice of wine. Blankets and rain ponchos are also provided as it can get chilly up in the gondolas particularly later at night. They tell us that should we need anything, we just press a light that will illuminate the carriage's ceiling which the staff will see from the ground (yep that includes bathroom breaks! ;)). They shut everyone in tightly and we are off! The motion of the carriages is smooth as the winds are very light early this evening.
Shared entree platter served with either Jansz Vintage Rose 2011, Pipers Rive, Tasmania or Cantine Pra Soave "Monte Grande" 2011, Veneto, Italy
The entree plate is a share plate with two Sydney rock oysters, a wild mushroom tartlet, a quennelle of Woodside goat's curd on top and a timbale of king crab meat with halved heirloom tomatoes and baby leaves as well as my favourite item, foie gras au torchon which we both enjoyed a lot while we were travelling in Canada. This comes with caramelised onions and raisins as well as four toast points. The rolls are a little cold and hard though but the rest of the entree is good and it's sizeable. Which actually helps because it is about half an hour between courses.
Because we are the last carriage to be loaded, I'd imagine that the other carriages have been up there waiting for a while and the ferris wheel stops and starts to load them with their main courses while we start on our entree. We are too busy looking at the view of Luna Park below as well as the Harbour Bridge, Opera House and a ferry dropping off and picking up passengers.
Barramundi Fillet served with Peas, Kipfler Potatoes, Lemon Beurre Blanc and Red Vein Sorrel served with Tarrawarra Reserve Chardonnay 2013 Yarra Valley
After about 30 minutes or so we stop at the bottom of the ride and they ask us how our meal was. Staff are very friendly and professional and do their best to ensure that guests are having a good evening. They serve us our mains along with matching wines. These mains come out of heated trolleys. The barramundi fillet is the pick of the mains and it is cooked well and served with a lemon beurre blanc and a timbale of crushed peas, kipfler potatoes and red vein sorrel.
Confit Duck Maryland with Porcini Infused Polenta, Caramelized Witlof and Red Cabbage Puree served with Chateau de Beaucastel Coudoulet Rouge 2012, Rhone Valley
The duck is a little dry and needs a bit more sauce or moisture to the dish. It is served with a round of porcini infused polenta, a large section of caramelised witlof and a red cabbage puree. There is also a rocket salad on the side with raisins, parmesan and pine nuts. This too could have done with some dressing as rocket can be quite dry.
By now it's getting quite chilly as the breeze has picked up. Mr NQN gives me both blankets and I shroud myself and put on voices like E.T. The Extra Terrestrial (if we weren't married, I'm pretty sure that Mr NQN might have reneged on the proposal idea). We wonder if there are any proposals this evening.
One of the best things is how quiet it is up here as well as private. Unless I really try, I can't see any of the other guests. "I think I could even take my pants off," says Mr NQN whose favourite past-time appears to be removing his pants. I make the mistake of looking down and I go from calm happiness to Lucille Austero in a matter of second gripping the side of the carriage.
Dessert platter served with Alasia DOCG Moscato D'asti 2014, Piedmont, Italy
As we stop for dessert some of the earlier guests alight having finished their meal. The dessert is another shared course with a three layered chocolate tart, a ramekin of Amaretti with Amaretto semifreddo topped with raspberries which is my favourite and a Cointreau soaked orange cake with lemon curd and a candied orange slice.
We ask to alight at around 10:15pm as it is starting to get very chilly although there are still quite a few couples still in the gondolas. There is coffee and tea and petit fours back at The Deck's bar. We warm up there and order hot chocolate and receive our canapes: two dark chocolate truffles, one milk and a coffee macaron. "Will you marry me E.T.?" Mr NQN as I look up from under my blanket.
So tell me Dear Reader, would you enjoy this ride? What is your dream proposal scenario? Have you gone to any Good Food Month events?
NQN and Mr NQN dined as guests of Good Food Month
Ferris Wheel Dining at The Deck
Luna Park, 1 Olympic Drive, Milsons Point 2061
Cost: $199.50; $399 per carriage - Beverages included: includes a glass of sparkling and matched wines
When: Oct 11, 18, 25; 06:30pm - 10:00pm and until March 2016 Phone: 02 9033 7670
http://sydney.goodfoodmonth.com/details?deal=898865
http://www.thedecksydney.com/whats-on