The Pines is one of Cronulla's newest restaurants open in November 2020. It has a gorgeous view of the water, a sleek and contemporary open air dining room, a casual side bar for walk-ins and 1,000 bottle wine room.
"This was formerly a Hog's Breath Cafe," explains our waiter as we chat while Mr NQN parks the car. I look around. There's white painted walls, roomy booths, plenty of views of Cronulla Beach and a Hamptons beach house vibe.
Towards the kitchen area there's a glass walled wine room with almost 1,000 bottles of wine as well as three prized bottles of Pappy Van Winkle bourbon whiskey (a shot from the cult whiskey brand's 23 year old bottle will set you back $390). I've never been to a Hog's Breath Cafe but I can imagine that it is light years away (we did contemplate going to a Hog's Breath in our irreverent Valentines Day series).
Funnily enough, Mr NQN and I are at the Pines for our Valentines Day dinner. Both of us have something else booked on the 14th of February - Mr NQN has a windsurfing regatta and I have a food adventure with Laura so we decided to celebrate it a week in advance (please note there is a different menu available on February 14th).
The executive chef at The Pines is James Metcalfe, originally from Britain who has worked at Michelin starred restaurants in London and at Etch, The Bellevue, Saint George, Freddie Greens and The Bourbon in Sydney.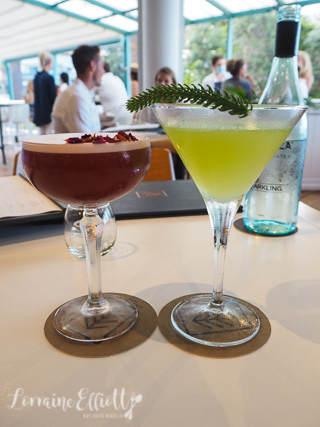 Velvet French and Shade Of Pines $20 each
We start with cocktails and for Mr NQN it is a "Shade of Pines" cocktail with Norfolk pine, Tanqueray gin, cucumber, elderflower, mint and pressed lime which is refreshing and not too sweet. On the other side is the "Velvet French" with Ketel One Vodka, Tuaca vanilla liqueur, pineapple, blackberry and rose which is very sweet, really just like a pineapple juice despite its raspberry and rose-like appearance.
Sautéed QLD Prawn & Angel Hair Pasta, XO Sauce $28
The dishes are well paced, never lagging nor rushed. We start with the XO sauce angel hair pasta. I take a forkful and the XO sauce is intensely flavoured and rich. They haven't held back with this and have been generous with both the sauce and shelled prawns. I almost wish I had ordered some bread to mop the sauce up with.
Seared Scallops $29
We went with the recommendation of the seared scallops. They're served with a cauliflower puree, two deep fried potato bhajis, curry oil and vanilla caramel. These need a touch more seasoning and I would have loved three bhajis per scallop but it is very tasty.
Rangers Valley Koji Cured Flank 250g Glen Innes NSW $38
It's time for our mains. Oh my kingdom for this steak! They explain that Rangers Valley Black Onyx Flank is cured in koji (mould starter for sake) which reduces the ageing process from a 40 days to 48 hours. "Koji is a fermented rice culture which speeds up the dry age process of flavour and tenderness," explains James. "We slow cook in water bath for 1 hour at 50 degrees then char it with a good colour," he adds. It is very tender from the enzymatic process and the koji seasons the steak so well to make this an amazing steak in both tenderness and flavour. There are two butters and two sauces to choose from and we went with the gremolata butter. The steaks do come unadorned aka just the fillet so you do have to order sides.
Classic Macaroni and Cheese with Lobster $25
I tossed up whether to get vegetables as a side but when our waiter suggested the lobster mac and cheese as a side dish, I went for that being a highly suggestible and greedy person. The lobster mac and cheese has a whole, sliced lobster tail on top which is a nice surprise. I often find lobster mac and cheese can be disappointing in that there are only a couple of chunks of lobster and they can sometimes be a bit chewy from being cooked through with the pasta whereas cooking it separately means that the lobster is very tender. I do find this needs a bit of seasoning to it so I add some of the chilli oil that I asked for for the pizza. It is strong in smoked paprika and chilli and seasons it perfectly.
The Pines pizza $29
There are 10 pizzas on the menu and I can't help but go for the spicy salami pizza. The Pines pizza has spicy salami, fior di latte, red onion, pickled chilli, garlic and slices of roasted red capsicum. It's a tasty pizza and I like all of the toppings although and this is a personal preference, I prefer a really puffy crust and a super thin and floppy base.
Pineapple Tarte Tatin Vanilla Bean Ice Cream $18
It's time for dessert. Although our waiter who reliably recommended the rest of the food to us suggests the strawberry or chocolate dessert, we both hone in on the pineapple tarte tatin. It comes as a thick slice of pineapple in a shell of puff pastry with plenty of salted caramel sauce on top. On the side is fresh, thinly sliced pineapple and a vanilla bean ice cream. It's divine and perfectly suited for a warm evening.
The Pines Chocolate Cigars $16 each
And to end, there's something fun on the dessert menu: full size chocolate cigars with raspberry tips with edible labels. These are made of a decadent ganache rolled in cocoa that melt in the mouth like Nama chocolate. Perhaps a perfect accompaniment to a shot of the elusive Pappy Van Winkle!
So tell me Dear Reader, do you celebrate Valentine's, Galentine's or Palentine's Day? What are you up to this Valentines Day?
This meal was independently paid for.
The Pines
Unit 1, 8 - 18 Kingsway, Cronulla NSW 2230
Monday closed
Tuesday to Thursday 12–11pm
Friday & Saturday 11:30am–11pm
Sunday 11:30am–10pm
Phone: (02) 7209 2839
thepinescronulla.com.au