If you had looked around at Halloween costumes this year, La Catrina and El Catrin, the Dia De Muertos or Day of the Dead skeleton figurines appeared to be in preponderance. On Halloween evening at Los Vida in Crows Nest we start with face painting and then learn more about Mexican culture and the importance of this very special day. There are no burritos here at this restaurant, instead there is tuna and scallop ceviche, hibiscus flower flautas and tequenos filled with cheese or chocolate.
Mexican native and Los Vida owner Octavio Gomez-Haro explains the Mexican tradition of Dia de Muertos, "We celebrate death. It's the mentality of being joyous and trying not to waste life in mourning. It really sets Mexican culture apart from any other cultures. We see the opportunity to celebrate the life of those that have passed away." During the three day celebration the family eat and drink items and listen to music that the person dearly departed would have loved.
It was a holiday that was initially celebrated at the beginning of summer but it was commercially merged to coincide with Halloween with the celebrations starting on the 31st of October until the second of November which is designated a public holiday in Mexico. We're kicking off our celebrations here on Halloween evening.
We arrive at Los Vida in Crows Nest at 5pm to get our faces painted. Face painter Teri adorns my face with purple to match my dress and I'm delighted to see the results. Even Mr NQN and Viggo who initially didn't want his face painted get into the act. Mr NQN likes the job so much that he takes a rare selfie. She transforms women into La Catrina and men into El Catrin the colourful skeleton figures.
The face painting is all done in front of an altar. Octavio explains who they are celebrating, "The death we're doing is commemorating 200 years of (José) María Morelos who is one of Mexico's independence figures. Usually more commonly it is someone from the family but given this time I wanted to keep it more about Mexican history."
Viggo gets his face painted
Louise
We take a seat near where artist Joaquin Garcia Quintana is busy painting. Los Vida has partnered with the Mexican embassy to bring over the artist who has paintings on one wall. We are handed menus - there are no burritos on the menu here at Los Vida which Octavia has said has presented some challenges. "A lot of Mexican food that is represented in Australia and overseas focuses on one Mexican state Oaxaca where the mole sauce comes from. Our menu is focused on the whole of Mexico."
"It (Mexican food) is about 3 or 4 ingredients, maximum 5 and just trying to get the most out of each ingredient. It's fresh, healthy and authentic. You can eat it every day and not put on weight. You shouldn't feel heavy, it's not covered in melted cheese," says Octavio. He moved to Australia from Mexico 10 years ago citing his love of surfing as one of the reasons along with studying for his masters. Initially he was supposed to go to California but sought more adventure.
We start with cocktails. There are two special cocktails created for Day of the Dead and I go for the Mezcal Morelos with mezcal, yellow chartreuse, burnt agave and pineapple syrup, a touch of lemon and peach bitters and it's pretty damn fabulous. Mezcal importer Octavio says, "Australians also understand appreciate Mezcal. Australia is coming a long way very fast."
Yup that's my hand reaching over for some popcorn. Don't stand in the way of me and food...
Mr NQN and Louise order the Michelada Candelaria with burnt and roasted pumpkin skin, toasted cacao nuts, spicy clamato candelaria sauce and beer and a salted rim. It's like a Bloody Mary crossed with a beer. It's not to my taste but Louise enjoys hers! Viggo goes for a Mexican beer and Belinda orders a Salted Watermelon margarita with tequila blanco, fino, grapefruit, watermelon and bitters which she likes a lot.
Smokey Chili Popcorn with chorizo chips $8
While we choose the food, we snack on some chorizo popcorn. It's smokey but very salty and is seasoned with paprika, cayenne and thin crispy chorizo chips. While we love the idea, the bright orange pieces with lots of seasoning are a it too salty.
Tequenos $12
Our hot food arrives all at once because we need to leave by 7:45pm to make a ghost tour. The tequenos are cigars of pastry stuffed with stretchy cheese inside served with chipotle mayo. They explains that chipotle is commonly mistaken for a type of chilli but it is a smoke dried jalapeno chilli. The rolls are good way to start the meal and we eagerly dig in.
Cherry Chipotle Chicken Wings $14
Belinda loves cherry flavour so we had to try the cherry chipotle chicken wings that are baked and not fried and have a cherry chipotle glaze. They are soft and fall off the bone easily and I could eat the whole bowl of these.
Gorditas $12
What can I say? We all loved the deep fried bits and pieces like these gorditas that are crescent moons of dough filled with fine beef mince and served with a green tomatillo sauce.
Tacos $5-$7 each
We start to run out of room on the table and the vase of black and orange roses have to be shifted along with the sauces. Somehow Louise manages to cut up each of the tacos into five portions so that we can try them all. There are a total of ten taco fillings on the menu and five are on this platter.
We start with the Los Vida Famous fish tacos filled with beer battered barramundi, lime, cabbage slaw, 3 style jalapenos on top and chipotle mayo which has a nice mix of tangy and fresh and spicy. Next to this is my favourite, the octopus and chorizo with potatoes, chimmichurri and chipotle mayonnaise.
We also try the Yucatan fish which is yucatan barramundi, smokey rojo sauce, lime cabbage and pineapple salsa which is also good although the fish isn't deep fried so it's a different proposition to the other ones. To round off the selection there is a Tinga Chicken taco with guacamole, sour cream, iceberg lettuce and quesa fresco blanketed on top and the pibil pork with sweet, caramelised pineapple and latin pickles. Out of the five the chorizo and octopus, beef and battered fish tacos were my favourite.
Tuna ceviche $13 for two plus $6.50 for extra
The menu has two types of ceviche: tuna and scallop but Viggo is allergic to shellfish so we go for the tuna. Usually these come two to a serve but we get three because there are five of us. They're very generously portioned tuna ceviche morsels with a heaped mound of chopped tuna fillet, leche de tigre, chipotle mayo, clamato infused tapioca, cucumber, chives, avocado and pistachio. They're perfectly seasoned and everyone's favourite at the table.
Chorizo quesadilla $15
When given a choice of chicken, chorizo or mushroom the only really choice is chorizo. It comes with queso fresco, monterrey jack cheese, red onion, guacamole, pico de gallo and chipotle crema. I especially like the last three together on the side although I think I could have easily eaten double the serve.
Hibiscus Flower Flautas $16
Belinda and I immediately recgonise the flautas from our trip together to Texas. The dish is made up of deep fried corn tortillas filled with crispy fried hibiscus flowers, smooth potato mash and tasty cheese. They're mild but comforting.
Beef enchiladas $16
The only item that I don't really go for is the beef enchiladas. They are served with coloradito mole sauce, cheddar, queso fresco, red onion, coriander, iceberg lettuce and sour cream. I do usually like mole sauce but it doesn't seem to fit as well with this although Louise is a fan of this.
Patatas Bravas $8
The patatas bravas is a mix of sweet potato and regular potato served with bravas sauce, garlic aioli and chives. I prefer the potato pieces as they tend to be a bit crispier but to be honest by now we are so full it's hard to fit in much more.
Beef ribs $18
The aroma of cinnamon is strong and pervasive from this dish. These slow braised beef ribs are served with a chipotle glaze and latin pickles. They're gorgeously soft and I can't help but lick the bone to extract the chilli and spices as much as possible. Nobody was looking I promise ;)
Watermelon salad $13
Usually the watermelon salad is made using watercress but they explain that didn't get any in their delivery. Instead they use rocket. I think I would have preferred the salad with watercress as rocket is a bit dry. It's paired with coriander and basil dressing, piquin chilli and leaves of jamon serrano. Curiously the watermelon is all in cubes at the bottom which means that we don't see it in the first go. It's a mixture of salty and sweet but I would have liked the watermelon placed on top because we had eaten most of the salad before seeing it all at the bottom.
Because it is Day of the Dead there are some complimentary desserts: Pan de muertos, a bread roll decorated with bone-shaped pieces usually feasted upon at the gravesite or altar as well as soft, hot chocolate tamales wrapped and baked in maize husks. These come with a chilli chocolate sauce on the side and we enjoy dunking them into the sauce.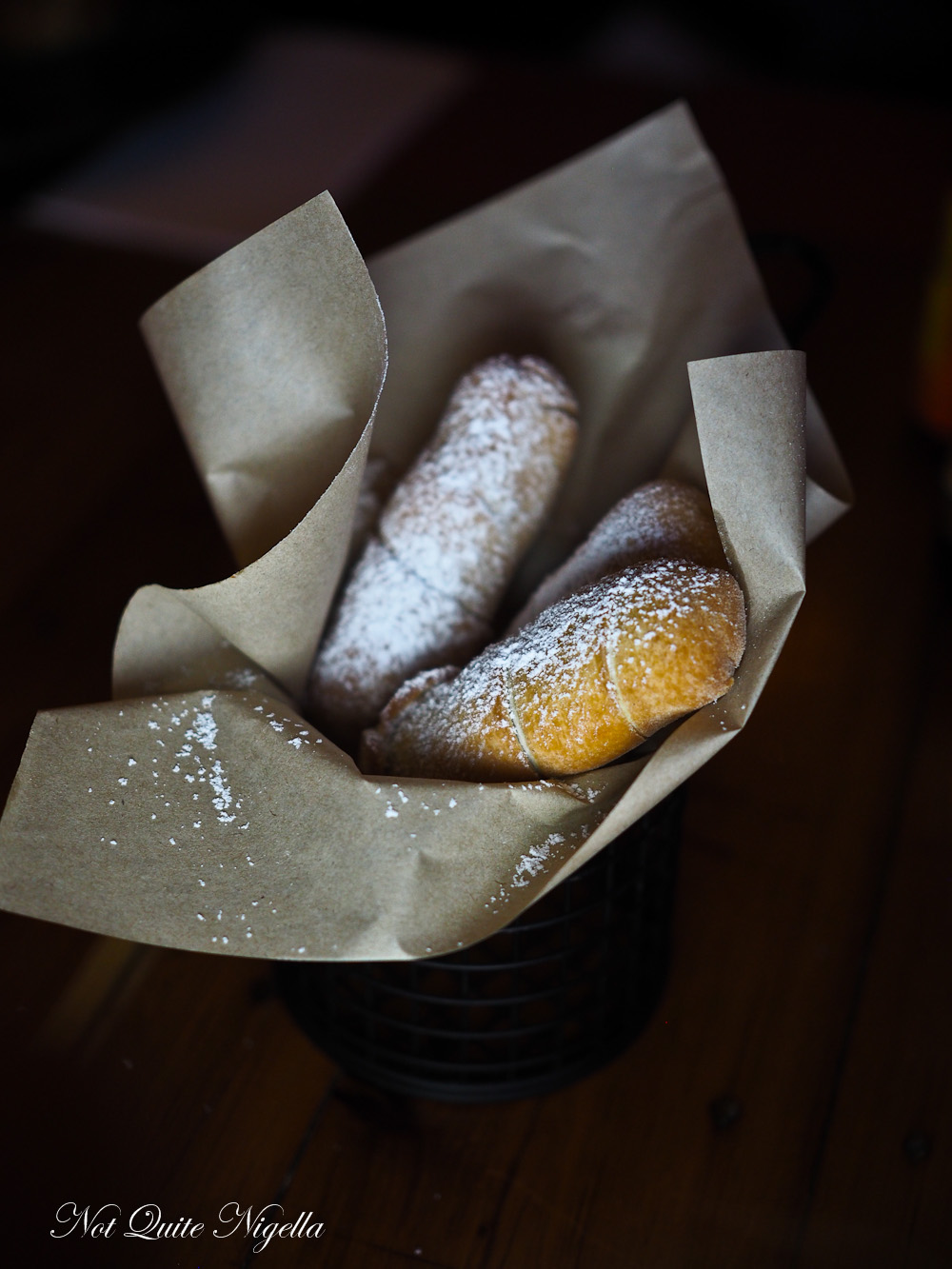 Chocolate Tequenos $12
There is one lone dessert on the menu: chocolate tequenos. Remember the cheese sticks that we enjoyed at the beginning of the meal? The chocolate version is ridiculously moreish with a sweet milk chocolate filling. We want to order more but we have to get going.
Belinda
Octavio explains one last thing about Day of the Dead in Mexico and what happens on the last day, November 2nd, "They build 12 or 14 foot ginormous skulls and devils out of tissue paper that get burnt in the cemetery. It's a pilgrimage when people go from their houses where they have an altar and then they actually go to the cemetary where they end for the night. There's a lot of families around the cemetery so literally the cemetery comes alive at night."
Mr NQN
As for us, unfortunately the ghost tour in Cammeray was a complete fizzer. It was more of a history tour where we followed a man and his whimpering German Shepherd around the streets than any sort of Halloween or ghost tour. The only time in which I was scared was when the dog ran past me. I spent the whole two hours thinking about sitting down, having my face painted and eating tacos, ceviche and tequenos. The only fun bit was when Belinda and I got on the creaky see saw and made creepy movies. Sometimes you have to make your own fun!
So tell me Dear Reader, have you ever celebrated Dia de Los Muertos? What do you think of their attitude towards mourning and death? And have you ever been on a really bad ghost tour? And what did you do for Halloween this year?
This meal was independently paid for.
Los Vida
419 Pacific Highway, Crows Nest NSW 2065 Tel: +61 (02) 9439 8323
Monday – Saturday 11.30am – Midnight
Sunday 11.30am – 10pm
Also locations in Barangaroo, Wintergarden and Pitt Street, Sydney http://losvida.com.au/