Maiz Street Food makes it way from the Summer Hill markets to the southern end of Newtown's King Street. Here you'll find a wider range of dishes from Tlacoyos, Quesadillas, Chilaquiles, Sopes and Tortas. This isn't Tex Mex, it's real Mexican street food!
Monica first put me onto Maiz. She has spent a lot of time in Mexico and was excited to see real Mexican food here in Sydney; so excited that she ate at the new Newtown location on the very first day that it opened. The chef and owner is Juan Carlos.
The space that Maiz is located at used to be Camden Villa cafe. There's a high balcony eating area and a courtyard as well as an inside area. There's a menu with drinks and a la carte food as well as a tasting menu for $35 per person.
We start with drinks. I'm interested in the Cacao by Frido and there are four types available based on the different levels of cacao from 35% to 100%. Because it is a hot summer's day I go for the only one they do as an iced chocolate, the 50% cacao. It's made the traditional way with water which also makes it vegan. It's refreshing and a perfect level of sweetness. Monica loves her watermelon and pear juice.
Along with the drinks we nibble on a salsa flight with three types of salsa: Roja, Salsa Verde and Macha chilli oil with yellow and blue corn chips. My favourite is the salsa verde and they replenish this when needed.
We tried all of their sopes at the market but one that they didn't have available was the spanner crab one so we wanted to give that a go. The spanner crab tinga de Cangrejo is a sopes or a thick corn tortilla round base topped with spanner crab tinga, goats cheese, radish, onion and jalapeño. The tinga (a sauce made with tomato, onions and chipotle chillis in adobo) is tasty although you don't really get the crab flavour with it because it is quite strong.
The next two items are Tlacoyos or thick blue corn flatbreads. Divorciados or Divorced Eggs features eggs separated by black beans with two types of salsa. It's eggs sunny side up with green tomatillo salsa, red pasilla salsa, crema, shallots, queso salado on a tlacoyo filled with black beans. Divorciados is a common breakfast dish in Mexico and brings back many memories of breakfasts there for Monica.
My favourite dish is the sardinas tlacoyo with wild caught Western Australian sardines, peas, cumin yogurt, radish, mint, cucumber and chilli ancho oil. It's fantastic with a perfect mix of fresh flavours. The base can be quite thick but the strongly flavoured sardines, mint and cucumber balance it nicely.
The quesadilla is filled with melted Oaxacan cheese and ground up house made green chorizo sausage. It's on a hand pressed blue and white corn tortilla and is pure comfort food. The green chorizo is herby and tangy in flavour and on the side there are some crunchy pickled Dutch carrots as well as roja salsa to add a bit of heat.
Chilaquiles are corn chips topped with various toppings like cactus, chicken or classic with crema, cheese, onions and beans. We go for the non traditional version with burrata, sliced onions, radish, mixed herbs, chilli oil. Bursting the burrata is half the fun and we scoop it up using the blue and white corn chips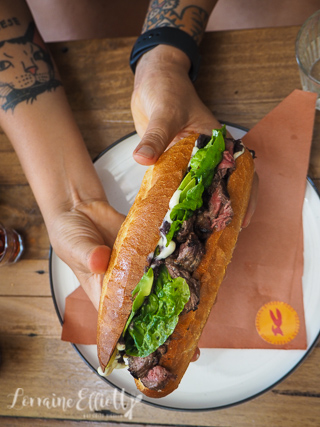 we completely forgot that we ordered this so when they bring this out later, our eyes widen in panic. But as we both love a good sandwich we dig in. The bread is crisp and warm and it is filled with tender grilled rump steak cooked medium rare, black beans, avocado, cos lettuce and house dressing.
They also bring us some hibiscus and mint aguafresca to try. It is sweet but not overly so and very refreshing in the heat.
There are some sweets in a display near the coffee machine. Garibaldi are upside down Mexican cupcakes and these are made by Pancho bakery. The cupcake is a dense and moist pound cake while the bottoms (or tops) are brushed in marmalade and covered in chocolate hail. They're delicious enough so that I want to make a version at home!
So tell me Dear Reader, have you had much real Mexican street food?
This meal was independently paid for.
Maiz Street food
415 King St, Newtown NSW 2042
Wednesday - Sunday: 8am - 3pm
www.maizstreetfood.com/