The Tramsheds is the latest dining precinct in Sydney to open. Located in Forest Lodge near Glebe the converted tramsheds house a range of 12 high cachet food vendors as well as service vendors all under the one roof. But if you're planning on going there are a few things you need to know!
It's Saturday night at 7pm. The Peruvian restaurants in Marrickville that we are booked in to has a giant "For Lease" sign in the window. Not having a booking on a Saturday night puts you in a sort of no mans land in Sydney but I remember the opening of the Tramsheds. "It's only just opened, maybe it won't be too busy," I say to Mr NQN, Annie and Stevie.
Wow, was I wrong. SO WRONG.
When we arrive, there are dozens of people coming and going from the Tramsheds. It is located at the row of disused tramsheds first established in 1904 and a place that was more recently the location of raves and dance parties. Stevie remebers those times well.
We take a walk around and there are some big names here: Flour Eggs Water is from A Tavola, Bodega 1904 from Porteno and Bodega. Their wine store with all glass sides that is climate controlled and electrified glass so that it never fogs up.
Stone ground mill at Dust with Guy Salemi
Then there is Bekya Middle Eastern with an emphasis on Egyptian food from the people that brought you Al Aseel. Butcher and the Farmer is by chef Jared Ingersoll, Fish & Co has relocated from Annandale, Flour is pizzas and bread made with flour from their very own stoneground mill on the premises and for dessert there is Gelato Messina.
There's also the two places that we are going to: Garcon and Osaka Trading Co. and soon to open will be Belle's Hot Chicken and Mama's Buoi. And if you need other things there's also a nail bar, medical centre, supermarket, hairdresser, health food store and a boxing gym located right between fried chicken and pizza which is a rather genius (and tempting) location!
This is day three of trading for everyone and despite how sleep deprived they must be, everyone is polite and friendly. The queues at each restaurant are enormous and at some you can leave your name and details which we do with three restaurants just to hedge our bets. There's a wait at anything from 45 minutes to almost two hours.
We decide to have a drink and wait. Taking a look at the queue at Sir Chapel Brewery we decide to try our luck at The Butcher and The Farmer. No luck, there is a queue there and their license means that you can only drink with food.
Click and drag for a 360 degree view
Garcon
We're in luck and Stevie nabs a table at Garcon, a cafe and bar and we order some cocktails and drinks and bide our time waiting for our dinner booking at 8:30 at Fish & Co. Service is friendly and we order at the counter and we sit and enjoy some people watching and sip cocktails. The Bloody Mary is nice and spicy.
At 8:30pm we turn up to Fish & Co. but our table isn't ready, actually they don't look even close to being ready and just then a text comes from Osaka Trading Co. that our table is ready. We cancel our table at Fish & Co. and go to Osaka Trading Co., a new eatery from the people at Tokyo Bird in Surry Hills.
Osaka Trading Co.
Unlike Tokyo Bird which is a yakitori and whisky bar, the menu features more substantial modern Japanese eats (but there is also a good Japanese whisky list). The Chiba born chef Shota Sato is formerly of Bar H in Surry Hills.
Chef Shota Sato, second from right
Silken tofu, shiso tapenade $9.50
For those that think tofu is bland or boring this silken tofu may change that opinion. The flavour burst is from the shiso tapenade, a topping made up of shiso leaves, black olives and anchovies that balances the mild tofu perfectly.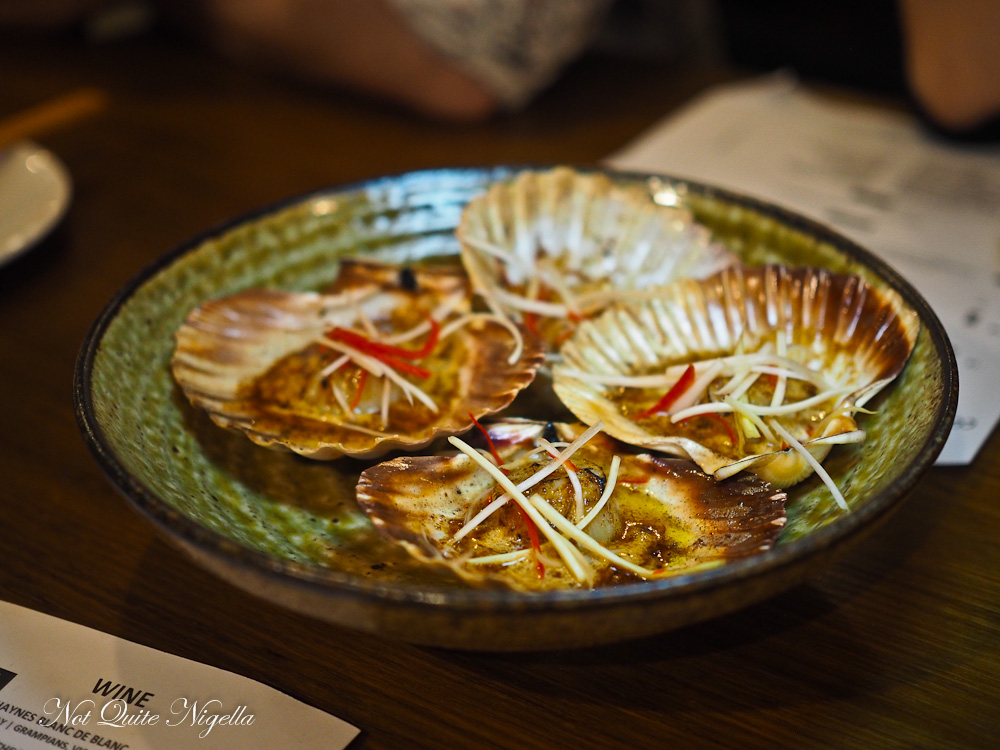 Grilled Hokkaido Scallops $13 for 2 pieces, $26 total
Even though it is early days the grilled Hokkaido scallops look to be one of the most popular entrees. The scallops on the shell as topped with an umami soy butter. The scallops are juicy and torched while the soy butter is just pure umami flavour. And yes I did lick the shell for the last bits of soy butter ;)
Grilled ocean trout, miso milk sauce, herb oil $26
Food is designed to be shared so everything comes out one plate a time although this may change once the restaurant finds its rhythm. The grilled ocean trout is nice although it isn't my favourite dish. The trout is beautifully cooked but the flavours are quite subtle. The miso milk sauce has a trace of saltiness and depth from the miso and there's a dill oil on top.
Tender chicken breast, smoked mayonnaise, Japanese dukkah $23
I did however love the soft, velvety chicken breast served sliced up. It comes with a dollop of smoked mayonnaise made in-house where chef Shota spreads it out in a thin layer and smokes it with cherry wood. Can I just say that I need some smoked mayonnaise in my life? And if you ever wondered what might go in a Japanese dukkah mix, it's dried orange skin, aosa seaweed, black and white sesame seeds, poppyseeds, sansho pepper, shiso, nori and ginger. And this is sprinkled on top of the chicken for crunch.
Octopus, shiso pesto, crisp potato $24
The octopus is served up sliced up for easy eating and it has a nice smokiness from the grill. It is paired with tiny diced potato cubes that have a slightly crispy edge and a shiso pesto.
Angus striploin, Japone sauce, mushroom $32
Our last main is an Angus beef striploin served sliced with mushrooms and Japone sauce that is made with onion, ginger, garlic,Tabasco, rice vinegar, lemon juice and soy sauce that adds a nice piquancy. My first piece is sinewy while my second piece is tender.
Roasted pumpkin, pine nuts, raisins, kabosu dressing $12
One thing that you have to do when you eat here is order the vegetable sides because they are fantastic. Especially the roasted pumpkin with pine nuts, marinated raisins and a kabosu dressing. What is kabosu? It's a Japanese green skinned citrus fruit related to yuzu. Here the sauce is a honey kabosu one and it is addictively good. I think I ate most of this pumpkin dish!
Broccolini, white onion, white sesame dressing $10
The other side is also a goody. It's broccolini stems with soft, cooked white onion and a white sesame dressing that goes well with all of the mains.
Matcha Parfait, white chocolate blancmange, chocolate soil $13.50
There are two desserts on the menu, a matcha frozen ice cream parfait with cream white chocolate blancmange to offset the natural bitterness of the matcha and chocolate soil to give it crunch. It's simple but very good.
Frozen yuzu yoghurt, toasted meringue $13.50
There also a frozen yuzu yogurt, tangy and sweet with an additional punch of sweetness from the toasted meringue. I love the yuzu yogurt by itself, it perfectly straddles the line between sweetness and tart much like a key lime pie.
Jason Ang from Osaka Trading Co. takes our group on a little tour backstage to see all the vendors which is very lovely of him! At 11pm most of the places have closed and everyone braces themselves for the next challenge: Sunday lunch which they predict will be even more full on than the Saturday! "Come back tomorrow night," Jason says.
We need little encouragement to come back so we visit on a Sunday night when things have calmed down a bit. We arrive at 5pm and there are people milling around but the crowds aren't as overwhelming.
Flour Eggs Water
Most restaurants are open all day so it's very easy to get a table at off peak times and we join the queue for Flour Eggs Water (they also take reservations). The ceiling decorations are said to resemble long pasta shapes from pappardelle, tonarelli and spaghetti.
We take a seat at the bar knowing exactly what we want to order: the pappardelle, the one that was recommended to us by the chef Eugenio Maiale the night before. Diners can also make use of their wine on tap featuring wines from Italy and NSW. First comes the deliciously soft downy focaccia bread with chilli oil.
Pappardelle $33
Today's pappardelle comes with slow cooked lamb ragu pieces, tomatoes, white wine and parmesan. The pasta is wonderfully thin and silky textured and the whole dish dusted with parmesan is nothing short of wonderful. You really don't want it to end (and you kind of wish you had the whole thing to yourself).
Plin Ravioli $32
While we were in the queue we had watched them make the plin ravioli filled with beef shin, porcini, port and beef tongue. Some of the edges are a bit thick as they're layered but the filling is delicious and when they see that I am trying to spoon up the last of the sauce with a spoon they bring us two slices of the focaccia to mop it up with-"Scarpetta!" they say.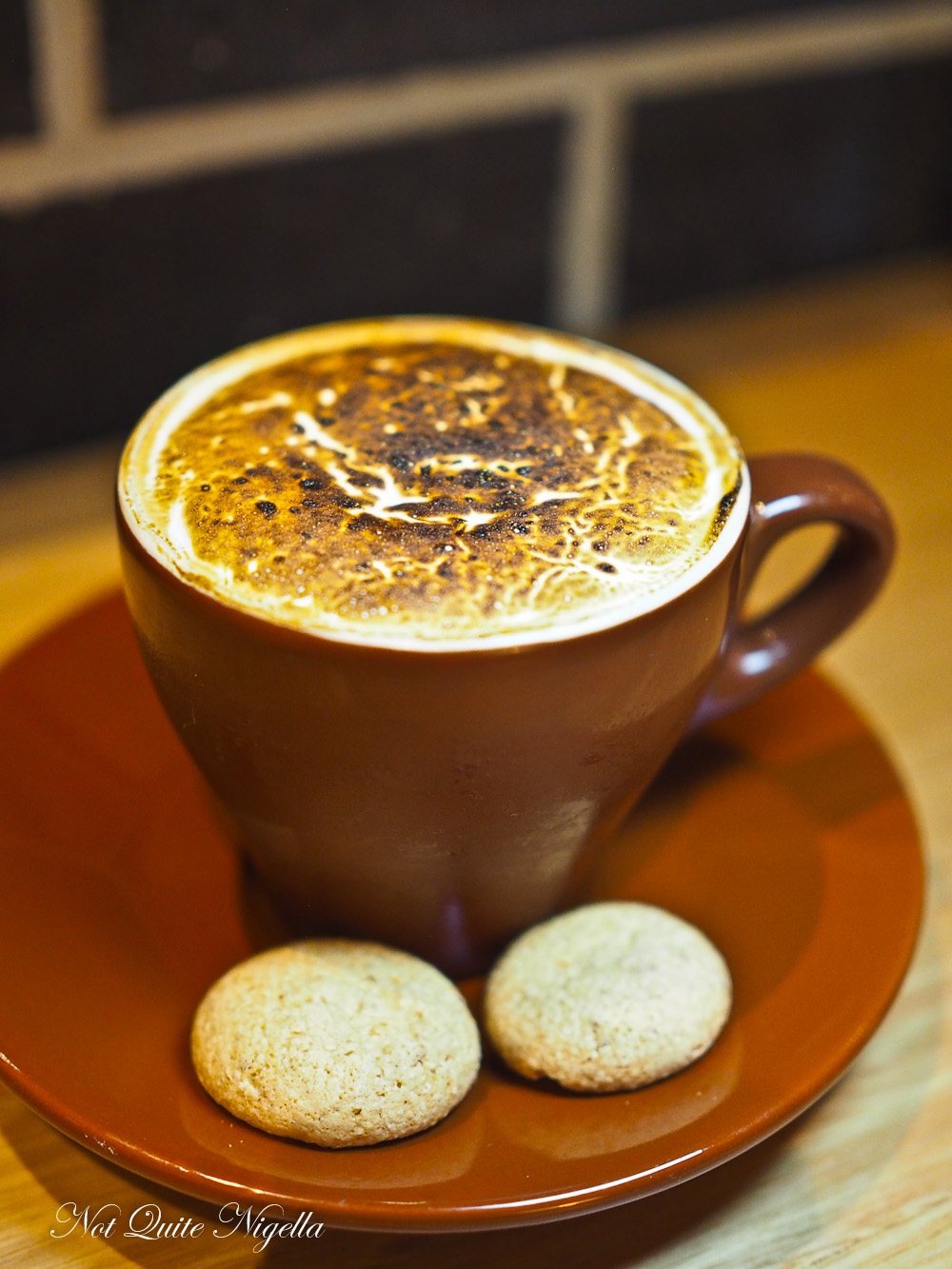 Cremino $15
We finish off with a cremino. What appears to be a cappuccino is actually a a four layered dessert with amaretti biscuits, salted caramel ice cream, chocolate ganache and torched meringue on top. And it's pretty damn magnificent and sweet!
Dust
Next we're off to try the pizza at Dust. The bread is the main passion of the Salemi brothers and they are third generation bakers. Cubes of their village loaf and salted olive oil are given to snack on.
Margarita pizza $24
Service is great and we explain that we're trying a bit of everything from the restaurants tonight, hence the small order of one pizza. The Napoletana style margarita pizza has buffalo mozzarella, fresh basil and tomato and a thin crust and thick, puffy edge. It's a good, solid version of this pizza.
Bekya
Dessert, and we are getting rather full at this stage is at Bekya. At 8pm there isn't a wait to get a table. We choose two desserts to share.
Roasted Pistachio and vanilla bean ice cream $12
This is a sizeable dessert really ideal for sharing between two. It's a disc of roasted pistachio and vanilla bean ice cream topped with spiced figs, dates and sprinkled with pistachio praline. I particularly enjoy the figs on this dessert.
Bekya knafeh $12
But it's the knafeh that I really fall for. I wondered what it would be like, especially since I love the Knafeh Bakery pop up. This version is a beauty. It's soft milky rose flavoured wobbly jelly sprinkled with rose petals and kataifi pastry. Oh heaven...
Click and drag for 30 degree view
Which seems an opportune time to bring up some tips to visiting the Tramsheds.
Tip #1: The address 1 Dalgal Way Forest Lodge doesn't (yet) exist on google maps. You're best to put in Tramsheds Harold Park on The Crescent, Forest Lodge for directions.
Tip #2: There is a paid car park that is $3.50 per hour. But most people walk or light rail it because it is located right at the Jubilee stop.
Tip #3: Avoid peak times, at least for now. For the first few weeks some restaurants aren't taking bookings until they get up to speed. So that means that you will have to leave your name and then go away and have a drink and then come back when they text you. And on a Saturday night or Sunday lunchtime this can mean anything up to 2 hours wait. Which doesn't sound too bad but even the brewery pub even has a huge queue to get in.
So tell me Dear Reader, do you like dining at locations like this? Which place tickled your fancy the most? How long would you generally wait for a table?
All meals were independently paid for.
Tramsheds at Harold Park
1 Dalgal Way, Forest Lodge NSW
www.tramshedsharoldpark.com.au/
Open 7 days 7am until late (individual vendor hours vary)