*A new eatery on Glebe Point Road, Thievery has a compact but tempting menu of Middle Eastern dishes proudly "stolen" from a chef. Want to know the story behind this theft? Or are you interested to hear what LFC or Lebanese Fried Chicken with 72 herbs and spices is like? How about the creamiest, smokey baba ghanoush with dollops of sheep's milk yogurt and pine nuts and cocktails called Baby Got Baklava? Read on Dear Reader! *
"I don't like our chances of finding a park..." says Mr NQN ominously. He has a point, it is Friday night and raining but then again, he seems to have forgotten about our lucky token.
"Don't worry, we have my lucky yellow parking feather!!" I exclaim pointing at the feather that sits in our car. When I find stray feathers I keep them somehow convinced that they're good luck or good omens. Each has a specific purpose and the yellow and grey one is for good luck finding a park.
"Um yeah right..." he says doubtfully.
And then we find it, the park right across the road from Thievery. See, you should never doubt the feather!
We don't have a booking at Thievery but we were told that on all nights but Saturday they hold a few tables free for walk ins - we just had to get there at 6pm. The only other alternative was to dine at 9:15pm which was the only spot they had free. I knew that I would end up ferociously grumpy if I had to wait til then so 6pm it was.
So the name Thievery? Well they proudly proclaim, "We stole a menu from a big shot chef - don't tell him but do tell everyone else." The story goes that the chef is 2015 Josephine Pignolet Young Chef of the Year Julian Cincotta (ex Nomad, Rockpool) who helped to devise the menu and concept with owners from Eat Art Truck. Now ex Rockpool and Chin Chin chef Jordan Muhamad is in the kitchen. The location used to be an internet cafe and gallery and has now transformed into a welcoming, warm two level eatery.
Mo-Money Mo-Jito and Baby Got Baklava $16 each
We have just one and a half hours to have dinner before our table is needed which is fine for us. Our waitress is very friendly and personable and we go with her recommendations. Nothing starts a weekend like a cocktail and the name Baby Got Baklava catches my eye. It's bourbon, amaretto, lemon, pistachio with honey syrup. It's strong and heady while Mr NQN's mojito with rum, spice, creme de cassis, berries, passionfruit, lime and mint is very refreshing and well balanced. Interestingly, they also stock the Lebanese versions of Coke, 7Up and Fanta (said to be sweeter) as well as Lebanese beers and a couple of Lebanese wines.
A small bowl of lupin beans comes out and they explain that you leave the skin behind. If these beans aren't cooked properly, they can kill you! They remind me of a firmer version of edamame beans.
Baba Ghanoush $12
The dip and bread arrives quickly. Although the hummus is popular, our waitress urges us to try the baba ghanoush. I originally wanted to try the hummus because it had burnt butter which is my idea of heaven but am easily persuaded. It turns out that the baba ghanoush with dabs of sheep's milk yogurt and pine nuts also has burnt butter drizzled over it. With the soft, warm bread it's perfection. The dip is creamy and smokey and the burnt butter gives it an appealing nutty aspect.
Kingfish "Nayyeh" $18
The kingfish is a fresh and clean tasting dish prettily presented. There is raw kingfish diced and served with cracked wheat, thinly sliced radish and a sprinkling of aleppo pepper that gives the dish a spicy kick at the end.
LFC $14
I do love fried chicken and I was intrigued to try this version with not 11 herbs and spices but 72! And whilst 72 sounds like it could result in spice overload it doesn't. It's perfectly seasoned and dipping a piece of the tender, boneless chicken in the squid ink toum (more aioli than toum) provides blissful moments. I tried to get some of the more unusual spices out of the kitchen via our waitress but they only told her that it contained "Kanye West" aka cayenne pepper.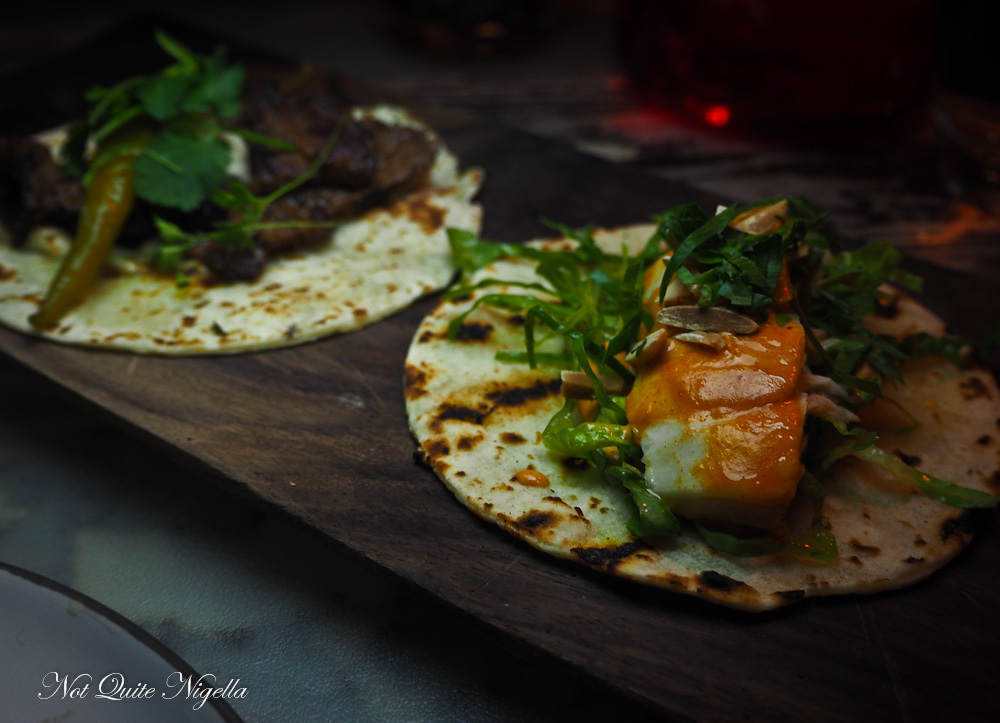 There are five kebab fillings and considering that we already had the fried chicken, we try the others. They come in a minimum serve of two but you can mix the fillings. We start with a Malek Samke Hara which is snapper with chilli, almonds, lettuce and parsley.
It's good but the snapper tends towards a bit dry and the predominant flavour is tahini and lemon. The wagyu beef shawarma is much better, the beef tender with harissa, smoked garlic and pickled green pepper.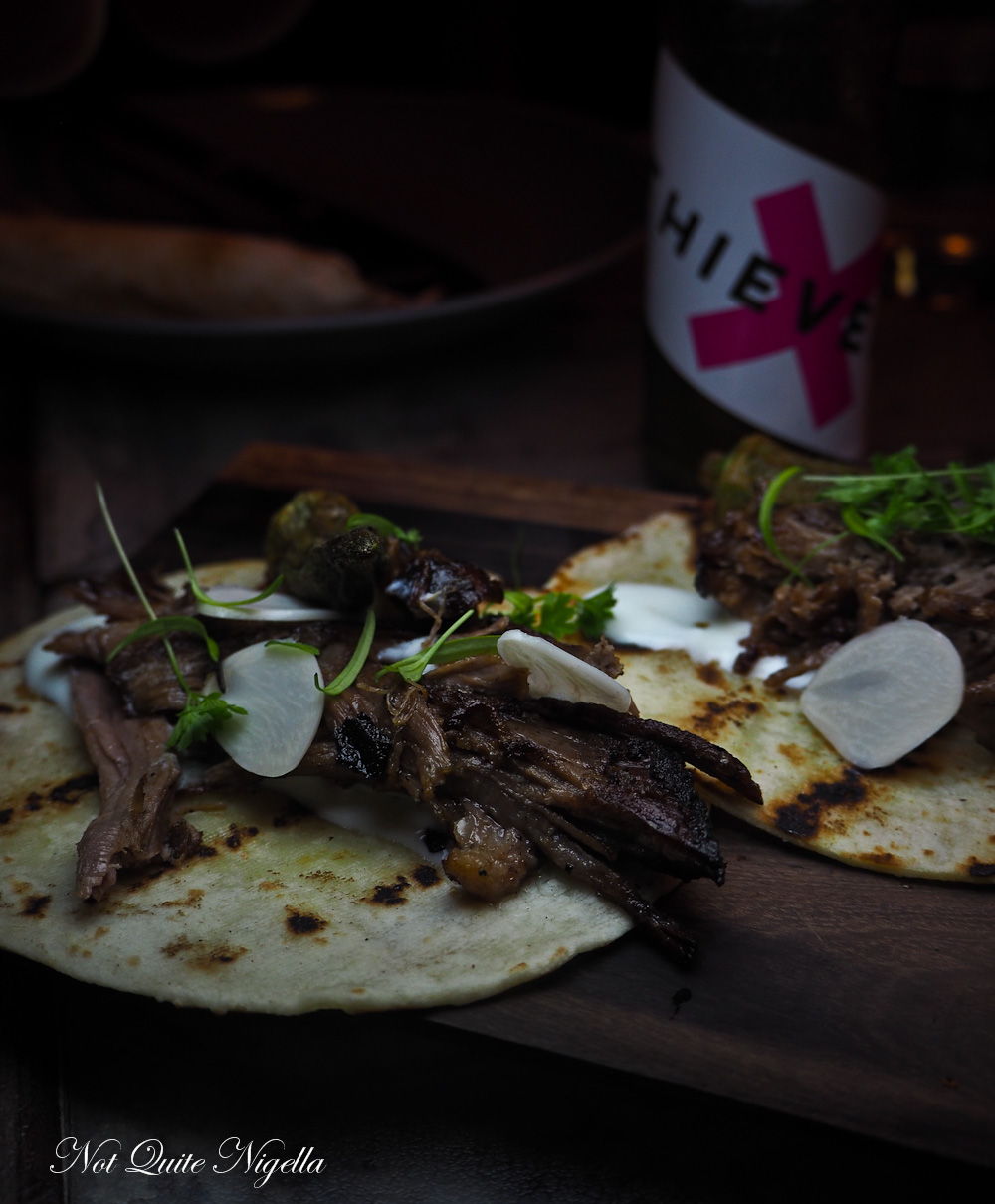 I'm curious about the felafel so we try that and order the lamb as well because we don't want it to feel left out ("Yeah right, that's why..." says Mr NQN). We also want to try the Yemeni sauce, a variation of hot sauce or zoug that takes 3 months to make.
The lamb is rich and soft and served with fried okra, pickled garlic and sheep's milk yogurt and we add the yemeni sauce to this to give it zing. But it's the felafel that we favour with its thick, nubbly crunch on the outside that we really fall for. It's served with tahini yogurt and pickles. Simple but satisfying.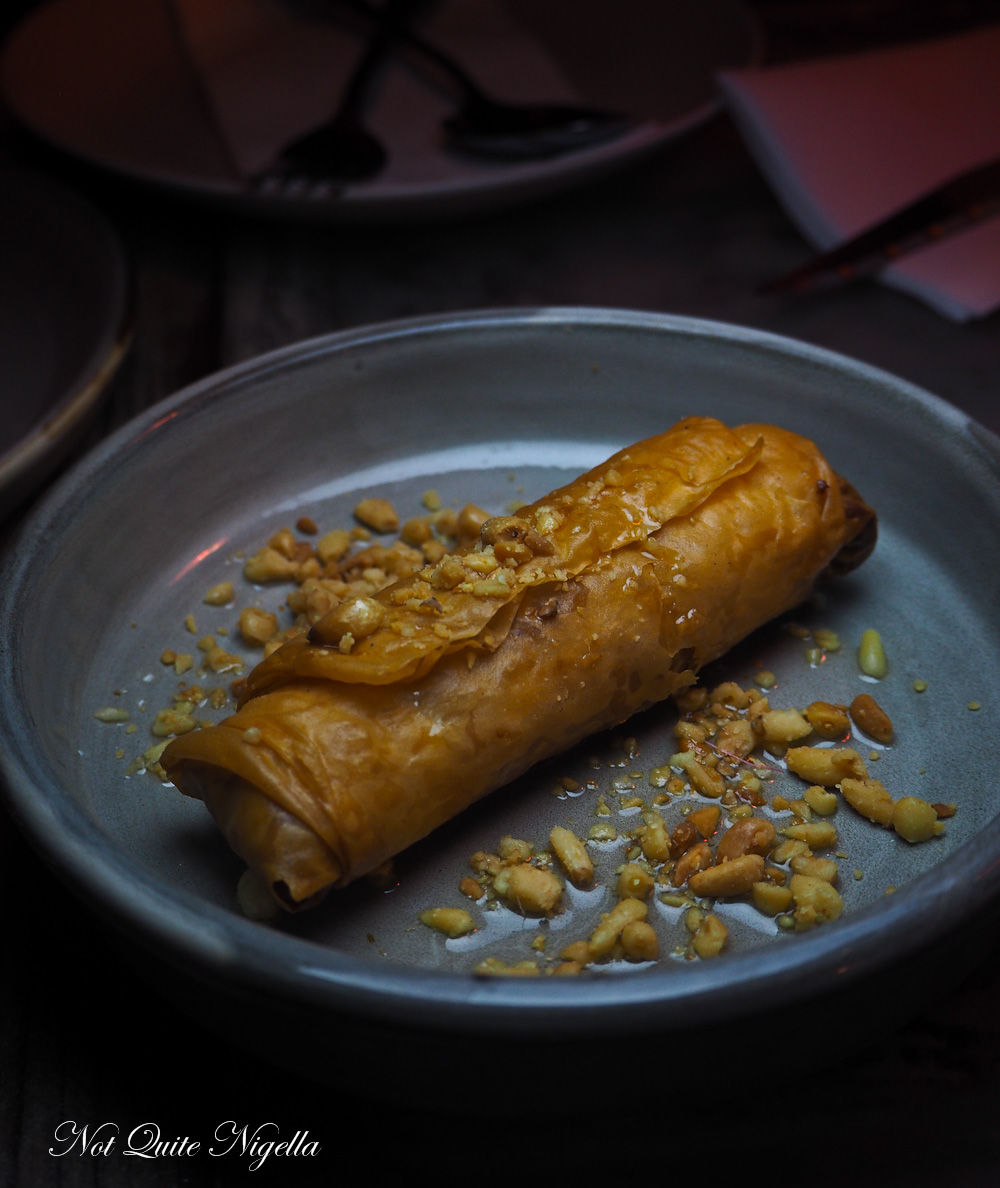 The lady finger $5
"Shall we order all the desserts?" I ask Mr NQN who looks back at me with a look of alarm. There are only three desserts and the first is a smaller dessert, a house made lady finger with buttered pistachio filo soaked in honey and pine nuts. It's sweet and crunchy.
Ice cream kebab $8
The ice cream kebab intrigues us. It's a flatbread topped with Booza chocolate, rose flavoured pashmak and chocolate pearls. Truthfully it doesn't need the bread at all, it kind of makes it messy to eat but the aromatic and floral pashmak and chocolate ice cream are good together. Booza is stretchy mastic ice cream.
Pomegranate roast figs $12
The pomegranate roasted figs are soft roasted fig halves topped with a sweet, whipped yogurt labne with almonds, sesame and praline. You are best to eat this first as it is less sweet than the honeyed lady finger or the ice cream kebab and it's for those that don't have a sweet tooth but want something light and interesting.
The bill comes in a little hollowed out book which is a cute touch! We have made it in an out in just over one and a half hours too.
So tell me Dear Reader, do you have lucky tokens? And would you prefer to eat at 6pm or 9:15pm?
This meal was independently paid for.
Thievery
91 Glebe Point Rd, Glebe, NSW 2037
Tel: +61 (02) 8283 1329
http://thethievery.com.au/ Tuesday to Thursday 1800 - 2300 Friday 1800 - Midnight, Saturday 1100 - 1500, 1800 - Midnight