Neapolitan pizzaiolo Alfredo Repole formerly of Via Napoli has opened up a Neapolitan style pizzeria on busy Glebe Point Road. On the menu are a range of pasta dishes, entrees brought out on a large wooden board and the ultimate one metre pizza where you can choose up to three toppings. But leave room for desserts like Angioletti con Nutella, an enormous pile of deep fried pizza dough balls rolled in Nutella!
Did you know that technically a one metre pizza is still just one pizza? ;) That's my logic and I'm sticking to it. And it's the 1 metre pizza or Naples Pizza Al Metro that I have in mind, like a bulls eye in my food obsessed brain. During the week all I could think about was Saturday night's pizza date with Mr NQN, Louise, Viggo and their baby Henry.
Pizzeria Da Alfredo is a little further up past the busy concentration of shops near Sydney University on Glebe Point Road. It's a spacious, split level restaurant. There's a picture of a chilli with a crown on it so I feel as though we have two things in common: a love of pizza and chilli.
We are shown upstairs and service is friendly and accommodating albeit sometimes forgetful. Answers are full of affectionate Italian terms but sometimes you have to gently remind them about things.
Aperol Spritz and Limoncello Spritz $14 each
We start with drinks - beers for Louise and Viggo and a Limoncello spritz for Mr NQN and an Aperol spritz for me. I love both the spritzes with the Aperol slightly ahead of the limoncello.
Paccheri Genovese $28
The first item to arrive is the Paccheri Genovese. It's paccheri pasta (long wide, tube pasta) with a rich Neapolitan style sauce with cotton soft beef that has been cooked for 6-8 hours. We all love this dish as it has perfectly al dente pasta and the richest, softest, dreamiest sauce.
Things are similar to the Via Napoli style-entree platters although at Via Napoli they raise quite a commotion whenever these are brought over with several members of staff joining in on the chorus. Things are a bit more subdued here although they do bring it with a flourish. We chose three things for our entree platter.
Truffle Polenta Chips $17
I honed in on the truffled polenta chips straight away. I love the idea of them being served in a four cheese sauce. The truffle is very light in aroma to be almost indistinguishable although the polenta chips are crispy. The four cheese sauce is creamy and strong in blue cheese. Louise dips a finger in the sauce and gives it to 5 month old Henry (he was born on Halloween!) and he quite likes it.
Swordfish Carpaccio $23
The swordfish carpaccio comes as very large slices of thinly sliced swordfish, marinated in olive oil with plenty of lemon zest and lemon juice. It is served on a bed of rocket, capers and boiled potato pieces.
Burrata $23
My favourite of the entrees is the knotted burrata cheese atop slices of fanned beef Bresaola, rocket, shaved Parmesan and cherry tomatoes. It's wonderfully creamy and the bresaola is salty enough to balance the milky burrata.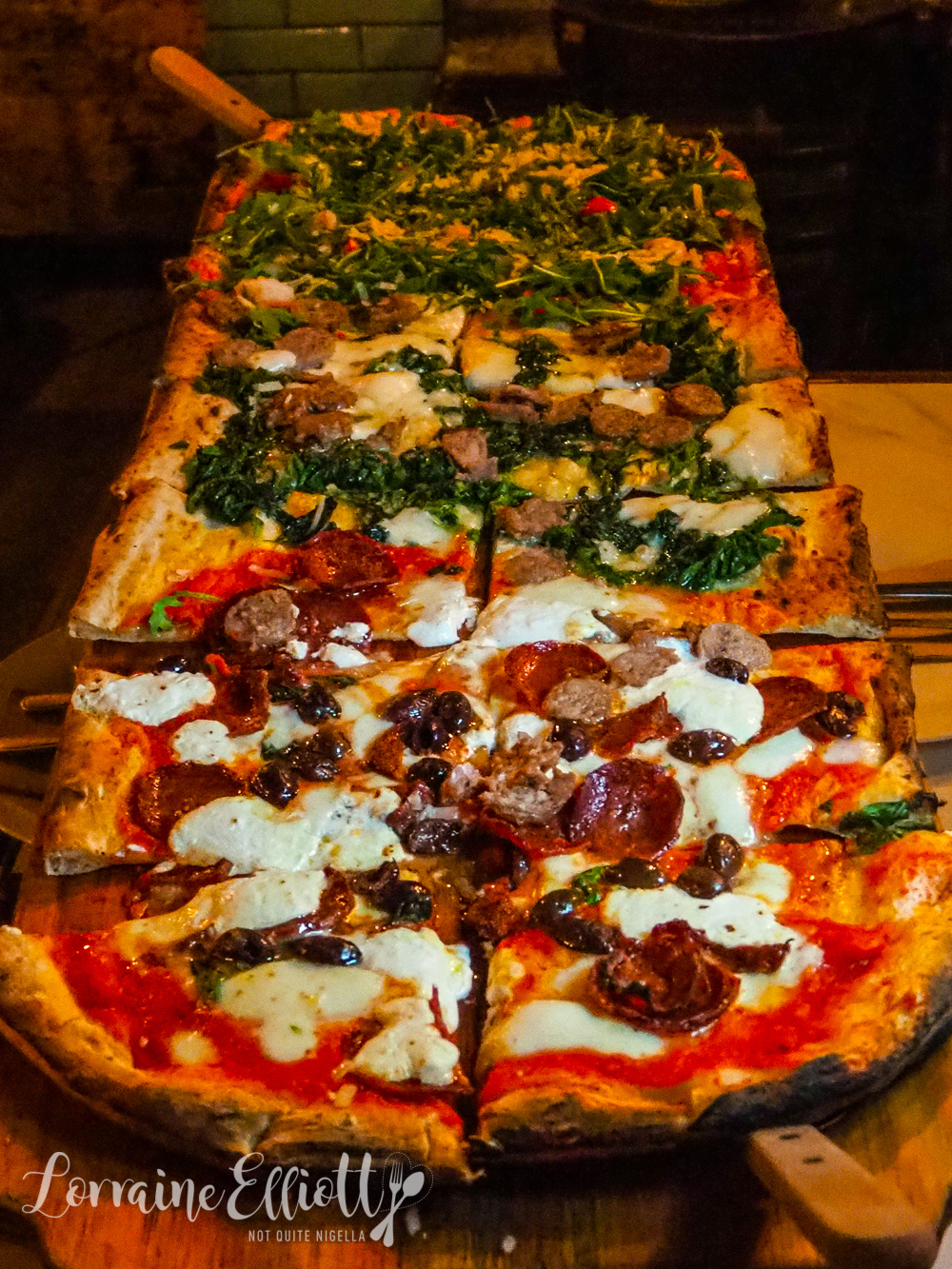 1 Metre pizza $65
Diavola pizza
The 1 metre pizza gives us three choices. I always love to order the Diavola, a spicy pizza with San Marzano tomatoes, fior di latte, hot salami, parmesan, basil and a generous amount of black olives. This is my favourite one but a close second is the Salsiccia e Friarielli with Fior Di latte, slices of Italian Sausage, cime di rapa (a mild, green turnip top), basil and fresh chilli on a white base.
Salsiccia e Friarielli pizza
At first I find it not flavoured enough and ask for extra chilli oil and once it gets a dressing of this, it springs to life. I love cima de rapa and sausage together and there's a generous amount of fior de latte on this too. Louise's favourite is our third choice, named the Sophia Loren. This is tomato rosé, prawns, Fior Di Latte, parmesan, olive oil and rocket. I also like this but the strong shavings of parmesan can overpower the prawns.
Sofia Loren pizza
You'd think that any sane, normal people would beg off dessert after coming face to face with a one metre pizza after entrees. But we aren't sane or normal. And I thought we were just sharing one dessert, the Angioletti con Nutella but then Louise adds tiramisu and Viggo adds cannoli and well you've just got to go with what the crowd wants right?
Cannoli $12
Truthfully these aren't my favourite version of cannoli. The sweetened ricotta filling is good but I'm not so in love with the cannoli shell. It comes in pistachio and chocolate.
Tiramisu $8
The tiramisu is nice and light in texture just getting a bit wet towards the bottom. Still it's a pleasing dessert.
Angioletti con Nutella $15
Hands down my favourite dessert is the Angioletti con Nutella which comes as an enormous pile of fried pizza dough balls, sprinkled with powdered sugar, Nutella and sliced strawberries. They're so puffy and light and we can't believe how big the serve is (it could easily feed 4-6 people). And Louise and Viggo are such fans they take some home for a midnight snack!
So tell me Dear Reader, how often do you often the one metre pizza? What is your favourite pizza topping? And how many pieces of pizza can you eat in one sitting?
This meal was indepedently paid for.
Pizzera Da Alfredo
331 Glebe Point Rd, Glebe NSW 2037
Monday Closed
Tuesday to Sunday 5–10pm
Phone: (02) 8964 9612
pizzeriadaalfredo.com.au/