Since early December, 2016 Enmore Road's Queen's Hotel has been transformed into Queen Chow, a Chinese restaurant whose menu is a mix of Hong Kong classic dishes plus some inspired by Australian produce. The food was inspired by Hong Kong street food by executive chefs Patrick Friesen and Christopher Hogarth while dumpling master Eric Koh oversees the dumplings.
At Queen Chow there are several areas to dine in and upstairs in the sun drenched courtyard (next to the bar called "The Smelly Goat") is said to be the pick.
However my mother has hurt her foot and the elevator isn't working so we happily wedge ourselves into a downstairs booth overlooked by the kitchen and its many hanging ducks in the window. Early tables have two hour dining windows - not that this is a problem for my family who delight in meals that don't linger (mainly my father).
The menu is divided into snacks, steamed, dim sum, roast meats, stir fried, dessert and there is a whole section on mud crab. However at $180 a kilo we pass on the mud crab especially as my dad has now decided that crab is too fiddly to eat (I believe one of the privileges of being a senior is deciding when you just quit a food after six decades of eating it).
We start on the prawns with a thickened milk custard. The milk custard is a bit too thick with cornflour that gets a bit furry on the tongue but the prawns are bouncy textured and go well with the flying fish roe and deep fried bread sticks.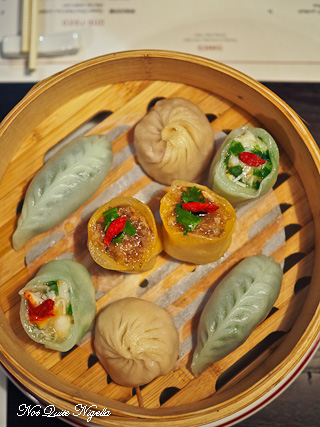 There are two dim sum platters: a steamed one and a baked & fried one (it's best to go at lunch if you want to pick and choose individual dumpling types). There are four types of dumplings on the steamed platter: English spinach, xiao long bao pork soup dumplings, jade dumplings with fat prawns and a mushroom dumpling. They look like they belong in a jewel box and they're fresh and luscious with the jade dumplings being the standout. The vegetable rich ones like the English spinach and mushroom are nice enough and the xiao long bao has a good amount of soup but overall I wish we had come at lunch to try the dumplings of our choosing because I wouldn't have chosen these ones except for the Jade seafood if I had a choice.
The next item to arrive (and by now we've been seated for 15 minutes so the kitchen is super quick) is the combination roast meats platter. On it is half a roast duck with plum sauce, honey glazed pork neck and honey glazed pork spareribs.
The roast duck meat has an appealing succulence to it while the pork spareribs have just the right amount of fat and meat to them. The pork neck is quite lean for a char siu although it is good when you dip the slices into the sweet sauce and eat it with plain boiled rice and the garlic chives below.
Schmaltz with flowering garlic chives? Who would have thought that the rendered fat of goose or chicken would go well with these vegetables but it does and makes perfect sense. This is the ideal green to go with steamed rice and the barbecue meat platter.
I'm not even sure what the title of this dish is supposed to mean, whether it's an homage to the slightly strange English that appears on some Chinese menus or whether it actually means something. I should mention that the service is friendly although there are some gaps on knowledge. We also wish they might have mentioned that this dish is actually predominantly made up of garlic chives with a small amount of cuttlefish in it so it's similar to the other garlic chive dish above. We had assumed it had more cuttlefish from the order in the description that it appeared but this really is more a vegetable side.
The fried rice is fine, although it doesn't have that lovely wok char that you can sometimes get. I think for most of these dishes you'd do better with steamed rice.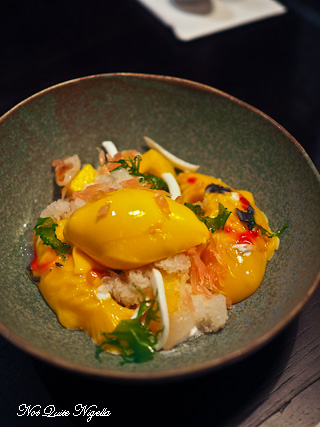 There are three desserts on the menu: two desserts and a fruit platter and I know from the outset that my family don't believe that you should pay for a fruit platter at a Chinese restaurant since most give them at the end of the meal ;). We order the other two desserts and there are no regrets at all. The koi fish dessert is a fruity number with mango sorbet, mango pudding, lychee granita, coconut cream and coconut shavings. It's tropical, fruity and creamy and utterly moreish. If you look closely and squint a bit, the mango pudding is shaped like two koi fish mid swim and it's finished off with some seaweed.
The coffee milk tea is an unassuming name for this dessert. It's a fluffy mousse topped scoop of coffee milk tea ice cream with salted caramel balls, Valrhona chocolate cake balls and a creme brulee. It's soft, fluffy, sweet, rich and enormous. And in something that delights my father, we're in and out in just over an hour.
So tell me Dear Reader, do you usually order steamed or fried rice with Chinese food? Do you like fast meals or do you prefer a more leisurely pace? And do you feel that the order in which an ingredient appears on the menu description suggests the quantity?
This meal was independently paid for.
Queen Chow
167 Enmore Road, Enmore NSW 2042
Phone: +61 2 9240 3000
Open Monday-Thursday: 12pm-2am, Friday: 12pm-3am
Saturday: 10am-3am
Sunday: 10am-10pm
www.merivale.com.au/queenchow/