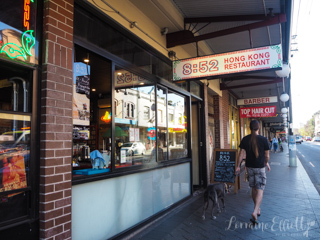 852 Hong Kong in a restaurant on the South Side of King Street in Newtown. Hong Kong Chinese food is an interesting mix of cultures and flavours that is quite separate from Cantonese or other regional Chinese food. There are items like pineapple buns filled with pork, cheesy noodles and French toast with a pat of butter on top and filled with peanut butter. Like many Hong Kong style restaurants, the decor is as much a draw as the food.
Confession: I find restaurants with numbers in the titles almost impossible to remember. I'm not a numbers person and I try about 6 different combinations in google maps before I give up and look on their instagram page for their name. 852 Hong Kong references the phone area code for Hong Kong and no doubt that along with the décor with its neon lights and bright posters are designed to give people who used to live there, a nostalgic experience.
It's a sunny Monday when I meet Monica at 852 Hong Kong. Service is friendly and when we take a seat we are the only two there but a couple of other tables come in afterwards. There are cute red heart seats, large booths and a traditional glass topped table. There's a drinks and food menu and you order and pay at the counter and they bring your food to you. Alas a couple of key things that we would have liked are unavailable today (pork belly and wagyu beef). The menu is smaller than other Hong Kong style restaurants and centres around pineapple buns, noodles and baked rice and variations thereof.
We noticed that there are a few call out graphics and one points out that the pineapple bun actually doesn't contain any pineapple (I guess they've had people ask about that) and they have 5 varieties of filling from plain to SPAM. We showed them an item that I saw on their Instagram and she immediately tells us that it's the pork chop pineapple bun. It looks nothing like the Instagram picture but it's quite tasty. The bun is a little dry and they add some mayonnaise, lettuce and a pork chop. It could do with some more mayonnaise which they bring over and it definitely has KFC burger vibes (no shade) with the crunchy texture, lettuce and mayonnaise.
There are a few types of meat available for the noodles from roast chicken, Swiss chicken wings (soy sauce wings) and a roast pork chop but we go with their recommendation of roast pork neck. While they're called cheesy noodles it's more a béchamel or white sauce noodle with perhaps a bit of cheese added but we wouldn't really call this a cheese sauce. The noodles are quite mild in flavour by themselves and are improved vastly by the slices of roast pork neck. There's not quite enough pork neck to make this a wholly satisfying dish though.
There are four varieties of baked rice and we ordered the Hong Kong style chicken a la king with rice at the bottom mixed with a creamy white sauce and a good amount of shredded chicken and carrot. It's creamy and mild and there's a layer of melted cheese on top which pushes this into comfort food territory.
"We need something spicy," I say to Monica because everything is quite mildly flavoured and we both crave spicy food. I look at the menu and spy one of our favourite dishes: curried fish balls. We make a quick order for these and there are 8 fish balls in a delicious, richly flavoured curry broth. It's just what we needed and we spoon some of the sauce into the noodles and rice and this really lifts them up.
Monica had one order stipulation for the food: the Hong Kong style French toast. It is two pieces of white bread sandwiched with a generous amount of crunchy peanut butter and then dipped in egg and deep fried. There's condensed milk on top and a square of butter melting on top. It's crispy, soft, gooey and it's Monica's favourite dish of the whole lunch.
I order the Horlicks panna cotta in memory of my grandmother who, when she lived with us, used to have a cup of Horlicks every night before she went to bed. It's quite a firm panna cotta served in a martini glass with a scoop of raspberry sorbet but the flavour of Horlicks is appealingly strong (I dislike it when things don't taste like the flavour they're supposed to). I think my grandmother would have loved the panna cotta.
So tell me Dear Reader, do you find restaurants with numbers in their title hard or easy to remember? Have you ever tried Hong Kong Chinese food?
This meal was independently paid for.
8:52 Hong Kong Restaurant
Unit 6/503 King Street, Newtown, NSW 2042
Tel: 0435926107
Open Wednesday to Monday 12-10pm
Closed Tuesdays