Dearest, darling reader, this is a pushy recipe. If you love pâté then you may just fall heads over heels in love with this version. Inspired by an episode of Maggie in Japan where Maggie Beer was served a brûléed pâté by chef Hideki-san I decided to give it a citrus kick with some delicious yuzu. And of course nothing beats the brûléed top and the pâté spread on bread. Just a warning: this is very, very, very moreish!
Hideki-san's original recipe had the livers simmering for an hour but I simplfied it and made it shorter as my version of pâté doesn't take that long to cook. I'm sure his version is wonderful but I had a very long to do list on the day that I made this and when I saw that it simmered for an hour I just couldn't wait because I had to go out. After that I changed quite a few of the ingredients and it became this deliciously fast pâté. It was just what we needed at the beginning of the week so I could use it on Mr NQN's sandwiches every day and then it was a great snack to eat too.
The smell of this drove Mochi crazy as I was making this as she loves liver but I couldn't give her any as the pâté contains onions and whisky (although the latter was cooked off). I gave her a tiny taste off the tip of my finger and she licked at it delicately and enthusiastically. At times like that, I sometimes really wonder at how lucky we got with Mochi. She is really such a sweet, well behaved little girl who would never go off and eat something that wasn't given to her (unless it's her snacks which I believe she thinks are ALL her property). And while she loves human food she never steals it from our plates. The afternoon that I made this I got a message from poor Nina who has her hands full with her own 1 year old giant puppy Marley.
There was a picture of an egg carton, half of which was empty. "Marley ate all the missing eggs. 16 in total. I went out for an hour and he removed the covering and ate all the eggs. Even the shells," she messaged.
But then she sent through a pic of Marley looking as charmingly goofy and gorgeous as ever (and full of eggs!). I just had to laugh. And then give Mochi a hug because I am glad that I can leave delicious things like pâté and chicken around without her eating it!
So tell me Dear Reader, do you often make pate? And have you ever tried it with yuzu?
Did you make this recipe?
Share your creations by tagging @notquitenigella on Instagram with the hashtag #notquitenigella
Brûléed Pâté With Yuzu
An Original Recipe by Lorraine Elliott adapted from Hideki-san from Maggie in Japan
Preparation time: 15 minutes plus 30 minutes soaking
Cooking time: 15 minutes
Serves 6 as an entree
350g/12.4ozs. chicken livers (use super fresh livers)
2 cups milk for soaking
50g/1.7ozs. butter
150g/5ozs. onions, chopped (I used a mix of shallot whites and brown onion)
1 bay leaf
2 tablespoons finely grated ginger
2 tablespoons whisky
50ml/1.7ozs. light soy sauce
20ml/0.7ozs rice vinegar
150g/5ozs butter, cubed, very cold
2 teaspoons yuzu syrup (you can also use mandarin syrup)*
3 tablespoons yuzu syrup for bruleeing
2 tablespoons white sugar
I bought yuzu syrup from Tokyo Mart in Northbridge but you can find it at more Asian grocery stores nowadays
Step 1 - Remove the white stringy bits from the livers first and rinse (but don't drive yourself too mad doing it). Then soak the livers in milk for 30 minutes stirring occasionally. Strain and set aside.
Step 2 - Heat a frypan on medium heat and add butter. Saute the onions with the bay leaf and ginger for 3-4 minutes. Add in the chicken livers and cook for 2 minutes or so. You don't want them too overcooked. Then add the brandy or whisky, soy sauce and rice vinegar. Remove from heat - you want the centre of the livers still pink.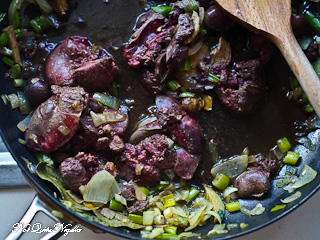 Step 3 - Place in a food processor with the cold cubed butter and blend very well. Add yuzu syrup to taste-remember that you'll also be adding it on the bruleed top so less is more in the actual pâté. Scoop into a pâté vessel or individual ramekins and allow to set.
Step 4 - Brush with the yuzu syrup and then sprinkle with the sugar and then brulee using a blowtorch. Allow to set firm again and serve with bread.