This Chicken Marbella is one of those incredible recipes that just works so beautifully that it becomes a family favourite. It's the sort of dish that is so delicious and unique you could serve it for dinner guests and yet requires just 10 minutes prep. Chicken is paired with olives, capers, prunes and herbs with the most delicious marinade. This is a pushy recipe Dear Reader!
I cannot recommend this simple but delicious recipe enough. It takes a total of 10 minutes prep and is a godsend when you are low on time. All it requires is marinating the day prior and then just leave it to bake the day after so it's perfectly suited to dinner parties where you want to serve something delicious but easy. I first came across it on Pauline's blog and bookmarked it to try it.
The Story of Chicken Marbella: this recipe comes from a cookbook called The Silver Palate Cookbook by Sheila Lukins and Julee Rosso which was published in 1982. And although Marbella is in Spain the recipe actually was developed in Manhattan by Sheila who ran a catering company that catered specifically to bachelors. The story goes that Julee tried some of her food and the two went into business together selling good quality takeaway food where people could pop in to buy food for parties or family gatherings (side note: Martha Stewart ran a similar business before she hit it big).
Sheila was the brains behind the food having studied at Le Cordon Bleu in London and alongside Michelin starred chefs in Bordeaux, France while Julee did the business side. Chicken Marbella was the most popular dish there and it became a staple on Manhattan Jewish holidays and Shabbat dinners. The cookbook sold millions and Sheila also did the illustrations for all of her cookbooks. Alas the two had an acrimonious falling out in 1988 although the two reunited to publish the 25th anniversary edition of The Silver Palate Cookbook in 2009.
Which chicken pieces to use for Chicken Marbella?: The original recipe specifies four whole chickens which is probably enough for a Shabbat dinner and then some but an unwieldy amount for most households. I used chicken thighs and they are perfect for this or you can cut up a whole chicken. You can also use skin on chicken pieces which I prefer but aren't always available.
The key feature of this chicken marbella is the marinade. It's smells soooo good I swear you'll want to eat it even when you smell it with the raw chicken. I'm not even kidding, just don't eat it haha. The only change from the original recipe is to add a sliced red capsicum. It perfectly suits this recipe and adds more vegetables to it. The best types of tray bakes are ones that have a good amount of vegetables so you don't have to cook anything else to go with it.
What to serve with this Marbella chicken: what you serve with Marbella chicken is important as you want to serve sides that can soak up that delectable sauce. I suggest couscous, brown or white rice, creamed polenta, risotto or mashed potatoes. I made a simple parmesan and baby cavolo nero risotto just to add some vegetables to it. To me this dish has a tagine style vibe to it so couscous is also really good with it.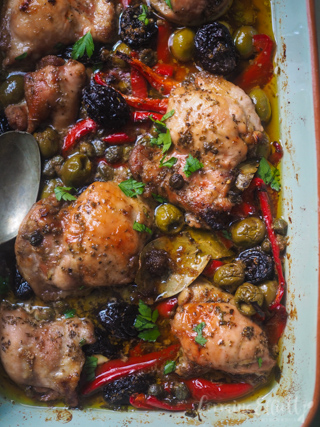 The only other advice apart from please try it is consider doubling the recipe. I wished I had. I gave half of this to my friend Sammie because she is in ISO. I mean here we are 2 years on and COVID is still a presence in the world. Sammie's husband David ended up positive and poor Sammie was beside herself as she has her adorable cavoodleTeddy Roo and they're not allowed to leave their apartment as she is a close contact. While she can manage life in ISO, she was worried about Teddy Roo and practical matters such as how he would get a walk and relieve himself. We happily offered to take Teddy Roo for the next couple of nights.
We drove to her house and swapped her a dinner of chicken marbella, risotto and vegetables for Teddy Roo. It was an exchange done with military precision. Sammie ensured that everything that we got from her was sanitised and Teddy Roo had a good clean and brush. She was going to leave Teddy's bag outside her door which I would retrieve and swap with a bag of food. After I knocked I stepped away from the door and Teddy Roo barrelled out of the door enthusiastically bowling me over. I saw her latex gloved hands disappear into the closed apartment and we took him home.
It was our first time with a puppy house guest and he was a dream guest. He is a fantastic walker (Teddy Elliott could probably learn something from him) and is so sweet and happy. The two Teddys really bring out the best in each other as they're a similar age and play style. It ended up being quite fortuitous as we had him just as a few days of rain started and the two boys amused each other perfectly. Even as they slept on the bed Teddy Roo took up the perfect amount of space and Teddy Elliott slept better at night as he relinquished guard dog duties to Teddy Roo who guarded us.
Sammie messaged me that they both really loved this chicken marbella and even David who was feeling poorly and doesn't usually like risotto really enjoyed it. She even compared it to a restaurant meal which was such a nice compliment.
So the motto of the story: always make double of this to give to friends, especially ones that might be in iso.
So tell me Dear Reader, have you ever heard of or tried Chicken Marbella? Are lots of your friends in ISO?
Chicken Marbella Tray Bake