Mr NQN was telling me about a colleague of his who also moonlights as a model. He was saying how amusing that there was a gigantic poster of said colleague near the office and he also remarked on how disconcerting it must be to have your image in such a large form or to see a picture of your colleague blown up to 10 times their actual size.
"So he must be really good looking right? He's a face model right?" I asked him.
Mr NQN thought about it for a bit and then shrugged "I dunno. He just looks like a guy to me..."  I raised an eyebrow and he quickly added "I can't tell if guys are good looking you know..."
I snickered. I've lost count of the amount of times my friends and I have asked straight male friends if a guy is handsome only to be greeted with exactly the same answer.
"You know it's totally fine to say if a guy is good looking right? I can tell if a girl is or not..." I prodded.
"Well I can't tell. I'm going to work on the computer now" he said and wriggled out of the chair and ambled off.
What do men and chicken have in common? Well Mr NQN having grown up in a fresh, raw vegetarian sort of household has a natural inclination against deep fried foods. So when I asked him if he wanted chicken karaage for dinner one night he answered "I don't know. It's deep fried isn't it? I don't like deep fried food."
I urged him to try it anyway knowing that it wasn't just your average deep fried chicken, in fact it is juicy and flavoured with garlic, ginger and soy and that he normally loves the stuff. He took a bite
"So how is it?" I asked him.
"I don't know, I can't tell, it's deep fried" he answered. I stared at him waiting for more elaboration until he finally coughed up.
"Actually it's pretty good" he said thinking about it. "But you know I don't usually like fried food" he said pointedly.
So tell me Dear Reader, do you find it hard to judge whether people are good looking if they are of the same gender as you? And who do you think is good looking of your gender?
Chicken Karaage
An Original Recipe by Not Quite Nigella
400g chicken thigh pieces (skin on or off)
1.5 tablespoons sake or Shao Xing cooking wine
3/4 cup potato starch (or cornflour/cornstarch)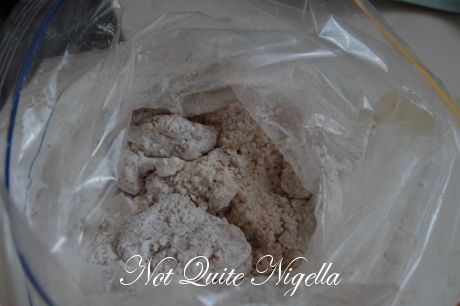 Step 1 - In a bowl, grate ginger and garlic and then add the soy sauce, sake or cooking wine and sugar. Cut chicken thighs into small, bite sized, even pieces and marinate in this mixture for about 30 minutes. If you marinate this overnight, just marinate it using 1 tablespoon of soy as the saltiness will draw out the moisture in the chicken-then add the rest of the soy sauce 30 minutes before cooking to add flavour. Drain pieces well and then in two lots, toss in the potato starch. I use a ziplock bag for this to make it less messy.
Step 2 - Heat a deep fryer or a saucepan filled with 1 inch of oil to 180C/350F. I use a sugar thermometer or you can place a small piece of bread in the oil to test when you think it will be ready. Fry the pieces for about 5 minutes being careful not to overcrowd them as that will cause the temperature of the oil to drop. Cook until they turn a golden bronzed colour. Drain on paper towels and serve hot.