Ever heard of a London Fog tea? Chances are if you've visited Vancouver or the West Coast of Canada you'll have come across this mysteriously named concoction. It's an Earl Grey tea with a shot of vanilla and sugar and then topped up with foamy steamed milk. And it's about to transform your morning or afternoon tea as it's just about the most delicious way to drink Earl Grey tea!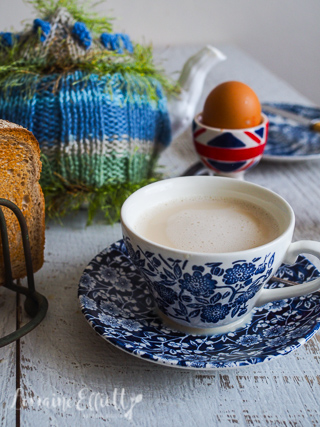 Legend has it that it was invented in Vancouver, Canada but the name of the actual creator is unknown. London Fog tea has no connection to London unless you count the frothy, foamy thick head of milk that is said to resemble a London fog. If you're in doubt and aren't fully convinced and don't want to make a whole batch of the syrup , it is easy to make a sample cup without making the syrup.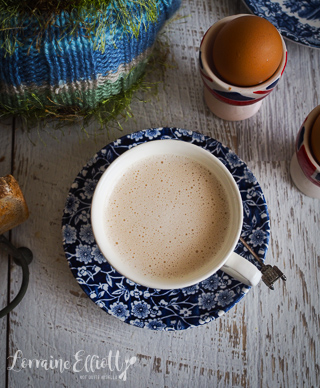 To do this steep 1 teaspoon or 1 teabag of Earl Grey tea in half a cup of water for as long as you like your tea. Add 2 teaspoons of sugar and a few drops of vanilla extract. Steam 1/2 cup of milk and pour over the tea. I feel almost silly giving this as a recipe because it is so simple but I've been sipping this for the last few weeks very happily and I want you to be as happy as I am when I'm drinking this tea! And if you are as addicted as I am, have the syrup handy and have a version ready to go whenever you want!
It's time for February's installment of In My Kitchen which is hosted by the lovely Sherry. I have some new things in my kitchen, courtesy of my recent trip to Texas. The first lot is from Houston Airport. We had a few hours there and were given a tour and I got some edible gifts for Mr NQN. We've made our way through most of these and they're pretty damn delicious especially the popcorn although I think the Big Spoon peanut butter bars could use more peanut butter (motto in life: always more peanut butter).
The second lot is also from Houston airport. There are ghost chilli pepper corn chips that I can't wait to open (seriously excited) as well as Chirps cricket chips. Yes, cricket chips with actual crickets! They're pretty tasty and as you may know insects are a good source of protein. Each corn chip contains one cricket and you know what? They taste like regular corn chips! That jalapeno aioli is just going to be eaten by the large dollop with fries or on top of roasted vegetables. I can't wait to break open the black truffle almonds and I'm going to carry the cocktail kit for next time I fly economy to make it more bearable
The next lot of items are from Austin. The wagyu strip was really delicious (and not dry at all) and there was chocolate, smoked almonds and cheddar popcorn but my favourite item is the guitar pick bottle opener.
I also bought Mr NQN a pair of taco socks. He was mildly amused by them but I have to note that these socks have not been worn or even put away. I think that I should have bought myself a pair instead ;) I also bought a book of Mad Libs for games night and a cookbook called "How To win a Cowboy's Heart" because it looked adorably homely and has all sorts of recipes for things like "red eye gravy" aka bacon gravy, spiced fry cakes, whiskey toast beer bread and smothered yardbird.
Last but not least is a purchase from NASA. I went wild in the NASA gift shop buying clothing because I like to pretend to people that I work at NASA (if anyone asks, I am in charge of the rocket fuel ;) ). Apart from clothing, I bought some of this astronaut ice cream. I remember getting some as a kid from my uncle who actually legitimately works at NASA and thinking that it was the coolest thing in the world. I'm going to send this to my god daughter Evie and her sister Audrey and I hope they find it as interesting as I did!
So that is all that is new in my kitchen, apart from a bottle of London Fog tea syrup!
So tell me Dear Reader, have you ever tried a London fog tea? How about astronaut ice cream? And if someone bought you taco socks would you wear them or not? ;)
Did you make this recipe?
Share your creations by tagging @notquitenigella on Instagram with the hashtag #notquitenigella
London Fog Tea Syrup
An Original Recipe by Lorraine Elliott
Preparation time: 5 minutes
Cooking time: 10 minutes
Makes 3 cups of London Fog Syrup (enough for 6 cups of tea)
3 cups water
4 tablespoons sugar
3 Earl Grey teabags or 4 teaspoons of Earl Grey tea
1 teaspoon vanilla extract
Step 1 - Boil the water and sugar for 6-7 minutes. Steep teabags for as strong as you like your tea (around 2-3 minutes). Add vanilla extract. To make one cup of London Fog tea, steam half a cup of milk and add to the syrup.