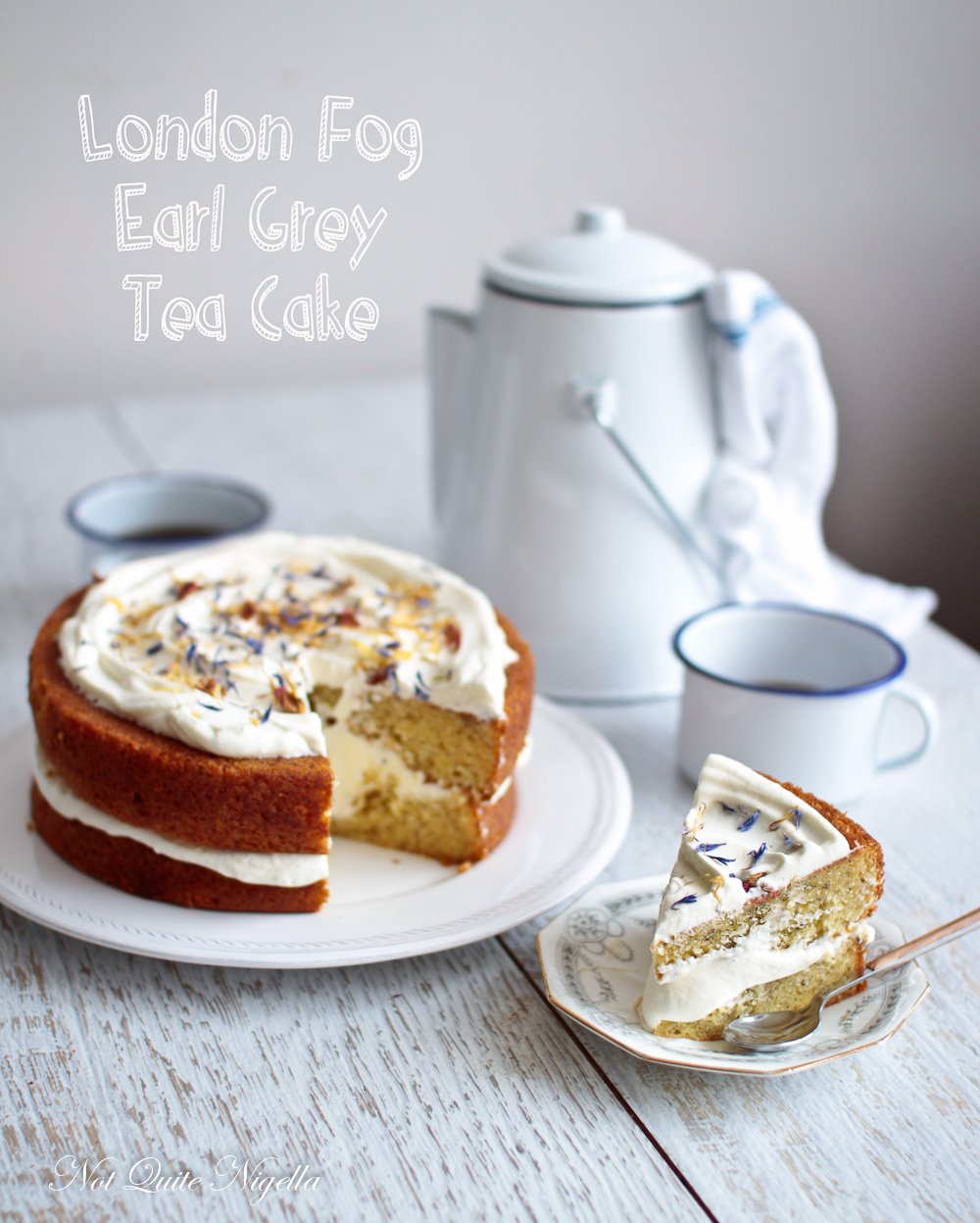 Without blowing my own horn too much, I have to tell you this Earl Grey "London Fog" cake is a devastating beauty. With two layers of Earl Grey infused sponge cake and a drizzle of Earl Grey syrup, soft billowy whipped vanilla cream and a canopy of edible flowers it's a surprisingly easy show stopper. It was inspired by one of the blog's most popular cakes: the chai spiced cake. It made me wonder why there were so many coffee cakes but what about tea cakes with actual tea in them.
My favourite tea for drinking at home is Earl Grey tea, the floral black tea that is fragranced with bergamot orange oil. Earl Grey tea is named after the British Prime Minister Charles Grey the 2nd Earl Grey but did you know that in British Columbia, Canada (and not in London) there is a version of tea made called a "London Fog"? It is essentially an Earl Grey latte made up of a very milky Earl Grey tea with vanilla syrup. It's absolutely delicious and whenever I set foot in Canada, I order one and sip it slowly to keep warm. As far as I know, London Fog isn't a thing in London and may just garner you a blank look if you try to order one.
Like the chai cake, I also thought that it might be a good flavour for a cake and the perfect cake would be a Victoria Sponge (in keeping with the British theme). A Victoria sponge (named after Queen Victoria) is different from a chiffon sponge (using oil and separated eggs) or a regular sponge cake because it has quite a bit of butter added to it. If you ever do get a hold of fresh duck eggs, use them with this cake. Sponge cakes are the best cakes to make with them because of their high protein content and the egg whites whip up stiffer supporting the sponge.
I got a lot of baking done during the week in early January where it rained non-stop and it was during that time that I decided that I should try a London Fog cake. I was reminded of England as I was reading a new book called The Girl on The Train by Paula Hawkins and I was encouraged to purchase it by my twitter followers. It proved a fitting backdrop to the book. Have you read it? It's the sort of book that you devour quickly like a delicious dessert or scrumptious pasta dish. I devoured it in two long sessions.
I even did my own mental casting for the film:
I pictured Courtney Love as Rachel and Josie Bissett as Megan and Jacinda Barrett as Anna. I know, Zach Woods as Scott is totally wrong but for some reason my mind went there and I had no idea about Tom. Anyway I promise that there are no spoilers in this post but it's a great psychological mystery book with comparisons to Gone Girl and Rear Window. For me there wasn't much of a twist and it wasn't as suspenseful as I had hoped but it was a great way to pass the time while reading cake and sipping tea (there ought to be a rating system like four slices of cake out of five don't you think? ;) ).
Anyway, if you love tea cakes then I urge you to give this cake a try. The decorations are simple but effective. I will give you a slight warning about the Victoria Sponge. It can be temperamental and I find them a bit more challenging than a chiffon or regular sponge but as long as you exercise some TLC and gentle-ness when baking (close the oven door gently and don't peek on it or open the door) then you should be fine.
Someone once told me that oven manufacturers test their ovens using Victoria sponges so if you do have a temperamental oven, use the chiffon cake recipe from here instead just subbing the spices for the Earl Grey tea. I seem to have fallen in love with the simplicity of sponge cake all over again and how easy they are to decorate. The edible flowers were a gift from my lovely friend Rebecca and were from fab folks at The Essential Ingredient. And of course given the fact that she is a Victoria sponge, Queen Victoria has a link to the Earl and there is a place in B.C. called Victoria, I decided to call this cake Victoria.
So tell me Dear Reader, have you read The Girl On The Train and if so what did you think of it and my crazy casting? How many slices of cake would you give the book out of five? What is your favourite type of tea? Do you have it black or with milk and or sugar? Have you ever had a London Fog tea?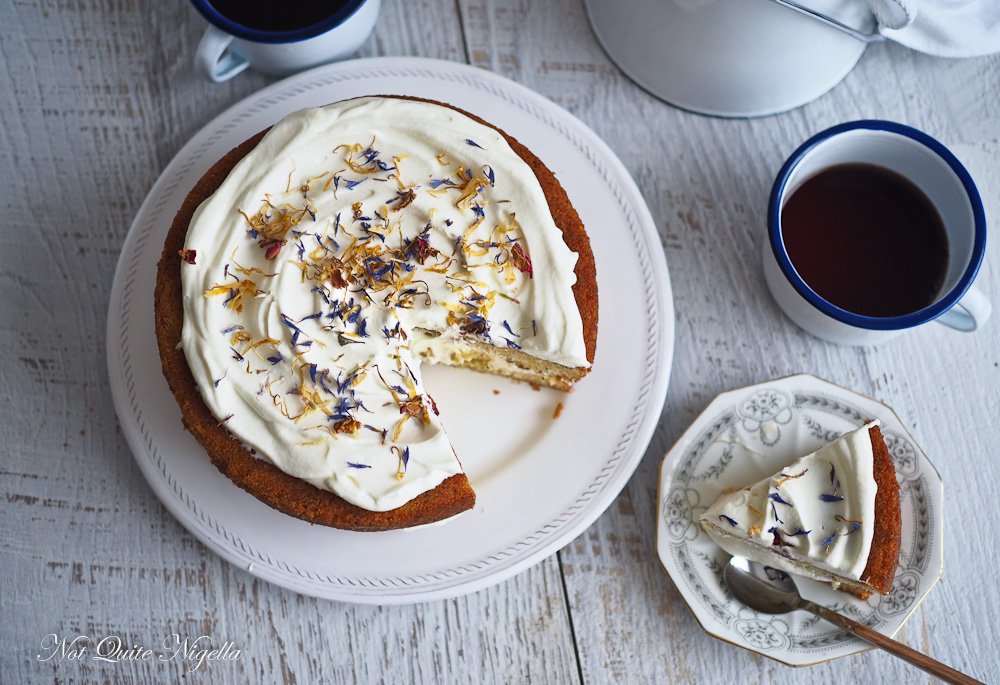 DID YOU MAKE THIS RECIPE? Share your creations by tagging @notquitenigella on Instagram with the hashtag #notquitenigella
London Fog Earl Grey Tea Cake
Rated 5.0 out of 5 by 7 readers
An Original Recipe by Lorraine Elliott/Not Quite Nigella
Preparation time: 30 minutes
Cooking time: 30 minutes
Oil cooking spray
250g/8.83ozs butter, softened
250g/8.83ozs. caster or superfine sugar
1 teaspoon vanilla
5 eggs, at room temperature (or 3 duck eggs)
250g/8.83ozs. self raising flour
1 teaspoon baking powder
Tea leaves from 1 Earl Grey tea bag or 1 teaspoon loose leaf Earl Grey tea, crushed until fine
1/4 cup milk
Earl Grey Syrup
1 cup water
1 Earl Grey tea bag
1 cup caster or superfine sugar
1/2 teaspoon vanilla
To decorate
450ml/16 flozs. cream
3 teaspoons vanillin sugar
Edible flowers
Step 1 - Preheat oven to 160C/320F. Line the base of two 20cm/8inch round tin and spray the base and sides well with non stick spray. Using an electric mixer fitted with a whisk attachment, whip the butter and sugar together for 3 minutes until light and fluffy. Add the vanilla and then the eggs one at a time, whisking until combined. Then remove from the mixer and sift in the self raising flour and baking powder from a height. Fold these in with the Earl Grey tea leaves using the milk to keep the batter moist.
Step 2 - Divide the batter into the two tins and smooth over using an angled spatula or a dough scraper. Place in the oven gently and don't slam the door. Victoria sponges are known for being a little bit temperamental and do not open the door while it is baking or turn on the light. Bake for 25-30 minutes. Cool completely in the tin. You can make these a day ahead of time, just wrap them in cling film once they've completely cooled.
Step 3 - Meanwhile, while the cakes are baking, make the syrup, Boil the water, tea bag and sugar together until it becomes a syrup. Add vanilla and cool completely.
Step 4 - To assemble the cake, whip the cream and vanillin sugar until you get soft peaks (my cream perhaps wasn't quite firm enough). Take one cake and place on a serving plate. Poke holes in the cake and drizzle some of the Earl Grey syrup into this. How much depends on you - I didn't want to necessarily serve a trifle so I just used a few tablespoons per cake layer-you can also brush it on just to add flavour. Then place half of the whipped cream on the bottom layer. Place the second layer on top repeating the process with the holes and syrup and then spoon on the remaining cream. Top with flowers. This cake can keep for a day or two in the fridge (perhaps even more but it was very popular and went quickly).
Tip: you can make a London Fog with any leftover Earl Grey syrup!