Corso Brio is the newest restaurant within a restaurant at Bel & Brio. The outdoor section houses a casual dining restaurant while a heavy wooden doors part to enter Corso Brio, the private more formal restaurant with half moon booths, dark lighting and old fashioned European style service.
Booths are fun and booths are sexy. They're great to misbehave or gossip in and they're also the place to have a private conversation in. And lunch with the four Kardashian sister was never going to be boring and full of business small talk (although it was a business lunch).
Our waiter Simon introduced himself with a flourish. He's old skool and is always on hand to fill water glasses and several times the Fourth Kardashian sister and I have to stop our colourful conversation while he pours.
The executive Chef is Davide Incardona. Simon tells us that during our meal all of the vegetables served here have been grown on their 52 acre farm near Gosford. The area that Corso Brio sits in was actually part of the marketplace which is the adjoining store to Bel and Brio.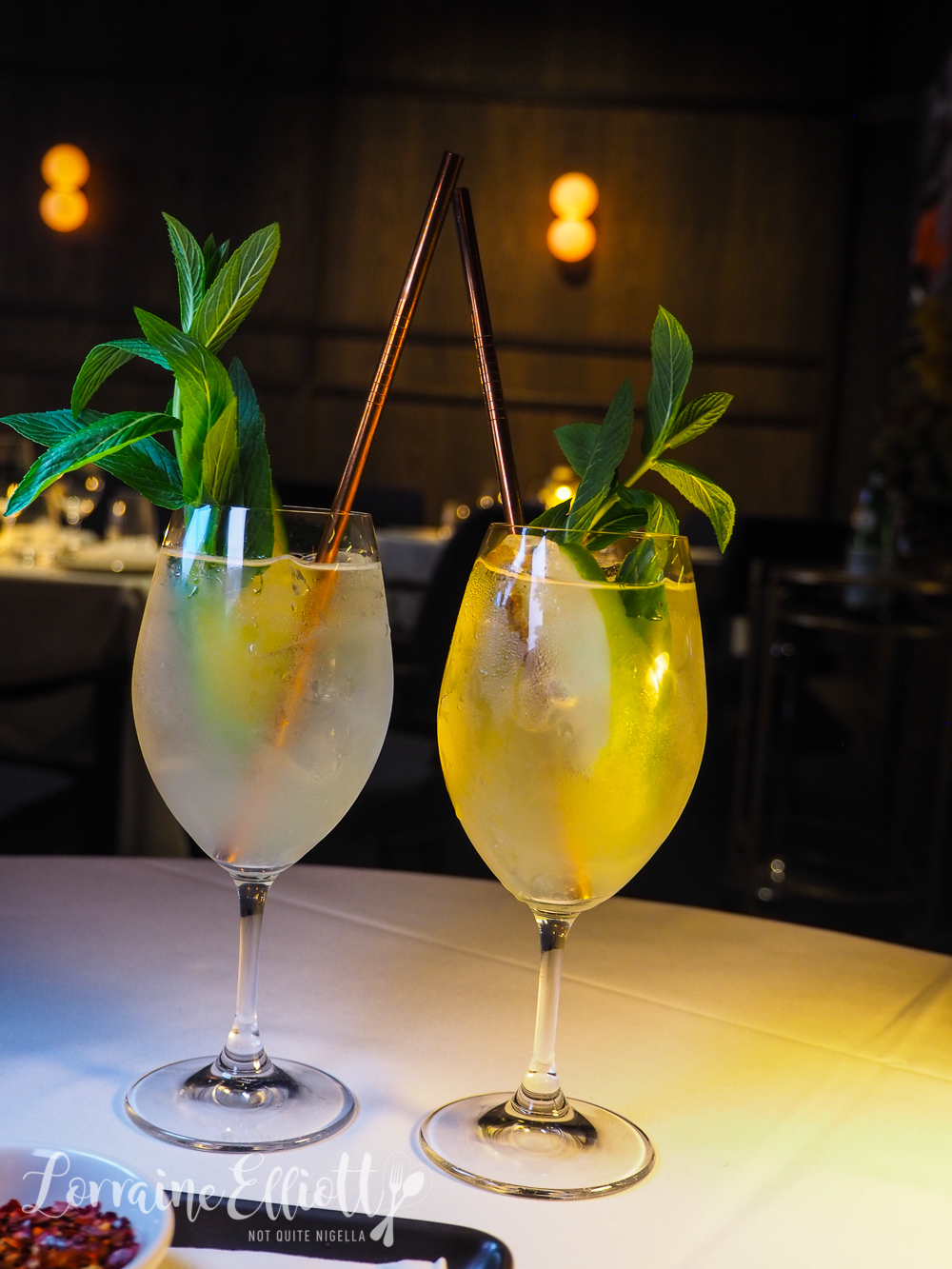 Fiorente Spritz $19
Spritzes make me happy and remind me of summer so we start with a very lush and drinkable Fiorente spritz with Grey Goose vodka, Fiorente elderflower liqueur, Prosecco, apple juice and fresh lime juice.
They bring soft and spongey focaccia to the table as well as some canapes. The spoons hold two canapes: a swordfish tartare with passion fruit and chia seeds and a slice of seared wagyu beef with porcini and parmesan, the latter being our favourite.
Scampi Wild caught NZ Scampi (2) $39
The scampi are delicately cooked so that they are still tender and melt in the mouth. They're served on a crisp frisée salad with quartered pickled turnips and a simple but zingy lemon dressing. They are a little on the pricey side as you essentially get 2 scampi but they are wild caught from NZ and are as big as large prawns.
Beef Carpaccio $24
The beef carpaccio has the addition of tiny Chiodini mushrooms, shaved dark chocolate, black truffle oil, wild rocket and plenty of parmesan. I was curious to see what the effect the dark chocolate has and it doesn't really stand out in the dish, nor does it seem odd. I did find that I needed to season this a bit myself (and a few other dishes).
Tagliatelle Slow cooked Wagyu beef cheek ragu $31
Sometimes you just have to have a plate of saucy pasta and there are four on the menu. Can I also say how much I love that Italians just added another course to meals? It's like they decided that three courses simply wasn't enough, there had to be four courses and it has to be pasta.
All of the pasta is made in-house and the first is a tagliatelle with slow cooked wagyu beef cheek ragu, porcini mushrooms and toasted hazelnuts with deep fried parsley leaves. They set down a trio of additional parmesan, dried chilli flakes and fresh hot chilli which is pretty much what I want with every meal. After a bit of extra seasoning I add some more parmesan and some fresh chilli and I am a very happy girl.
Spanner crab spaghetti $33
Then the spanner crab spaghetti arrives. And since I've made a bit of a glutton of myself already on the tagliatelle (this was a surprise course) I am wholly unprepared mentally and physically for the glutton fest that is about to occur. I love the dark, crispy bread crumbs from the house charcoal bread that add so much texture to the dish plus the spanner crab and tomato sauce. The chilli is light in this but I add some more fresh chilli on the side and wonder how on earth I am going to fit in the duck.
House Smoked Duck Breast $45
Oh yes the duck. This is a smoked duck breast served with a silky apple chutney puree, crunchy witlof leaves and a lemon duck gravy. Duck breast is quite a chewy item everywhere and this is good but I may have eaten too much of the pasta to really give this a go.
Roasted Potatoes $11 and Cabbage Salad $9
We added two sides to go with the duck. The roasted potatoes are rather addictive with a good amount of crunch to them and plenty of Sicilian sea salt and rosemary while the cabbage salad is a piquant, vinegary number with finely julienned cabbage with a white wine vinegar and an extra virgin olive oil dressing.
Pistachio Tiramisu $16
The two best selling desserts are the tiramisu and the chocolate dome. The tiramisu is served in a glass with the traditional savoiadri biscuits soaked in coffee. The only difference is the Sicilian pistachio flavoured mascarpone instead of the plain mascarpone cheese. It's quite light in pistachio flavour though even with the roasted pistachios on top and I would have loved an intense pistachio flavour to it.
Dark Chocolate Dome $17
I'm not usually one to order chocolate desserts after a rich multi course meal but this is my favourite and one that I can't help but go back for bite after bite. It's a chocolate dome where they pour a hot chocolate sauce on top. Inside is a coffee and coconut mousse although this sort of blends into everything once the hot chocolate sauce hits. The bit that I keep going back for is the sauce and that moreish cinnamon crumble that is so fine as to resemble brown sugar. It has a wonderful crunch and aroma to it.
It's after 4pm and the room has long cleared. Conversation has veered towards all sorts of topics and we reluctantly extricate ourselves from our booth and the dark seductive room to face the bright lights of Sydney's waterfront. Back to reality (which isn't so bad after all)!
So tell me Dear Reader, do you like booths or do you prefer regular tables? And moody lighting or bright lighting?
NQN was a guest of Corso Brio but all opinions remain her own.
Corso Brio
T3.01/300 Barangaroo Avenue, Barangaroo NSW 2000
Phone: (02) 9299 9107
Monday to Friday 7am–11pm
Saturday 8am–11pm
Sunday 8am–4pm
belandbrio.com.au