These pumpkin waffles are not only perfect for a Stranger Things Halloween party but they're also a very tasty breakfast that uses up any leftover roast pumpkin or pumpkin puree. A light and crispy waffle batter is flavoured with pumpkin, spices and maple syrup as well as toasted walnuts for crunch! Serve simply with pats of butter and maple syrup or for dessert with vanilla ice cream!
I made these pumpkin waffles for my upcoming Halloween Stranger Things party. Eggos waffles feature prominently in Season 1 of the show but I wanted to add a twist to them. I spied a pumpkin in my tray and decided to make it a pumpkin spice waffle instead with extra maple syrup within the waffle as well as on top of it.
After careful consideration due to my tiny kitchen I finally took the plunge and bought a waffle maker. Get ready for lots of waffle recipes because I don't like single use items and I also happen to love waffles.
I made these this past weekend and froze them for the party where I'll toast them fresh. The weeks before Halloween are a bit frenzied and when I made these I drove little Mr Teddy Elliott crazy because he loves pumpkin in any shape or form. He was rather hyped up so it was good that he was going on a play date with his new friend Teddyroothecavapoo.
Before we went to visit them at their house (Teddy R needs his shots so he can't go outside) I said to Mr NQN that we needed to buy him a present. As Teddy Elliott is a few months older than Teddy Roosevelt I figured we might be able to guess what might be useful or what he might like in the near future.
The problem is that despite the number of "proper" toys we buy Teddy, he still likes very random things and not the sort of things you'd necessarily give as gifts.
"Imagine if we gave them a bag of Teddy's Favourite Things. Like Oprah's Favourite Things but worse," I said. Teddy Favourite Things would involve empty foil packaging, old socks, used tissues and dirty underwear. I think all dogs like this sort of stuff, but it's not exactly the kind of gift you might give someone!
The two Teddys played very well together. Teddy R is younger than Teddy E by a few months but they are both playful. If anything Teddy E being a bit older helped with setting boundaries. Teddy R wasn't used to being dominated so it was good for him to be shown that he couldn't be boss all the time and the two played for over an hour and probably could have played for so much longer if we had let them. Alas, life and busy weekends gets in the way!
So tell me Dear Reader, what is your busiest time of the year? And what would you put in a bag of your favourite things? Do you have a waffle maker (and if so, do you have any ideas?)?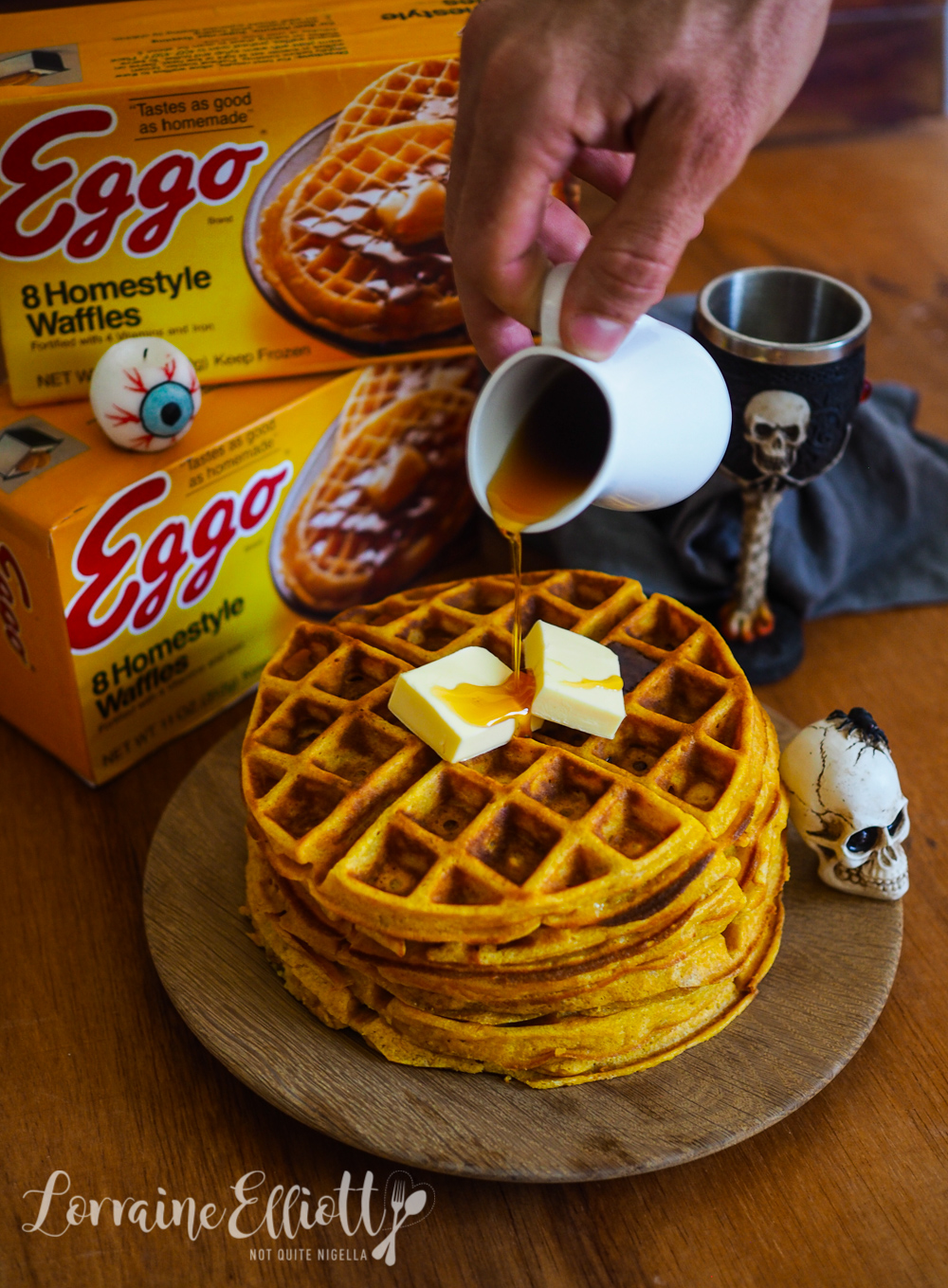 DID YOU MAKE THIS RECIPE? Share your creations by tagging @notquitenigella on Instagram with the hashtag #notquitenigella
Pumpkin & Maple Walnut "Eggos" Waffles!
An Original Recipe by Lorraine Elliott
Preparation time: 20 minutes
Cooking time: 5 minutes per waffle
Makes 8 waffles
4 egg whites, room temperature
226g/2 sticks butter, melted
1/4 cup maple syrup
4 egg yolks
1/2 cup pumpkin puree
1/2 cup walnuts, toasted and finely chopped
1/2 cup caster or superfine sugar
2 cups cake flour
1 cup buttermilk
Pinch of salt
Step 1 - In a clean mixer with clean whisk, first whip the egg whites until stiff peaks form and set aside. In a large bowl whisk the butter, maple syrup, egg yolks, pumpkin puree and walnuts together. Add the sugar and salt to the flour and mix to combine.
Step 2 - Add the flour mixture to the butter maple syrup alternating with the buttermilk until smooth. Fold in the egg whites until combined and no white streaks remain.
You want it even darker and crispier
Step 3 - Heat a waffle iron onto the highest heat. Generously spray with oil spray and ladle the waffle mix into the iron making sure that there aren't any holes or gaps. Cook for 5-6 minutes or until very crispy on the highest heat setting (190C was mine). Too low and the waffle will be flabby in texture. You want these to be as crispy on the outside and soft on the inside. When they're caramelised remove them from the iron and repeat the waffle process until all the batter is used.