I was recently in a shopping centre looking for Hallowe'en things when out of nowhere Adele's voice starting singing. It wasn't her of course but her album and she was crooning "Someone Like You" as if her heart would burst. I walked up and down the aisles thinking that I liked the shop's taste in music and what an unusual sound system they had. It was as if it were following you around the store. I even looked up in the ceiling for the speakers it was so creepy. The music itself had a terribly tinny sound but I felt as if I were followed by Adele's ghost singing in my ear.
I went into another shop and again Adele's voice followed me around. I started to get a bit paranoid and people were looking at me too. So I exited and went into a third shop. There she was again, Adele! Was the whole shopping centre playing her music?
Then I realised that I had the music on my phone on the whole time and that people were looking at my oddly like "Why is that girl playing music out of her bag and walking around looking behind her and up at the ceiling as if she were haunted by a ghost.
Hey, at least it wasn't the most embarrassing song on my phone right? ;)
Anyway, here is something slightly less creepy than the spirit of Adele following you around. They're crepes decorated with Jack Skellington on the top. If you want to have a less involved Hallowe'en treat for perhaps little ones or perhaps a little treat before they go trick or treating, then this is an easy one. The crepes are very simple and you can decorate the top one or you can do as I did and layer each crepe with it's own design. Whoever takes a crepe reveals the next crepe for the following person. And psst, crepes freeze really well too so if you want to make a whole stack of them and then thaw them and reheat them, they're perfect for a quick treat.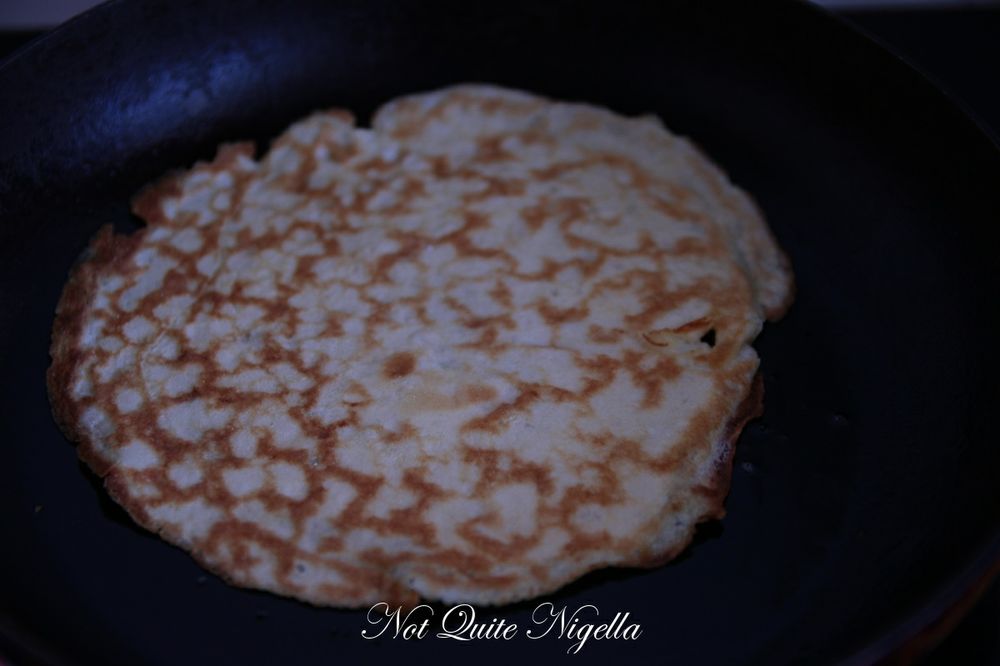 Sometimes the pattern looks like brains...
So tell me Dear Reader, what's the most embarrassing song on your phone or computer? Come on, fess up! ;)
DID YOU MAKE THIS RECIPE? Share your creations by tagging @notquitenigella on Instagram with the hashtag #notquitenigella
Creepy Crepes
Makes about 15 crepes (depending on size)
2/3 cup plain all purpose flour
Chocolate buttons for eyes and black licorice for face (or melted chocolate in a piping bag)
Step 1 -  Place the flour and salt in a bowl. In In a jug whisk the eggs and milk together. Then gradually add them to the bowl of flour whisking to avoid lumps. It will be a very runny mix-pour this into a jug to make it easier.
Step 2 - Heat a frypan on medium heat and add a little oil or butter. Hold the pan in one hand and the jug in another and add the batter all the time tilting the pan so that it runs to the edges-the batter is very liquid so it will do it. Cook for a minute or two until the bottom is cooked and gently flip over and cook the other side. Repeat and place on plate.
Sometimes it looks like two eyes are staring out at you...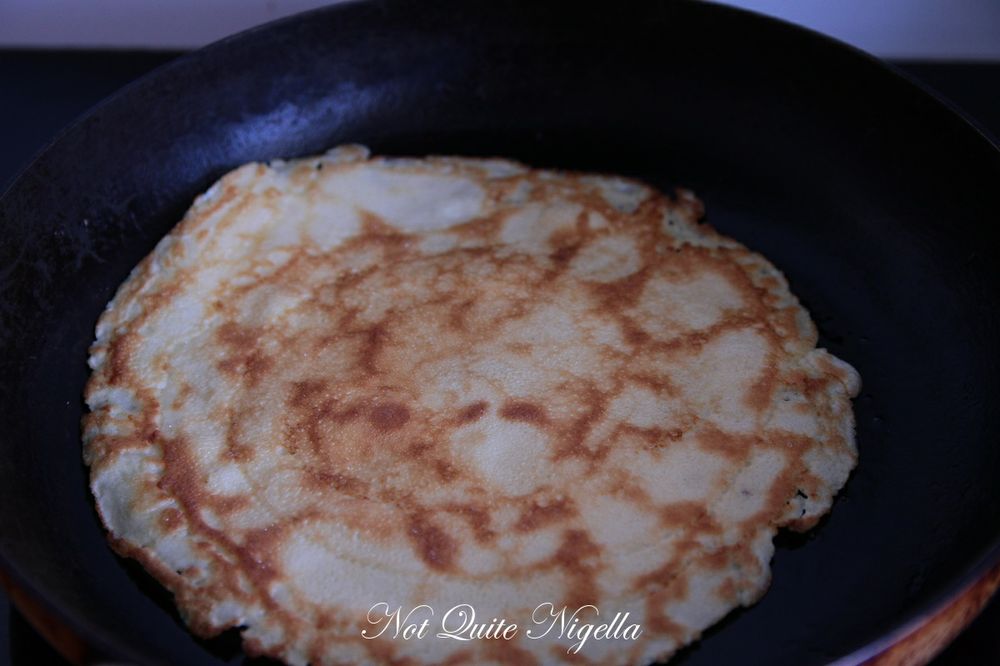 Other times you might get half a spider's web!
Step 3 - You can serve these in a stack with Jack Skellington on top. But to make these a surprise treat I alternated faces and did different designs between each crepe in the stack so that everyone gets a different design. Sometimes they got no design though in which case they could dip it in "blood clots" i.e. strawberry jam.