Burwood Street in Burwood is a street with a massive range of cheap, tasty eats. One Sunday night Laura and I challenged ourselves to find the suburb's most delicious cheap eats!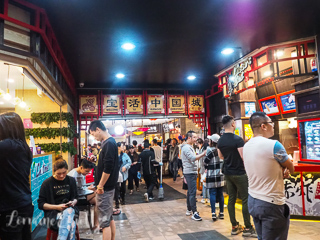 As Laura and I park on Burwood Road we hear a bell ringing. It's getting more insistent and like a snake lured by a snake charmer I am being drawn to it if only to find out what it is. We follow the noise and it's a woman standing outside Maria's bakery.
Stop 1: Maria's Bakery
"$6 for all the display," she says fanning her hands out like a spokesmodel over the table with a range of baked goods. "Usually $2 or $3 each," she adds when she sees that she has piqued our interest.
"Do you have durian cake?" asks Laura which is funny because neither of us particularly like durian. Before we know it we've bought around $17 worth of baked goods and we sit outside on the bench to eat them.
Durian Pineapple bun $3
Laura unwraps the first bite: it's a durian flavoured pineapple bun. It has a thick slice of butter, Hong Kong style, and it's fresh and downy. The topping is sweet and it's definitely pungent in durian.
Durian roll $4.30
The durian roll is a cream filled Swiss roll that is soft and fresh and filled with cream.
Black sesame bun
The lady ringing the bell watches us eating the breads on the bench outside and she offers to heat our buns up for us which is very nice and it changes this black sesame bun for the better!
Chicken bun $3
The chicken bun pastry is sweet - noticeably so. It reminds me of yum cha pastries that are also very sweet. It's like a Western style creamy chicken filling in a super sweet pastry outer. Odd but compelling.
Chicken Curry Bun $1.50
As two curry enthusiasts, this was a no brainer. It came as part of the pack of 4 and we both love the soft bun.
Shallot bun $1.50
Our other favourite bun is the swirly shallot bun. It's fresh and has a good amount of shallots dispersed through it.
Coconut Bun $1.50
Then there's the classic coconut bun of my childhood. It's soft, sweet and with a centre of mock cream inside.
Shaking off the coconut we are off to our next stop!
Maria's Bakery Inn: 240 Burwood Rd, Burwood NSW 2134. Open 7 days 8am–8pm. Phone: (02) 9744 3968
Stop 2: Tian Jin Shi Tang
I am somewhat obsessed with this little shop Tian Jin Shi Tang. My obsession however extends to just two things: the pork or egg and chive large flat buns and the Jianbing crepe.
Egg and chive bun $3.50
Pork Buns $3.50
I once ate a whole pork bun after going out to dinner because they're that good. These buns have the perfect filling to bread ratio so that every bite delivers in the most satisfying manner, plus the filling is saucy and flavoursome. We buy one pork bun and one chive and egg bun. They serve them warm and I'm trying to resist eating the whole thing. At $3.50 each I want to buy a whole lot of them and freeze them for when I need a tasty snack.
Jianbing
The Jianbing pancake is a bit tricky to eat and this is something I first tried in Shanghai. I'm amazed it hasn't taken off here as it's simple, tasty and so cheap to make. It's a crepe filled with spring onion, sauces and the thing that brings it all together: crispy won ton skins to give it crunch. Laura is completely smitten by this.
Note: I'm not sure about the other things on the menu; a table neighbour reported her soup as bland and the soup that we bought wasn't particularly exciting but the bun and the Jianbing are worth stopping for.
Tian Jin Shi Tang: 204-210 Burwood Rd, Burwood NSW 2134. Open 7 days 9am–10pm (Friday to Sunday 6am-10pm). Phone: 0424 896 128
Stop 3: Lovin' Lamb
"I feel like a lamb skewer," I say to Laura. "Get one," she encourages and before long I'm lining up at Lovin' Lamb. They're busy grilling lamb skewers and that's pretty much all that they do. I order a single skewer done extra spicy.
Extra hot Lamb Skewer $3
I absolutely adore these lamb skewers. They're juicy with just the right amount of fat to them and perfectly spicy. The extra spicy is actually my perfect level of spice, it wakes me up but doesn't hurt me at all. Follow this lamby, spicy deliciousness with a sweet plum drink.
Lovin' Lamb: 125 Burwood Rd, Burwood NSW 2134. Open 7 days 11am–11pm
Stop 4: Yang's Dumplings
Our next stop is just a few doors away (all of these places are within very easy walking distance). Yang's Dumplings sells dumplings of course.
Pork and Prawn Dumplings 4 for $9.80
There are a range of fillings but the most popular is the prawn and pork pan fried dumpling with small, whole prawns inside. You take some chilli oil, some vinegar and nip the top off the bun with your teeth and pour the sauces in and bite (carefully, there's a lot of liquid in there). It's delicious especially with the crispy bottom for textural contrast.
Cucumber $4.80
And the best thing to have with these dumplings? A side of crunchy cucumber in chilli oil! These are particularly good because the cucumber is so fresh and crisp.
Yang's Dumplings: 3c/127 Burwood Rd, Burwood NSW 2134. Open 7 days 10am–10:30pm. Phone: 0405 029 115
Stop 5: Yang Guo Fu Ma La Tang
A few doors away is Yang Guo Fu Ma La Tang where you can pick your own additions and make your own hot pot. You pay basically $12 per 500g which is very inexpensive.
Laura and I are sharing a bowl of hot pot. Are we going to fight over this? She and I have similar taste in food but she doesn't eat meat apart from chicken so we decide on a rule: like the music that we play in the car if either of us doesn't like it, we skip it.
We pick and choose - I love the balls and the vegetables while she likes the tofu items. When we get to the counter our total for this huge bowl of hot pot is just $12. We take a buzzer and wait for our bowl of steaming hot pot to cook.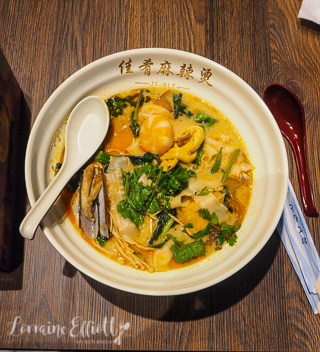 It's delicious and because we've chosen everything that we want there are no bits that aren't exciting at all. We can't finish it so we take what we can't eat away.
Yang Guo Fu Ma La Tang: 125 Burwood Rd, Burwood NSW 2134. Open 7 days 11am–10pm
Stop 6: Roji Monster
We need something a bit sweet now and there is one place that people love on Instagram. Have you ever felt that you dessert lacks eyes? Roji Monster's shaved ices are served with two meringue eyes on top.
The system here is this: you pick a card for the base flavour be it matcha, black sesame, milk, strawberry or cocoa. Then you take a stamp and stamp the two sides you want with your Roji monster.
Roji Monster $14
We chose the red bean taiyaki which comes out warm and a serve of sweet red beans and mochi. The red bean and mochi in particular go well but we wish the mochi was smaller so you can eat it in more bites. There are a lot of jams and even though it may sound overly sweet the ice isn't very sweet so that it is balanced.
Roji Monster Waffle $15
We also wanted to try the monster pancake and this has a sweet nutty filling (there's not much of a description of this) and is crisp on the outside and soft on the inside. It comes with some chocolate sauce which isn't really needed. It's really good with both the vanilla ice cream and the strong matcha creme which has such a satisfying matcha hit and it's good to have the hot waffle with the cold ice cream. I actually prefer this to the roji monster ice cream.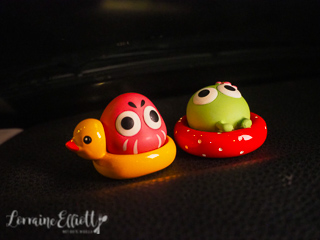 "We need some mascots to commemorate our food adventures," suggests Laura looking at the display of merchandise. We pick one toy each "I'm the pink one riding a duck," declares Laura while I relate to the one sitting in a donut.
Roji Monster: shop2/51 Burwood Rd, Burwood NSW 2134. Open 7 days 12–10pm. Phone: (02) 8317 4903
So tell me Dear Reader, have you ever tried a jianbing pancake? And which mascot would you pick from the ones above?
These meals were independently paid for.