It was time for a Burwood adventure but this time dictated by TikTok trends. Would TikTok deliver great recommendations or would they come up short? We try the eye catching "Flying" noodles that have to be seen to be believed, Guo Kui flat breads, a dessert hot pot and some absolutely delicious bargain dishes! Try this list as a roving 5 course dinner.
Laura and I have many fond memories traipsing the streets of Burwood in search of fun food so when she suggested a little roving five course dinner at 5 eateries in Burwood guided by TikTok recommendations I was in. Each place is just a couple of minutes walk from each other so it was perfect for a movable feast. There was a slight concern because when you google reviews of some of these restaurants they don't get great ratings and the ratings sit around 2.7 out of 5 so I was slightly hesitant but we figured we had to see these for ourselves.
Our first stop is at Burwood Chinatown at Guo Kui Master towards the back exit of the building. Guo Kui (that translates to pot helmet) is a stuffed flatbread that originated in the Shaanxi province of China and is a popular street food baked in tandoor ovens at very high temperatures. Sometimes guokui is round (like a pot helmet) but can also be oval in shape.
The queue is a massive giveaway and we also loved the fact that they were rolling and baking the guokui fresh. Their most popular fillings are lamb, beef and then pork but Laura doesn't eat any of those meats (the vegetable one also contains pork!) so we settle for the curry chicken. The woman behind the counter is friendly but slightly confused when we opt for the least popular one. We hand over the $8.08 (which is surely a good sign as 8 is a lucky number in Chinese numerology) and wait while they stuff the ball of dough with filling and then roll it out very thinly.
Guo Kui $8
Around 5 minutes later our guokui is handed over to us. We take a seat outside and slide it out of its paper bag. You can see pockets of curry chicken and thin flatbread. It's absolutely delicious and I'm amazed that the filling still stays within the bounds of the dough and yet it is so artfully thin. It's so good that we contemplate getting another but are reminded that have more courses to go.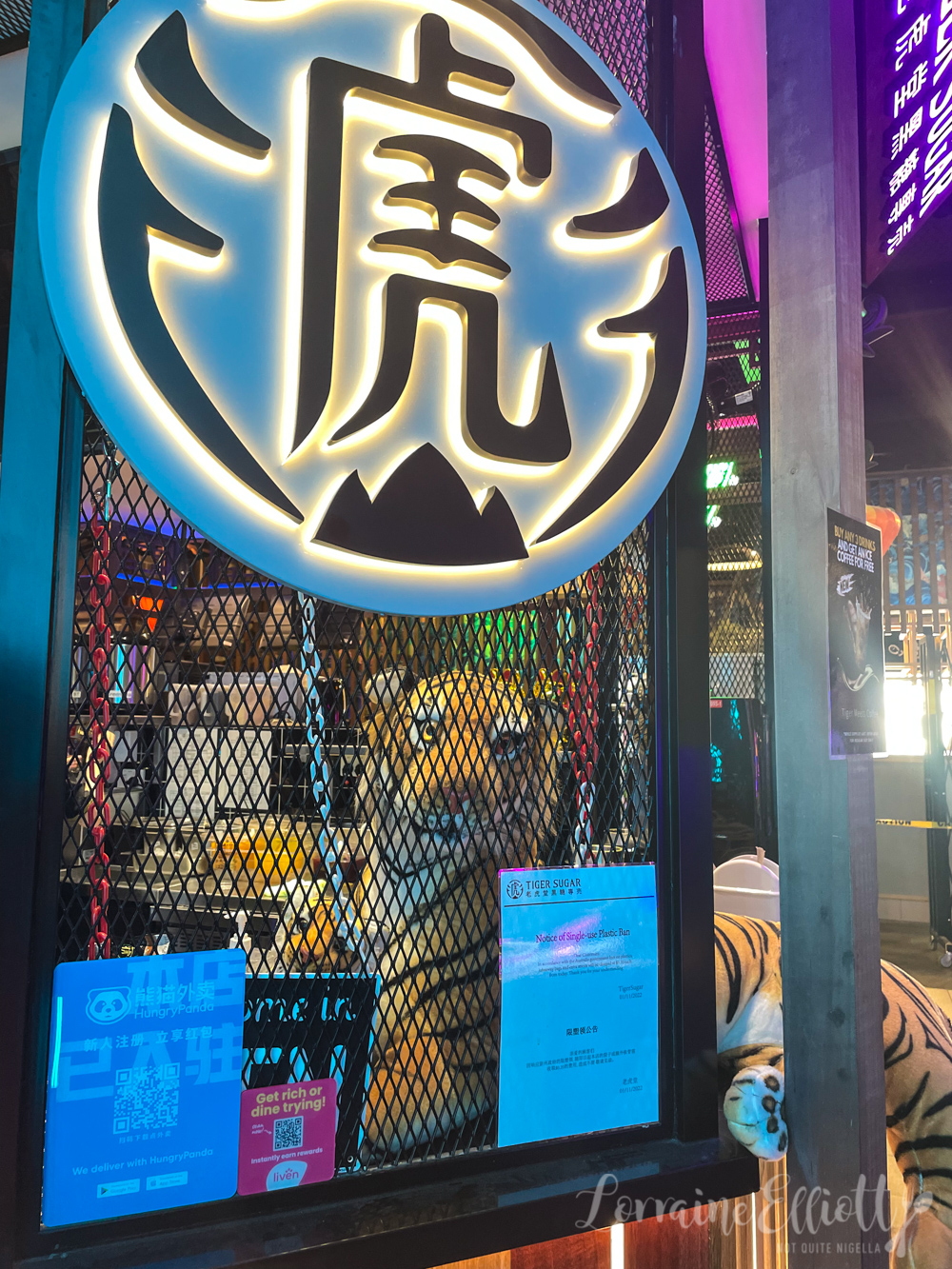 Our next stop is upstairs in the same building. We head to Tiger Sugar where there's a huge stuffed tiger mascot whose eyes follow you (or maybe I'm just paranoid). The drinks menu here is shorter and sweeter than others, and I mean sweeter, ask for half sugar if you don't like your drinks sweet. We order a #F1 Tiger Mango Sago with mango, pomelo and sago. This is fantastic and has a beautiful range of textures especially with bits of pomelo.
Tiger Mango Sago $10, B&P Choco Milk $8.50
I also try the #3 which is a chocolate version of "tiger tea" which is the black sugar stripes with black sugar pearl and chocolate malt milk with cream mousse. This is for people that like their milk teas very sweet and rich. It's good though although when you get it takeaway you don't really see the mountain top of Milo. We take a seat in the sundrenched outdoor area and sip our teas and then take them to our next stop for our main meal.
The next stop is a 3 minute walk across the road at Silver Territory. Laura and I were very excited for our main course because she showed me a TikTok video of yum cha at night and some eye catching "Flying noodles". We sit down and start flicking through the menu but are confused. It looks like a regular Cantonese menu with no mention of flying noodles or yum cha. We ask them and they tell us that the yum cha at night is only from Monday to Friday which wasn't mentioned on TikTok (arrrgh!). Then we show them the flying noodles and he nods and tells us that they're an off menu item and they make the Flying Noodles with XO pippies.
Pippies with Flying noodles $48.80
We aren't quite sure what will arrive but I see Laura's eyes widen as they bring them to the table. They're so eye catching that everyone in the restaurant turns around to have a look. The noodles look like they are suspended in mid air with invisible hands holding the chopsticks. The pippies are so meaty and full of XO sauce and the noodles are crispy but once they soak in the XO sauce they get softer but you get some crisp bits and some soft bits. We would absolutely go for these again and after this feast the yum cha at night is forgotten. I have no idea why these aren't on the menu because they are actually so unique and absolutely damn delicious.
Ironically my fortune cookie says, "If you can dream it you can do it".
Then it's time for dessert which is a couple of minutes walk away. The last time Laura and I went to Blackball we didn't really love the offerings but they now have something that we can get behind, a dessert hot pot! The two types are quite similar with a few differences. The first is that you can choose yours with soy milk or milk tea. The toppings are the same except there's one that has an upgrade where the balls have a filling in them which we went with.
Hot Pot $22.90
You can choose to have it cold or hot and we opt for the hot (it's hot pot after all). It comes out in a gold hot pot although there's no candle or flame underneath and the tea comes warm in a pot. In the main pot there's a custard pudding, sweet red beans, boba, grass jelly and sweet potato balls filled with a taro paste inside. There's also a bowl of sugar syrup to add to it. We first try it as is and it's ok but once you add the sugar syrup it really brightens up the flavours of the other items. In terms of the additions I don't know if I loved the filling of the balls because it wasn't quite sweet enough. We both love the boba, sweet red beans and custard and it's a really fun way to have a milk tea. It is also enough for 2-3 people as we can't finish it. They give us a takeway container to take the rest home.
Note: google shows this branch as permanently closed but we only went this past weekend and it was definitely open so check first!
We have been sitting and eating our dessert for so long that we get a second wind and suddenly the idea of a post-dessert curry doesn't seem so weird at all. We head to Cocoa Curry House back at Burwood Chinatown because a night out for us isn't complete without a little food madness. Although the tagline says "This curry contains Cocoa" there is no actual cocoa in the curry which is slightly confusing. The store is empty which gives us pause but once we sit down and wait for our curry it fills up with people.
They've got several types of meat with a Japanese curry sauce and rice (wagyu hamburger patty, wagyu steak, chicken karaage, pork sausage and fried soft shell crab). We choose the best seller the fried chicken fillet and take a seat at the counter table. When ours comes we dig in as if we haven't already eaten four courses of food. The chicken is juicy and mouth watering. It comes with a lot of mayo on top which (and I can't believe I'm saying this) it doesn't really need because the chicken is just delicious dunked in the curry sauce. I can't believe that I am eating so much of this but it's so tasty and considering that this restaurant was getting low ratings I'm totally perplexed. And so far everything (except the night yum cha) was a winner so that's all the points to TikTok for the recommendations! And feel free to follow me on TikTok too! :)
Other Burwood stories: Burwood Food Tour, Burwood's Best Cheap Eats.
So tell me Dear Reader, do you ever do movable feasts? Which stop appeals to you the most?
All food in this post was independently paid for.