It's a new year and a new adventure and this time my sometime vegetarian friend Laura and I are headed to the suburb of Merrylands! There we feast on Persian and Afghani food including some of the most delicious dumplings, pillowy soft bread made fresh and juicy spiced chicken skewers and glorious cakes and sweets! This is where fast food is fresh food and everyone is friendly and welcoming.
Dear Readers, I am still sharing eating out stories because I think we need a bit of a diversion but I am not suggesting eating out at this time. If you do want to patronise restaurants and cafes I strongly urge you to get takeaway from there to avoid contact spreading COVID-19.
Laura picks me up. "I'm at your door!" she messages me. She is literally at my door. It's teeming down with rain and she and Mini, the third personality in our food adventures is parked right next to my apartment common door so I don't get wet.
Admittedly it wasn't the best day for adventuring. The torrential rain was coming down in sheets, the sky was a dark grey and the idea of hopping in a car to take a 1 hour drive across Sydney seemed rather silly. But sometimes when you have a craving or a food in mind then nothing can stop us and we had a delicious hit list of restaurants covering cuisines, shops and bakeries!
1. La Mono
"I've been on a detox for the past 6 weeks," says Laura eyeing the menu at La Mono warily. She's not sure how her body will react to all of this tasty goodness having refrained from eating bread for 6 weeks.
Service at La Mono is very friendly and welcoming. They take our order at the table and we go for a 1/2 chicken, chips, tabouli, hummus and garlic sauce. It comes out quickly but is super fresh. We love the spiced chicken, glistening with crisp skin with soft meat underneath.
We open the Lebanese bread, fill it with tabouli, garlic sauce, hummus and chicken and feast. It's wonderful and a special mention goes to the glorious chips. More often than not I feel let down with hot chips but these are everything and then more. Golden, crisp and freshly fried. Laura washes it down with a refreshing and sweet mint and lemon drink.
As Laura gets up to ask for a to-go box, she spies a fattoush salad going to another table. It's housed in a crisp Lebanese bread "box" and we have to order one just to try, especially since Laura can't eat the item at the next place. It's fresh, crunchy and the bread box stays crunchy the whole time, even after we take it home! The woman behind the counter waves us goodbye and wishes us well for our day of eating.
La Mono: 106 Burnett St, Merrylands NSW 2160. Open 7 days 10am–10pm. Phone: (02) 9891 1177
2. Aria
Our next stop is a little drive away and is located on Merrylands Road where the rest of our list is so we park the Mini outside our next stop. Aria is all about Persian Fast Food. That is, rolls filled with all sorts of ingredients from chicken and beef salami to hot dogs to felafel.
We're interested in one sandwich in particular: the brains and tongue sandwich. It's a very, very long roll filled with soft lamb brains and tongue, tomato, lettuce, pickles and sauce and is very saucy and tasty - the offal gives it more texture than anything else. Laura takes a tiny bite, "I'm getting McDonalds vibes here," she says of the pickles, onions, salad and sauce and I know exactly what she means.
Aria Persian Fast Food: shop 1/258 Merrylands Rd, Merrylands NSW 2160. Monday to Thursday 10am–10pm, Friday to Sunday 10am–11pm. Phone: (02) 8677 9508
3. Zeenat
"What's that place?" I say to Laura. We walk past a restaurant and look inside. It's empty but a poster for authentic Afghan ice cream intrigues me. We walk inside and take a look at the menu which looks very promising. We ring the bell and a tiny woman peers out from the kitchen window smiling. She takes our order but alas the ice cream isn't available today. We use the facilities and she tells us sweetly to be careful where we're walking as its wet.
Over the next 15 minutes while we wait for our food to be made groups of people arrive including a large family. A man comes in to collect a large platter order and the previously quiet restaurant comes to life. We see them rolling out dough for the breads fresh. In the front corner there's a table for one by the window.
There are several varieties of Bolani (filled Aghan breads) from potato, chives and pumpkin. We go with their recommendation of chives and they come out with a spicy chive filling. Similar to gozleme these are wonderful and are served with a vinegary chilli chutney and yogurt.
The Aashak are a dozen dumplings filled with chives topped with lentils, yogurt garlic sauce and chilli sauce served with warm bread. They're quite frankly wonderful and we both consider getting another order of this to take with us they're so good. I'm so smitten I'm going to try making these at home perhaps during winter.
Zeenat Afghan Restaurant: 240 Merrylands Rd, Merrylands NSW Open Tuesday to Sunday 11am–11pm. Phone: (02) 8606 5848
4. Saffron
Our next stop is across the road at Saffron, a Persian restaurant that offers a hearty Persian weekend breakfast. This can range from a tomato omelette, two eggs sunny side up or liver, heart and kidney skewers.
Or there's the Lamb's "Head and Hooves" breakfast. All of the signs outside advertise these specials and we come in from the rain to the restaurant. The friendly woman there is impressed that we are trying the head and hooves.
This Kaleh pacheh is a slow cooked stew made from as suggested the lamb's head and hooves. "There's the tongue definitely," says Laura pointing at the tongue with her fork. It's hearty, filling and gelatinous in texture, like a chicken's foot but without the painstakingly work of extricating the meat from the bones. On the side is a soup, a muted yellow shade from the use of turmeric.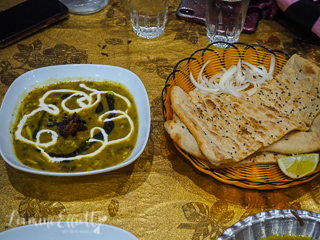 The head and hooves is too much for sometime vegetarian Laura who busies herself with the Persian Noodle Soup or Ash Reshta, a soup I absolutely adore so much that I have a recipe on my blog for it. It has thin tubular noodles, a slippery texture and kashk or whey and dried mint.
Saffron Restaurant: 227 Merrylands Rd, Merrylands NSW 2160 Tuesday to Friday 11:30am–10pm, Saturday 9am–10pm, Sunday 8am–9pm. Phone: (02) 9897 3748
5. Asal Sweets
Our next stop is a stop is a sweet one. Asal sweets has a range of Persian sweets and comfortable booth seating. They're dong a fast trade on special orders for cakes too. "Are you Persian?" the smiling women behind the counter asks me (which is immensely flattering since Persian women are gorgeous). We ask for a selection of their best Persian cakes and pastries and before long we have a tasty range to sample with our saffron tea.
We start with a cream puff which is what they're known for. It's a choux pastry filled with fresh cream. It's not overly sweet and it's nice but I think we prefer the other cakes. The roulade is filled with cream and comes with a variety of decorations-we choose the glossy pistachio and this is lovely as is the caramel and cream layer cake.
On the more pastry side is a layered puff pastry cake which is probably more ideal with a cup of coffee as it can be quite dry. I enjoy the soft soaked sponge cake and the cake topped with sesame seeds and filled with a sweet, thick cream that reminds me of a Chinese pastry filled with sweet bean cream. Laura buys a selection of cakes to take to her mother Sheryl.
Asal Sweet Patisserie: Shop 4/196-200 Merrylands Rd, Merrylands NSW 2160. Open 7 days 9am–10pm. asalsweet.com Phone: (02) 8810 7162
6. Green Wheat Bakery
Our next stop is at the Green Wheat Bakery where lengths of Afghani flatbread are produced. Some are packaged up in plastic while there is a large pile under a flour sack.
The man behind the counter asks us which one we'd like and we go for the sesame one. This enormous sheet of bread is just $1.80. "Cheap huh?" he says smiling and it's true. Sell this in the Eastern Suburbs and it would easily be triple the price or more.
In the freezer there is also Persian saffron ice cream, both plain saffron and with vanilla, chocolate and saffron like a Persian version of Neapolitan ice cream.
Green Wheat Bakery: 2/172 Miller St, Merrylands NSW 2160. Open 7 days 5am-5pm.
7. Biber Diner
It's time to head towards the train station area for Biber Diner. Here it's all about the pides and snack packs. We take a seat and survey the menu. I pop a bottle of a clear sparkling soft drink while we wait - it's a creaming soda flavour.
All of the pides are made to order. We order two types of pides: the kiymali with mince, tomato, onion, parsley, herbs & spices that looks more like a manoosh. Then there's the sujuk pide which is my favourite. Shaped like a boat and very large in size it is filled with cheese, sujuk sausage and an egg on top.
For good measure we also try the chicken kebab snack pack. The fries aren't quite as crisp as I want but the chicken and chilli garlic topping is delicious (you can also choose tomato and bbq sauce).
Biber Diner: 157 Merrylands Rd, Merrylands NSW 2160 Sunday to Thursday 10am–12am, Friday & Saturday 10am–1am. Phone: (02) 9682 3546
8. Ryyan Supermarket
It's time for a little supermarket shopping and Ryyan supermarket opposite is one of the many shops that sells a range of Persian and Afghani groceries (as we find, the two cuisines are often interlinked).
I'm intrigued by the distilled herbs so I buy a bottle of the Borage and Bitter Orange Blossom. Then I buy a box of saffron sugar sticks as a gift and a date and sesame chocolate spread that is like a version of Nutella.
Everything is well priced-pashmak is $5.99 a box and I also buy a packet of bright green slivered pistachios for $7.50 which is a steal.
Ryyan Supermarket: 148 Merrylands Rd, Merrylands NSW 2160. Open 7 days 8:15am–11:30pm. Phone: 0415 709 933
9. Kebab Al Hojat
Our last stop is one of my favourites. Kebab Al Hojat proudly proclaims to serve the best Afghani kebabs. At the front there's a man wearing a welding mask who is tending to the grill churning out kebab after kebab.
There are three types of meat here: chicken, beef and lamb and a variety of combination whether it be with rice or without. We go for the chicken kebabs on a bed of rice with salad, sauces and bread.
Everything is cooked to order including the bread. The baker wearing white stretches out a ball of dough before placing it on a round concave tray and placing it in the oven. When it comes to the table it is hot and fresh from the oven and wonderfully puffy.
I stick a fork into the chicken-they don't give knives and you don't need them because the meat is so juicy and tender. It's finished with a generous sprinkle of sumac, one of my favourite spices.
We also try the Qabuli Palaw with a whole lamb shank and a large serve of the carrot rice and sultanas and a round of bread. Although quite lamby in flavour is so soft and melts in the mouth.
And to wash it down? A pineapple beer and a pomegranate non alcoholic beer which is pretty damn tasty! In fact I think I prefer it to real beer!
Kabab Al Hojat. 2/254 Pitt St, Merrylands NSW 2160. Open 7 days 10:30am–10pm. Phone: (02) 8677 9423
Laden down with goodies we make our way back to the car, back to the rain but was it worth it? Absolutely!
So tell me Dear Reader, have you ever visited Merrylands? Is there a dish or restaurant that you liked the look of the most?
All of these meals were independently paid for.