Darband in Auburn is a casual and simply outfitted Persian restaurant on Rawson Street in Auburn. The menu is filled with reasonably priced dishes from as low as $3 to the princely sum of $22 for a selection of juicy kebabs. The star here is undoubtedly the rice and there are two stand outs: a dill flecked rice with broad beans and a jewel-like celebration rice with saffron and barberries.
Dear Reader, I'm so excited because I've finally found a sport I love! It's called Segway! Sure my trainer Nina and Mr NQN poohpooh it as a sport, and sure I burn as many calories doing it as say curling but hey that's an Olympic Sport! I'm thinking that it's just a matter of time before Segway becomes one ;)
So when I realised that Viggo and to a lesser extent Louise also loved Segway, we booked in for a Segway tour in Homebush. I lured Mr NQN into it by promising him a meal afterwards and after a morning riding around we were ready for lunch. We took the quick drive to Auburn to Darband, a Persian restaurant that I had been eager to try for over a year now. Darband is named after a former village near Tajrish, Shemiran (now a neighbourhood inside Tehran city).
Darband don't take bookings and when we walk in we see that it's a casual, modestly outfitted and clean restaurant. At 12:30pm there are two other tables occupied but come 1pm the restaurant will become much busier. The menu is a neat two pages and prices are nothing short of brilliant with each main meal around $12, paired with a plate of delicious Persian rice in a variety of flavours.
Orders are taken at the counter and we take a bottle of Doogh with us back to the table. It's a fermented home made yogurt drink not unlike Ayran with a slightly salty aspect to it. They bring us glasses with a little dried mint at the bottom.
Our salads and yogurt dips come out with some flatbread, fresh mint and onion. The dips are Mast-o-moosir (yogurt with wild escahllot) and Mast-o-Khiyar (yogurt with cucumber and mint). They're both delicious wedged into an opened up leaf of flatbread with some added mint, onion and some of the Shirazi Salad. This is made with cucumber, tomato, onion with a lime, black pepper and mint dressing.
The Kashk-e-bademjan is a fried eggplant dip with mint and onion with whey dressing that gives it a good tang. The eggplant is soft and creamy but strong in flavour and it is often served as a lunch time dip.
The rest of our food arrives and we try and fit everything on the table. I try the Ghormeh sabzi filled with slow cooked boneless lamb with red kidney beans, herbs and dried limes. It's has herbal flavour to it and is quite strong in flavour. It is said to be the national Iranian dish. It comes with a large plate of Persian rice, flecked with touches of saffron.
There are different varieties of kebabs and combinations thereof so we choose a selection with three kinds: chicken marinated in lemon juice or Joojeh, lamb mince marinated in onion or Koobideh and Barg or lamb backstrap marinated in onion. This comes with another plate of polo rice and a grilled tomato and a pat of butter to put on the rice. The meats are juicy and full of flavour and the lamb mince and the chicken are the favourites.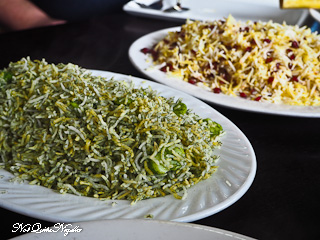 The two rice dishes come out next and I start on the dill rice with broad beans with a soft cooked lamb shank. While the lamb shank is nice enough and cooked well, it's the rice that we all really fall for. With plenty of dried dill and whole broad beans, it's so full of flavour and feather light. It's so delicious that I want to make some of this at home. The lamb by comparison is mild and is mostly left behind in favour of the rice.
The Zereshk Polo (Zereshk meaning barberries) is a gorgeous rice pilaf bright with saffron and studded with jewel-like barberries. For this reason it is known as jewelled rice or celebration rice. It's served with a richly flavoured chicken dish that is hard to describe. Ever so slightly sweet and piquant and with a thick sauce it's a good match for the rice especially with the thicker gravy.
Perhaps it was exhaustion from the Segway (haha I'm obviously kidding) but it was more Viggo's eagerness for Turkish Delight at the shop just across the road that we completely forget to try the ice cream on the menu. But I'm delighted that I can also claim another first: sports related fatigue.
So tell me Dear Reader, have you ever had sports related fatigue? And how often do you eat rice? What do you tend to eat more: bread, pasta or rice (or none?). Have you tried much Persian food?
This meal was independently paid for.
Darband
9/45 Rawson Street, Auburn NSW 2144
Phone:(02) 9646 4466
Open: 11am-9pm 7 days a week