"Even though I'm Chinese, I don't speak Mandarin or Cantonese. That can often make shopping at Asian grocery stores difficult, but in Flemington, everything is clearly labelled, and everyone speaks English reasonably well," said my dear friend Celia.
Today's tour of Homebush West just south of Flemington train station was a spontaneous one. I was slurping some noodles and taking a big bite of a meatball filled banh mi roll and listening to Celia point out different places in her adopted suburb. "There's the butcher that makes his own lup cheong and the pho place that always has a queue outside it," she said. "We could show them to you..." she said and before she could even finish her sentence I was nodding enthusiastically.
Homebush West is a suburb that many refer to as Flemington because of the name of the train station. On the Strathfield train line, many of the shops are clustered on the south side of train station. The other side of the tracks has the famous Flemington markets. The suburb has a mixture of people from Chinese, Indian, Korean, Sri Lankan and Vietnamese descent. Unlike some suburbs that can be intimidating, signs here are both in English and Chinese. There is also an unusual number of shops and restaurants with "happy" in the title. Everything is within a very short distance from each other which makes exploring this suburb a dream.
Happy Snack
It started with lunch at Happy Snack for a birthday lunch. "Choose anything that you want!" Celia says. "It's all about $6!" she giggles delightedly. Can you see why I absolutely adore her?
We take a seat at a laminated table where there is a box of tissues and a small container of sliced chillies on the side. The menu is short and sweet and featured on picture menus on the wall and before we've even settled in, the food arrives.
I'm intrigued by the "dim sim roll". It's actually a meatball roll and although I've probably eaten my yearly quota of banh mi I'm still not sick of them. The crispy roll is served hot and fresh. The pâté, coriander and soft squishy meatballs have Celia reconsidering her favourites. "I'm going to get one of these next time," she says.
The soft beef brisket stew also comes with a warm, crusty roll. It's full of flavour and slightly sweet with the meat falling off the bone. This is pure, easy comfort food.
The vermicelli salad is a tangle of noodles with sliced up spring rolls, a lemongrass pork patty and a pork skin salad. The texture of this salad is good although it feels a little virtuous compared to the brisket and meatball roll.
We're back to the aromatic braises here. The caramelised black pepper and pork is another full flavoured dish with a slightly sweet sauce with plenty of black pepper. I wish that bargain loving Mr NQN were with us. The bone in pork pieces are soft and ease off the bone. It is served with tiny grains of broken rice.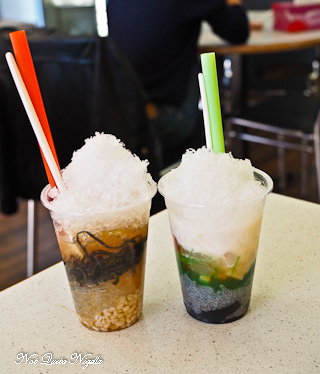 Dessert is one of the drinks. You can choose up to six additions including lotus seeds, barley, palm seeds, green noodles and red beans and many more. I go for the Sam Bo Luong that is made with barley, seaweed, jelly noodles and lots of sugar syrup. It's topped with ice and they tend towards very sweet so it's not a bad idea to ask for it less so. And the total for this food fest? $43!
Lien Phong Fish Market
We take a walk around the corner where we pop into Lien Phong Fish Market. Lured in by the window signs that promise Arctic clams, crocodile, parrot fish and live abalone, it's an interesting mix of fish, much of it live. The prices are very, very reasonable.
We spot six types of colourful prawns, live abalone, turban shells and mud crab and Celia becomes excited by the sea mullet, a fish that she had seen on many British cooking shows. She buys a whole fish and cackles delightedly. "$6.80! Can you believe it?" She says.
We walk past bakeries and takeaway shops selling pork rolls and sugar cane juice. One shop has three prices for sugar cane juice - with ice, a little ice or no ice, the latter being the most expensive. The window of Tam Hung Butchery has hearts, trotters and livers for sale. Pete points out blocked off alleyways that snake around the shops. These would have provided entryway into the back of shops.
K.W. Barbecue Shop
The BBQ shop catches my attention via the aroma and Celia points at eye array of Lup Cheong. According to Celia and the woman behind the counter this shop has been located in Flemington for "forever." We watch the rhythmic chopping of meat on the enormous wooden trunk chopping board at least a foot high. Sauces drip from ducks and meats that are regularly taken out for display. Business is good here and nothing waits too long in the window.
I step up to the counter and order some char siu and ask about the lup cheong. There is a pork, duck and a dried pork sausage and I buy two links of each. They end up costing about $1 each while the char siu is around $10. I bring it home and heat it up for a sandwich. It's deliciously moist and very flavoursome.
Pho Toan Thang
Pho Toan Thang's queues are just something that patrons need to deal with if they want to dine here. And because Celia, Pete and I were full from our meal at Happy Snack, I return to Flemington a few days later to try Pho Toan Thang with Mr NQN, Belinda, Mia and Ruby. Because it is a Sunday, it's very busy so Mr NQN drops me off at 12:30pm to get a table while he finds a parking spot. I'm not waiting long and a few minutes later just as everyone arrives, we take a seat at a table.
We are handed picture menus in English and Chinese. They're eager to take orders and we choose quickly mindful of the long queue outside. The usually impatient Ruby is shocked that within a few minutes the first of the dishes arrives. The three bean drink is delicious. It is filled with mung, green and red beans with creamy thick coconut milk and plenty of ice on top.
The pho is the first to arrive and we see plenty of bowls of pho being brought to tables. We watch people pick up the slippery white noodles and raise them to their mouth. There are thirteen types of soup noodles and about ten fried noodles. The pho is the favourite with Mr NQN and Belinda. The noodles are just the right consistency and the broth hits all the comforting high notes.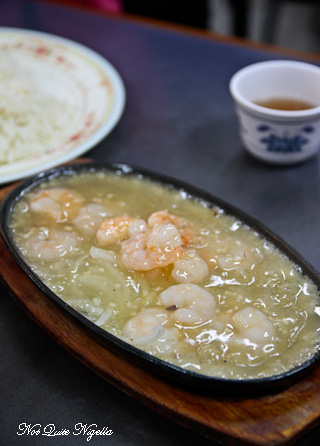 They bring out a hot plate and a bowl of prawns that they add to the plate with a hot sizzle. Ruby emits a high pitched scream and the waitress echoes her scream with a laugh which causes Ruby to echo her laughter. The prawns have a good texture but the sauce is very strong with garlic (and this is coming from a garlic lover like me). It is served with a large plate of boiled white rice.
I'm actually not really one for spring rolls but these are fantastic. With a generous amount of pork, they're bursting with flavour and are crispy golden fried. They're much better than the often vegetable filled versions.
We wanted to try something a bit different so we order this. It's not bad but I'm not sure where the salt fish in with this as it's mostly pieces of chicken and soft tofu amongst a mild, thick sauce with a hint of garlic and ginger.
My favourite dish is the crispy chicken. With an enormous maryland of meat cut up into portions, it rests on an expanse of tomato rice. I think I sat stunned when they put this down on the table. It's size and glistening skin is impressive enough. I try some rice and it's fabulously smoky with the "breath of the wok" in the same way with char kway teow. The chicken skin is beautifully crisp and tender and I can't help but go back for more of this dish.
"Would you like some takeaway containers?" the man asks. We are headed out so we can't take them home so we decline and there's almost a note of disapproval!
Tan Hung Long
Next door is Pho Toan Thang. My eyes light up when I see the amount of zongzi or wrapped rice dumplings-there are six kinds here and a good range of sweets. The shelves however hold a really intriguing range of sauces and products that you don't often see elsewhere and it's worth taking a close look here on the shelves. The rice shelves have rose rice and chicken rice while corn ice blocks fill the chest freezer out front. Celia picks up packets of her favourite curry sauce.
Best Taste Dim Sum
Those looking to self cater and make your own yum cha party, Best Taste Dim Sum on Henley Road sells a complete array of yum cha dumplings to either steam or deep fry The egg custard tarts are only available from Friday to Sunday.
There's nowhere to sit and eat here but but I buy a range of my favourite goodies that are already cooked. They're not bad although I wasn't quite as smitten with the prawn har gows as they were a bit floury and didn't have enough prawn filling (which is what I often find with places that sell frozen dim sum). The han sui kwok also doesn't have much filling but the char siu bau is full with a sweet fluffy white outside. The egg custard tart is warm with an appealingly flaky pastry.
We pass by restaurants called "Fantastic Restaurant" and Celia tells me that it's very full at night (clearly the naming works!). Shops offer money transfers, haircuts and printing and copying all under the one roof. Another place offers Selective School tests. Anyone that has grown up in a Chinese or Indian family probably knows how all about the selective school tests and the neighbourhood is no doubt rich in candidates.
We stop into some of the Indian and Sri Lankan shops. One sells fish directly from Kerala and the smell of spices is intoxicating. We pass by shops that offer acupuncture, cupping, Indian head massages and facials and are tempted but alas we have a bounty of perishables and a full schedule. We hadn't meant to stay this long but something about this small suburb lured us in. We make our way back to the car loaded with goodies and treasures.
So tell me Dear Reader, does your suburb hold any treasures? And do you ever explore new suburbs like this? Would you enjoy an organised group tour like this?
Happy Snack
104 The Crescent, Homebush West or Flemington, NSW 2140
Tel: +61 (02) 8746 0668
Lien Phong Fish Market
Shop 6 90-95 The Crescent, Homebush West, NSW 2140
Pho Toan Thang
90/95 The Crescent, Homebush West NSW 2140
Tel: +61 (02) 9764 3687
Open 7 days 9am-8pm
Tan Hung Long
12a Henley Rd, Strathfield West NSW 2140 Tel: +61 (02) 9746 1074
Best Taste Dim Sim
7/16-20 Henley Rd, Homebush West NSW 2140 Tel: +61 (02) 8746 0498