Chachii is a Brazilian cafe on Arncliffe Street in Wolli Creek located just off the main shopping area of Wolli Creek. You'll find delicious Brazilian classics like Picanha Steak, pastel, coxinha and acai bowls plus of course stretchy Brazilian cheese bread.
"We are going for Brazilian this afternoon and then blind shopping," I messaged Monica when we were chatting about each other's days.
"Hahaha I read that as in 'we're going to have A BRAZILIAN today' and I'm like BOTH OF YOU?," messages Monica back, "I'm like hey whatever floats your boat lol!"
If you've ever tried to find Brazilian food in Sydney you'll know that it isn't easy to find. Then last week a lovely woman told me that her Brazilian husband was so excited to have food that tasted like that back home and it was at Chachii in Wolli Creek.
Chachii opened at the end of October 2020 and has a strong following in the Brazilian community. Inside there are bright, colourful murals on the walls and a display of cakes and pastries as well as bowls of Brazilian sweets at the front counter. There's indoor and outdoor seating too.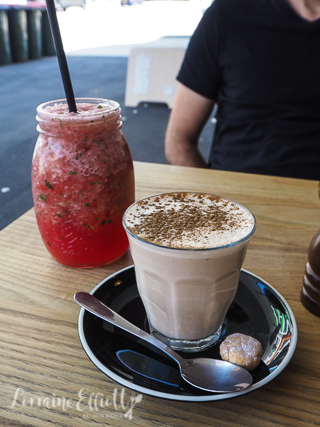 Service is really lovely and our friendly Brazilian waitress makes some recommendations without hesitation. We start with drinks, a watermelon and mint slushie for Mr NQN and a chai latte for me. Then the snacks start to come out.
First there's the pastel, a large fried half moon filled with spiced mince beef (there's also chicken available) that comes out freshly fried and delicious. Pasteis are a popular street food with a crisp thin pastry and are much thinner and flatter than empanadas.
Then there's the Coxinha made with a spiced chicken breast filling encased by a flour based dough and then crumbed and deep fried.
I always order Brazilian cheese bread because I like the spongey, mild cheese flavour and chewy texture from the tapioca flour that it uses.
The sandwiches are where it's at at Chachii. And I'm here to tell you that you have to try the Coracao which is a sandwich filled with chicken hearts cooked in beer and spices with melted cheese on a warm torpedo bun. The chicken hearts are so tender and succulent that they almost taste like chicken sausages. I can tell that it's good when Mr NQN half finishes his half bread-and-all without any complaint.
If chicken hearts aren't your thing, there's the Carne Louca with slow cooked pulled is flavoured with tomato and coriander and featured adorable teardrop shaped pickled biquinho chillies (biquinho means little beak). These chillies have a mild amount of spice to them and help to break up the richness of the beef.
"We eat this every day," our waitress says of the Picanha steak which is the rump cap or sirloin cap cut. It is served with rice, diced fresh tomato salsa, farofa (toasted cassava flour crumbs) and a black bean stew that you mix with the rice. It's comfort food and an enormous serve especially as we added fries on the side. I would also suggest perhaps asking for the steak to your liking, we left it up to the kitchen and it was cooked medium whereas we prefer medium rare.
Given how much we've ordered there's no room for a sweet and there are Brazilian crepes and a brioche dish as well as an acai bowl.
And the name Chachii? It's chef Thiago Mendes's nickname. Thiago emigrated from his native Brazil 15 years ago and his colleagues found his name difficult to pronounce so they gave him the nickname Chachii and it stuck.
So tell me Dear Reader, what is your nickname? And have you tried much Brazilian food?
This meal was independently paid for.
Chachii
9-11 Arncliffe St, Wolli Creek NSW 2205
Monday to Friday 6am–3pm
Saturday & Sunday 7am–4pm
chachii.com.au
Phone: (02) 9171 0813