What happens when 7 bartenders join force and open a temporary bar? About Time on Bligh Street combines the skills of bartenders from the Baxter Inn, The Roosevelt, Opera Bar, Stone & Wood, Liquid & Larder with a range of cocktails and Australian BBQ food with 90's tunes in a space that was entirely constructed by the owners.
The sign at the back says "No-thing lasts forever" and that's true of the space for About Time which is earmarked for demolition in late 2022 for the new Sydney Metro line giving meaning to the phrase "Here for a good time, not a long time." The temporary space suited the 7 friends as they wanted to test whether they could work together. And full disclosure Dear Reader, I am friends with one of the owner's partners.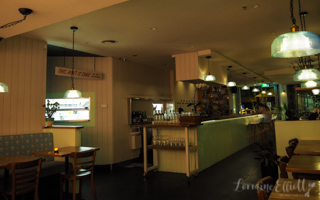 Laura and I arrive on a Wednesday night and she's has quite a day at work. "I need TWO cocktails," she says. Service is friendly and they guide us to the QR code to order online although you can also order at the bar. Unfortunately there are quite a few food items that are out of stock so there's a bit of back and forth about what we can order because Laura doesn't eat meat. Which brings me to the menu. It is a really curious mix of Australian BBQ with a predominantly meat menu with a lot of share plates. It's an interesting choice for a city environment where people may not necessarily want to share with their colleagues and the closest thing to a burger is a roasted lamb damper bun. The meat heavy menu also seems a bit surprising considering many places have a lot of vegetarian and pescatarian offerings. Cocktail wise there are a lot of throwbacks to the use of Zooper Doopers in cocktails, a French onion dip with Jatz Crackers and their version of a Viennetta ice cream.
Daq Attack $18, Blackthorn Royale $17, Rocky Road Old Fashioned $22
So about the cocktails. I tried a few both at the opening night and that evening with Laura. They're well priced and start at $17 up to $21. We are pointed towards their cordial negroni, a drink that comes with a liquid filled jube on the side. Normally negronis are too strong for me but adding the cordial sweetens and mellows the hit considerably. The Daq Attack comes with Bati White Rum, lime and half a Zooper Dooper and is flavoured based on whichever flavour they grab from the Zooper Doopers which obviously affects the flavour of the cocktail. Laura really likes her Blackthorn Royale with sloe gin, house sweet vermouth and sparkling shiraz but leaves her Rocky Road Old Fashioned almost untouched and nobody enquires about the untouched drink. I did notice that because I am a very light drinker and I can usually only drink 1/4 of a cocktail before being drunk (it's an Asian thing) but I could drink half without feeling drunk and Mr NQN had 4 cocktails at the opening and was just a bit tipsy.
French Onion Dip and Jatz $14
The food is by Chef Benji Llewellyn of The Roosevelt. We start with French onion dip and crackers. This is a dip chunky with a lot of onion in it but it lacks the acridness of raw onion so that it is mellow and moreish.
One of my favourite things which I didn't get a photo of because Mr NQN started eating it was the lamb spanikopita ($12). The pastry is so flakey and the cheese, spinach and soft lamb filling is delicious too. Having the lamb does limit it somewhat and what could have been a vegetarian option though.
Lamb Forequarter and sides $75 for 2, Glow up $19
On opening night Mr NQN and I tried the lamb that comes with two damper buns, coleslaw, mint sauce and garlic toum. The lamb is very soft and a big serve and really could feed two with a big appetite or conceivably three with the amount of meat. The mint sauce, coleslaw and garlic sauce go well with this in a sandwich but again I'm not convinced about the sharing aspect of this or the price which makes it a bit of an expensive lamb bun.
Grilled Snapper $46
"I don't know about me and you," says Laura to me. "What do you mean?" thinking she is talking about us and what is she talking about. "I mean meandu the app," she says laughing. It is a little hard to order and a lot of details are missing on the app. Like the grilled snapper comes with an ice berg lettuce salad and a capsicum sauce which we order on the side as Laura is allergic to capsicum. The fish is actually perfectly cooked and well seasoned, stuffed with lemon with plenty of flavour. It's a huge snapper that would easily feed 2-3 people but again it's primarily about sharing here. The salad is well dressed with crisp, fresh lettuce.
Potato Salad $12
The potato salad during the launch night was amazing with plenty of boiled egg, bacon and an ungoldly but delicious amount of mayonnaise. On the second night it's different, there's less bacon and mayonnaise so while it's nice it's not as incredible as it was the first night.
Pork Shoulder and sides $70
The pork shoulder is a pork version of the lamb with slaw and a spiced apple sauce and a bbq sauce as well as two damper rolls. The meats are all cooked in a charcoal oven and while it looks a bit dark and dry the meat is soft and tender and good with the sauces, particularly the cinnamon spiced apple sauce.
So tell me Dear Reader, do you think you could open or have you opened a business with your friends?
NQN and Mr NQN were guests on the opening night but NQN returned with Laura and independently paid for her second meal and drinks.
About Time Bar
37 Bligh St, Sydney NSW 2000
Phone 0434 661 028
Open Tuesday to Saturday 12pm - 2am