I've got a special Christmas treat for you with this delightful Joulutorttu or Finnish Christmas Tart! This recipe, that hails from where Santa comes from, is a traditional Finnish dessert served at Christmas. It's absolutely delicious and made with a plum jam and butter puff pastry. This version is made into a big wreath! You have to try Joulutorttu or Finnish Christmas Tart at least once!
Traditionally Joulutorttu is served as individual pinwheel or star shaped pastries but I wanted to see if I could do my own spin on it and make a wreath using puff pastry. It turned out to be much easier than I had dreamed. The plum or prune jam is simple home made one (no need to worry about pectin etc) and takes around 10-15 minutes to make and I used frozen butter puff pastry to make the rest. It couldn't be simpler but yet looks difficult - my favourite recipe combo.
Finland or Lapland specifically is where reindeers and Santa comes from and it is where half of Mr NQN comes from too ha. His Finnish aunt Sisko serves this up every year when she hosts the extended family over at her and her husband Seppo's house on the Central Coast. COVID has put these family celebrations on hold for the time being but when we had Christmas together I always looked forward to these tarts.
I don't know how you feel about prunes Dear Reader but I'm not a huge prune lover. I'll eat them but they're not the first dried fruit I'll reach for. However this prune jam actually doesn't taste very prune-y at all once you add in the spices if that sells it for you. And I love Joulutorttu although I don't love prunes!
I received an unexpected but very thoughtful Christmas gift the other day from my upstairs neighbour Cheryl. She knows how I struggle with plants but she gave me a foolproof plant called a Devil's Ivy or Golden Pothos which apparently thrives on neglect and is impossible to kill! It also sits in a glass of water which is great for my dirt phobia and this way I can easily tell if it needs watering. This plant cleans the air and has gorgeous heart shaped leaves. It looks gorgeous if you place it up high so that it can trail down - she mentioned that it's a plant you see in restaurants trailing down from the ceiling. It doesn't need much sun and is low maintenance so it has a real fighting chance with me as the owner!
When I put this on my Instagram stories I got a message from a lovely reader who also told me that she has to grow all her plants in water as her cat likes digging up the dirt. She sent me pictures of her numerous plants including an enormous Monstera and offered to give me some cuttings too. I got so excited about the possibility of not killing plants. Maybe new year, real plants? Or maybe I'll just go with baby steps and try to keep this Devil's Ivy alive.
So tell me Dear Reader, have you tried much Finnish food? And are you good with plants? Have you ever tried to grow plants in water?
DID YOU MAKE THIS RECIPE? Share your creations by tagging @notquitenigella on Instagram with the hashtag #notquitenigella
Joulutorttu Finnish Christmas Tart
Rated 5.0 out of 5 by 3 readers
An Original Recipe by Lorraine Elliott
Preparation time: 25 minutes plus 45 minutes chilling time
Cooking time: 15+25 minutes
Serves: 8-10 people
For Jam
1 2/3 cup/300g/10.6ozs. pitted prunes
2/3 cup/165ml/5.6flozs water
1/2 cup/110g/3.9ozs caster or superfine sugar
1 teaspoon vanilla bean paste
1 teaspoon ground cinnamon
1/2 teaspoon ground nutmeg
1/2 teaspoon ground cloves
For the tart & decoration
2 squares butter puff pastry, thawed in the fridge
Egg wash (egg yolk mixed with 1 tablespoon water)
Redcurrants (I used frozen ones for an frosty look)
Icing or powdered sugar
Step 1 - Roughly chop the prunes and add to a saucepan with water and bring to a boil and simmer for 8 minutes or so until the prunes are very soft. Add the sugar, vanilla, cinnamon, nutmeg and cloves and cook and mash to form a jammy paste. There should be no liquid left in the pan once it's done. Cool completely. This step can be done 1-2 weeks ahead of time and kept in the fridge.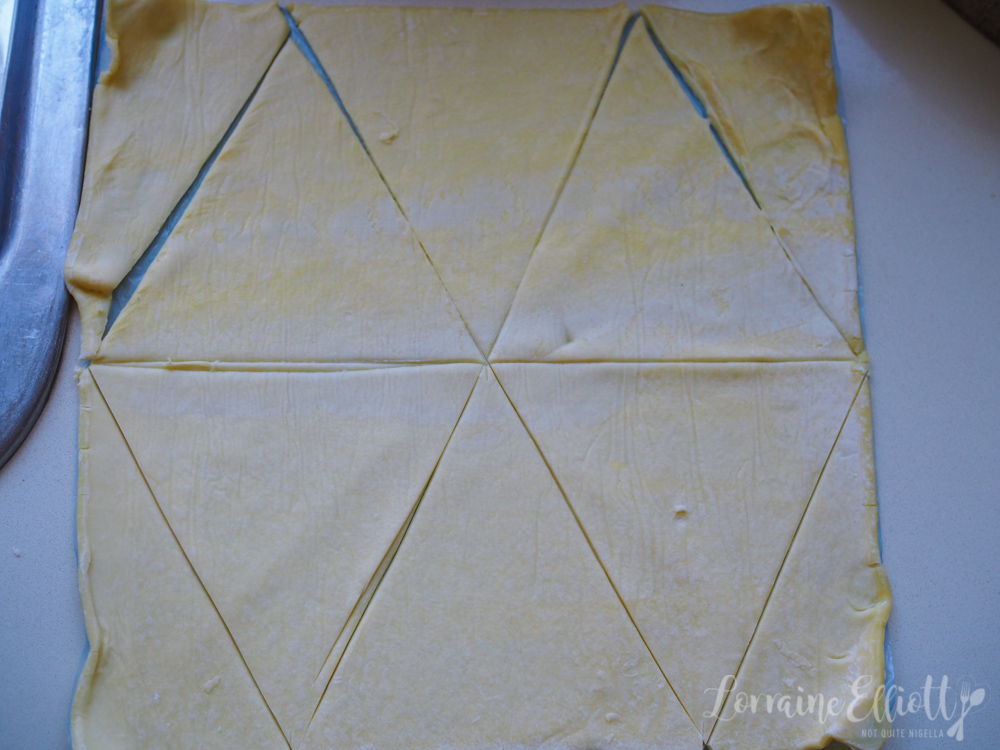 Step 2 - Take a ruler and a knife and cut out 8 even sized triangles in the puff pastry. It will be much easier to deal with butter puff pastry if it is cold so pop it in the freezer for 5 minutes if it starts to get floppy. You should be able to get 6 triangles out of one 24x24cm/9.4x9.4inch square of puff pastry. Keep the extra scraps of pastry in the fridge for the decoration. Those of you in North America have crescent dough that is already cut into triangles so you can easily use that.
Step 3 - Take a small bowl or ramekin (around 10cm/4inches) and place it in the centre of a sheet of parchment. Place the triangles overlapping each other around this ramekin and then spoon the cooled jam around the ramekin. Remove the ramekin. Lift over the points of the triangles and around the filling and tuck them under the centre. Place in the fridge for 45 minutes to chill completely. Meanwhile make the decorations using small leaf cutters and roll small balls for drupes or berries. Keep everything chilled. Preheat oven to 200C/400F around 10 minutes before you want to bake it.
Step 4 - Brush the tart with eggwash and affix the decorations on top of the pastry and bake for 20-25 minutes until golden. Cool a little and decorate with icing sugar and redcurrants.